BARE IT ALL: LASER HAIR REMOVAL SERVICE
Everything You Should Know about Laser Hair Removal
Are you trying to remove unwanted hair using temporary methods like plucking, waxing, or shaving?  Do you know there is a much better method of hair removal that is long-lasting, effective, and safe?  
Laser hair removal service has grown in popularity due to its effectiveness and increasing safety. Today's laser hair removal service clinics offer almost painless, permanent hair removal. Save up to 50% off the cost of laser hair removal in Toronto.
WHAT IS LASER HAIR REMOVAL?
Laser hair removal is a form of hair removal method using laser energy.  As the laser hits and heats the hair and skin, the laser light energy permanently damages the hair follicles, preventing them from growing again.  There are three types of laser hair removal technologies, ND: YAG Laser (1064 nm), Alexandrite Laser (755nm), and Diode Laser (800-810 nm). Each of these lasers is used to treat different skin tones and hair textures.
HOW DOES LASER HAIR REMOVAL WORK?
Laser hair removal has advanced a long way since the 1990s.  Previously, the laser was only successful for people with light skin and dark hair. Today, laser hair removal can be done on all skin types and hair type textures. 
The process involves laser light energy hitting the pigment in the hair shaft below the skin.  The light emitted by the laser is absorbed by the pigment destroying the hair without harming the skin or follicle. 
Lasers require pigment in the hair to target it. The laser for hair removal is tuned to a single wavelength, whereas IPL (Intense Pulsed Light) employs a range of wavelengths to be absorbed by the pigmentation of the hair.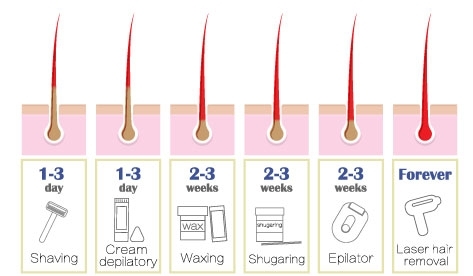 WHAT IS IPL (INTENSED PULSED LIGHT) HAIR REMOVAL?
IPL is not a laser; it is called intensed pulsed light. Many confuse IPL with a laser, but the technology is very different. IPL emits a broad-spectrum visible light consisting of many different wavelengths, which is different than laser.  
By applying filters on the IPL handpiece, the technician can block out other wavelengths except for the specific range suitable for the patient's skin type and condition.
Even though you can narrow down the wavelengths on an IPL device by using filters, the light wave from an IPL still makes it less selective and more challenging to control than a laser.  Because different targets absorb light at different skin depths, less energy is being directed to the hair follicles with an IPL compared to a laser. 
As a result, more treatments are required for IPL hair removal than laser hair removal. For IPL hair removal, your hair colour and coarseness are essential.  Blond and white hair does not respond to IPL.  The lack of precision on an IPL means the energy needs to be set lower for safety. Thus more treatments and less permanent results compared to laser hair removal.
IPL hair removal cost is cheaper than laser. You may think you are getting a great deal, but you will pay more for less effective results and more treatments.  Even though IPL is also popular, it isn't the safest.  
Burning and scarring can occur with IPL if the settings are set wrong. For safety concerns, IPL must be placed at lower locations for darker skin types, thus less effective than laser. 
The laser can treat more skin types with fewer sessions and more permanent results.  So even if you are paying more per session for laser, in the long run, it is more cost-effective. Laser treatments allow safer and more precise energy delivery to hair follicles instead of the surrounding skin.
Laser Hair Removal Before And After Images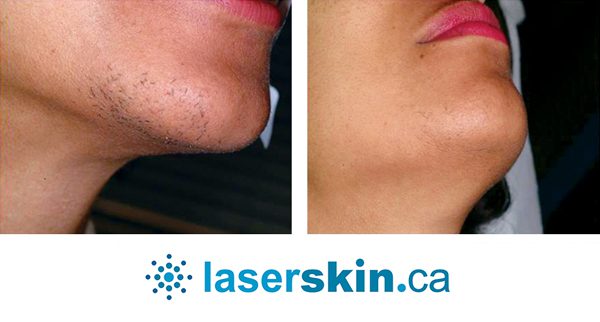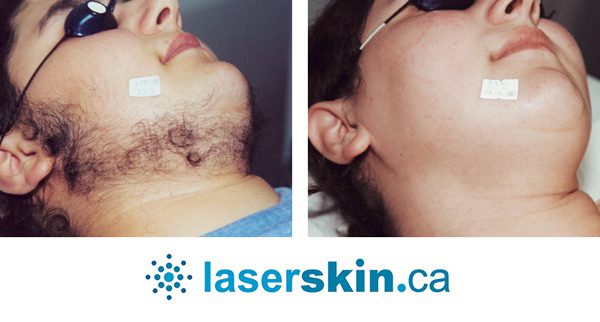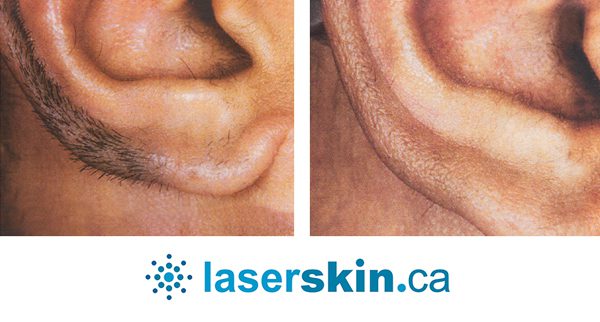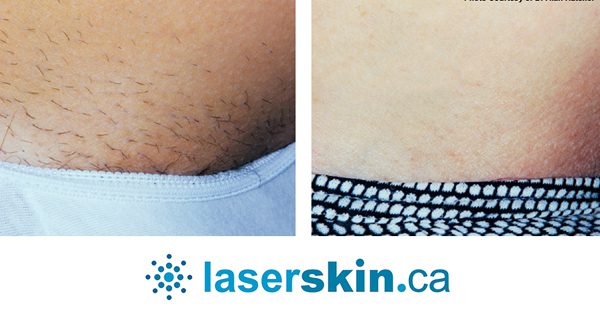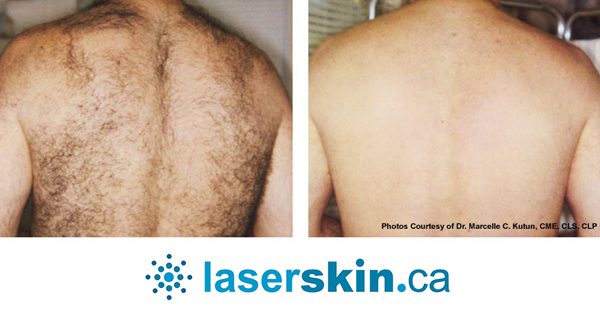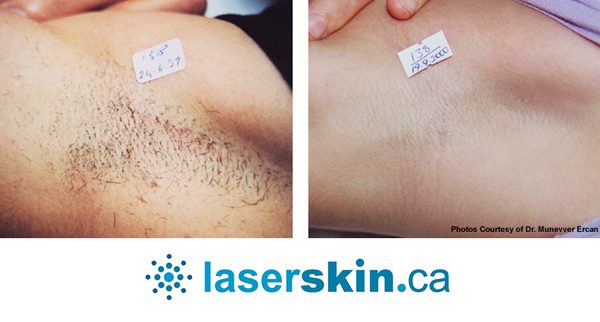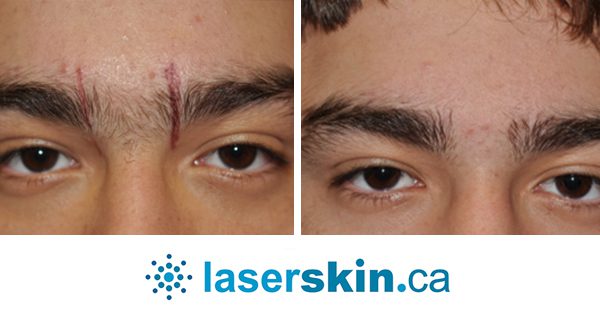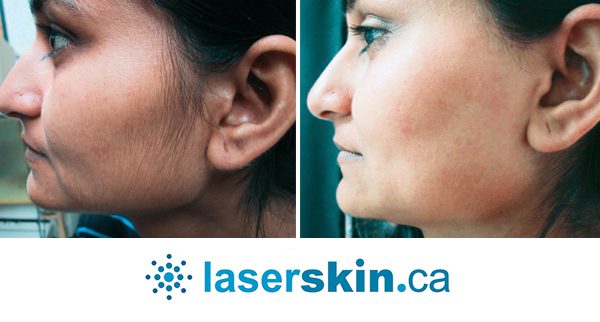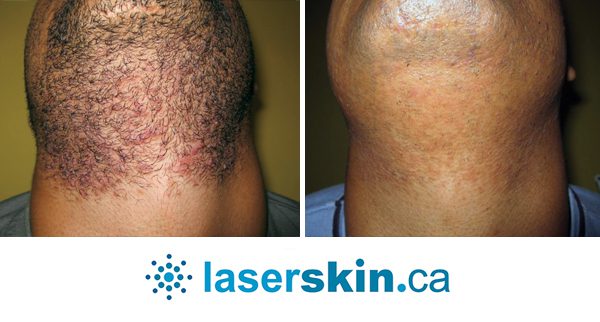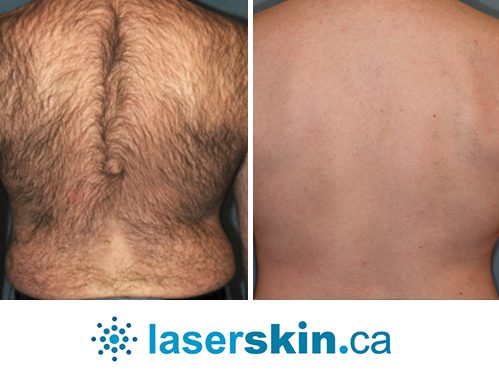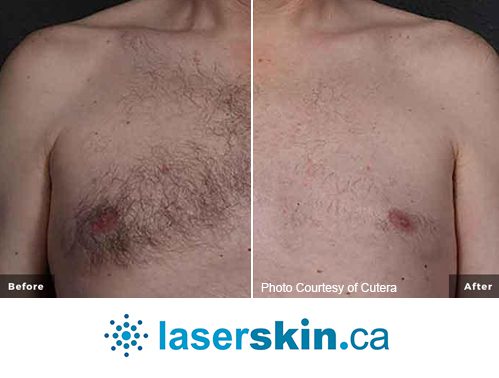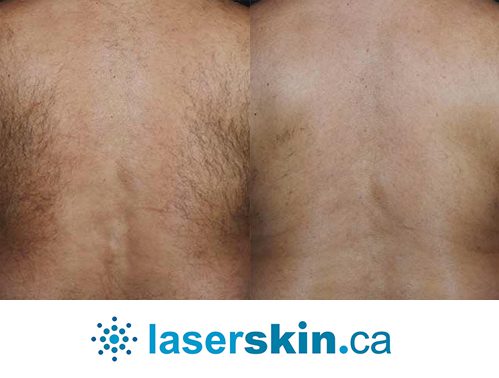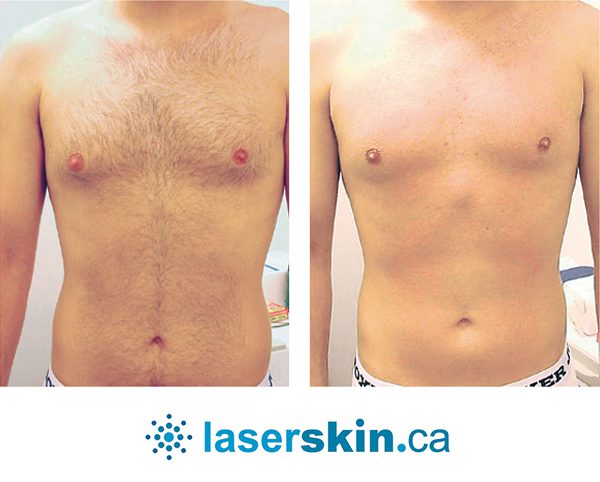 IS LASER HAIR REMOVAL SAFE?
Over the years, advancement in laser hair removal has made the laser hair removal very safe for all skin type and skin color. This said safety comes from using an experienced technician in laser hair removal.
If done correctly, there should only be mild post-treatment side effects. This can include some redness and mild swelling. General irritation should disappear within a few hours post-treatment.
IS LASER HAIR REMOVAL PERMENANT?
The laser energy destroys the hair follicle, making it unable to regrow hair, gradually leading to permanent hair removal. Although laser hair removal isn't 100% permanent, it is the best option to slow hair growth over a long period.  
When the hairs grow back, they are fewer in number, finer, and lighter than before.  By contrast, shaving, waxing, tweezing, and plucking does not damage the hair follicle's root; thus, nothing changes when it grows back.
WHERE CAN I DO LASER HAIR REMOVAL?
Popular locations for laser hair removal facial and body hair:
Full body
Face
Upper Lip
Legs
Feet and toes
Armpits
Arms
Hands and fingers
Chest
Shoulders
Back
Bikini area
Buttock
Ingrown hairs
HOW MANY SESSIONS ARE NEEDED FOR LASER HAIR REMOVAL?
Hair grows in cycles. The time frame of hair regrowth varies per individual, depending on their hair growth cycle and phase. Most people require 6-8 sessions spaced 4-6 weeks apart for optimal results. 
THE BENEFITS OF LASER HAIR REMOVAL
Laser hair removal offers many benefits compared to IPL, electrolysis, waxing, and shaving. Some of these are:

Laser hair removal can resolve in-grown hairs, decreasing razor burns and irritation.

Unlike threading, waxing, and epilating, you do not have to endure uncomfortable and partially formed hairs.
Permanent hair reduction. More permanent removal of hairs than any other treatment.
Laser targets hair directly at the hair follicle. The roots are targeted directly and will not likely damage the surrounding skin.
Treatment time is very quick, usually 15-30 minutes for each session.
Large areas of the body can be covered in each session.
Laser hair removal is effective. After 6-8 sessions, most clients experience almost permanent hair removal.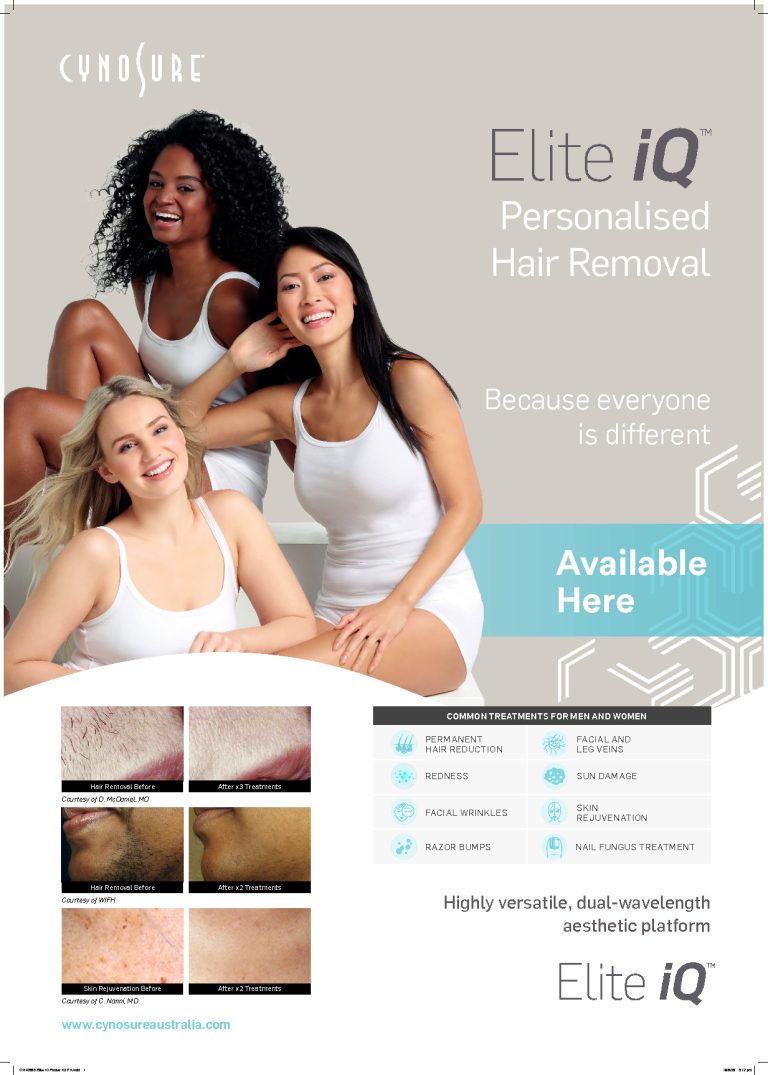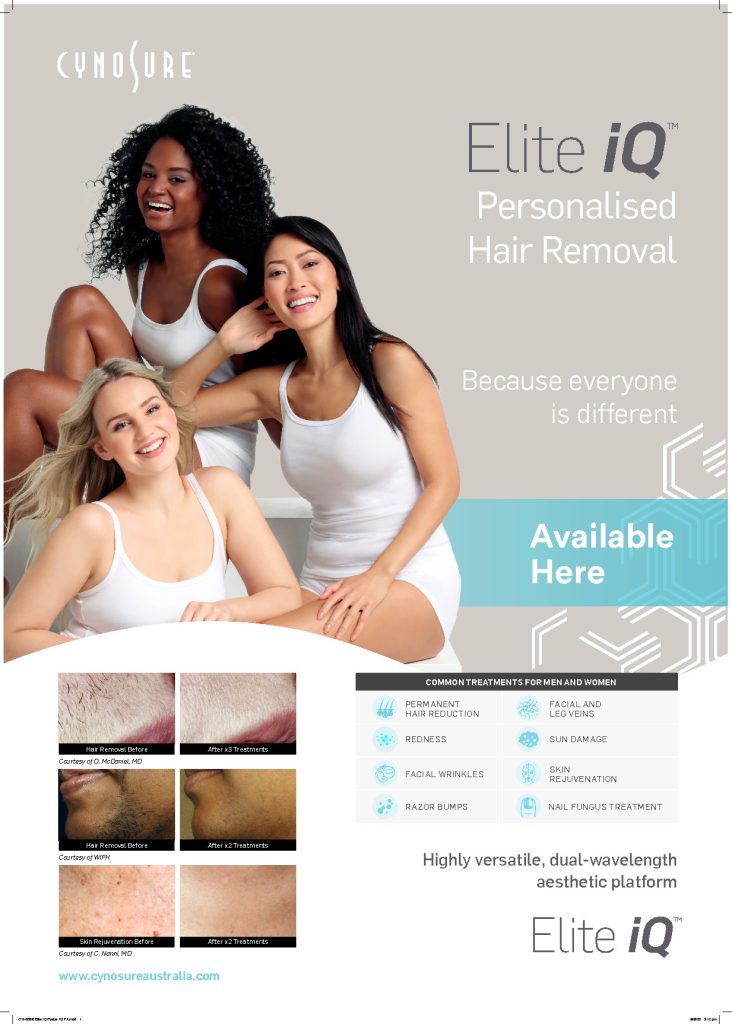 WHAT SHOULD YOU DO AFTER LASER HAIR REMOVAL?
Hair removal aftercare for laser hair removal is easy. Avoid sun exposure and avoid direct sun from hitting your newly treated skin. Do not use tan products, beds, or other tanning equipment. Avoid hot showers or a hot bath for 48 hours.
IS THERE ANY DOWNTIME FOR LASER HAIR REMOVAL?
Once you've done your treatment, you can go about your daily activities.
WHEN SHOULD I SEE RESULTS?
You should see results immediately after your first session.  You will notice a 10-20% reduction in hair regrowth after just the first session.
WHAT IS SKINTEL TECHNOLOGY?
The Skintel melanin reader is the laser hair removal industry's first FDA-cleared melanin reader. It enables technicians to identify test spot settings, optimizing laser hair removal treatments tailored to each client's skin type, ethnicity, and lifestyle.
By using a clinic that offers Skintel Technology, you will receive a much better laser hair removal treatment that will be safer. There is no more judging by the technician on the skin type just by eye or guessing if a patient has been in the sun.  
WHAT ARE THE NEGATIVES OF PERMANENT HAIR REMOVAL?
There are very few negatives about laser hair removal. With any laser, though, there is a risk of burning, blistering, and, worse, scarring. But this all has to do with the experience of the laser technician.  So, finding a reputable clinic with lots of experience is essential.
IS HAIR REMOVAL LASER PAINFUL?
Since lasers have gotten better over the years, their pain levels have also decreased.  New technologies have allowed the treatment to be very tolerated.  The feeling of the laser can be compared to a little prick. Some clinics offer a cooling device during the treatment. 
READY TO BOOK LASER HAIR REMOVAL SERVICE IN TORONTO?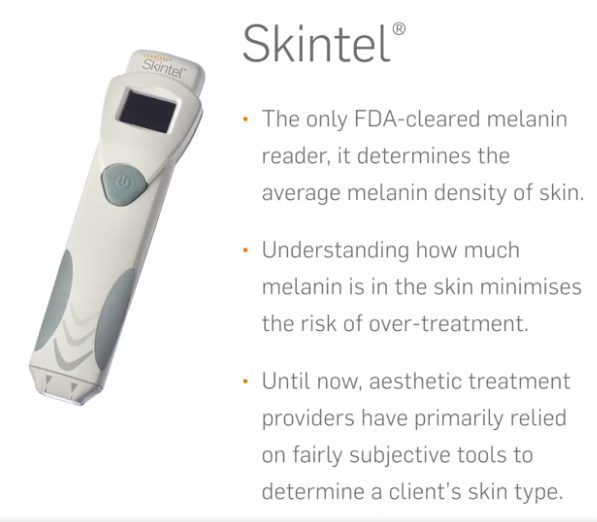 HOW MUCH DOES LASER HAIR REMOVAL COST?
Laser hair removal cost varies depending on the clinic and type of machines used.  The cost for laser hair removal is different than IPL. IPL sessions usually start from $50 and up, and hair removal typically starts from $100 and up.  
Please note that IPL is not a laser. Lasers can deliver better results in fewer sessions and at more excellent safety than IPL.  Often the price is lower when you purchase a package deal of 3-8 sessions. Click on any image to find out the latest laser hair removal cost.