Potenza is the new Gold Standard in RF microneedling.   This revolutionary device is the first of its kind to offer skincare professionals an array of customized anti-aging treatments, utilizing its unique Fusion and Tiger Tip technologies with RF energy. Visit our RF microneedling Toronto and Richmond clinics today.
Transform Your Skin with Potenza RF Microneedling Toronto
Welcome to the hub of the best microneedling Toronto has to offer. Our Potenza treatment sets the standard for potenza microneedling, and the results speak for themselves. Just take a look at our "potenza microneedling before and after" photos to witness the transformation. We not only provide Potenza RF microneedling, but also various other microneedling options. You might wonder about the microneedling cost; Toronto residents will find our prices competitive. We offer a complete breakdown of microneedling price Toronto can rely on for transparency. RF microneedling cost is also fully disclosed, providing a clear picture for those considering this advanced treatment. For those looking for RF microneedling Toronto offers the best in the form of Potenza treatments. Thank you for considering us for your skincare journey.
Did you know what treatments celebrities use to make their skin tighter?
Kim Kardashian's go-to skin treatment is the Potenza. Check out the video to learn more about it!
Kim Kardashian recently shared her love of Potenza RF microneedling on her Instagram stories, displaying the results of the treatments she had done at her doctor's office in Los Angeles.
With Kim's 248 million followers watching her every move on Instagram, we are getting many inquiries about this amazing skin rejuvenation treatment.
Benefits at our Potenza Microneedling & Skin Tightening Toronto Clinic
Potenza microneedle with RF can help to make skin look more youthful by stimulating collagen production, increasing firmness, reducing the appearance of blemishes, and improving complexion and brightness. It also has a shorter healing time than traditional microneedling.
Sagging Skin
Fine Lines Wrinkles
Dark Spots
Hair Loss with PRP
Sun Damage
Large Pores
Scars from Injury or Surgery
Hyperhidrosis
Cellulite
Post inflammatory Hyperpigmentation
What is RF Microneedling?
This cosmetic procedure is commonly referred to as radiofrequency microneedling, and it improves the skin on the face and other parts. Collagen induction therapy rejuvenates and tightens all skin types, especially dark skin. Fine needles apply radiofrequency radiation to the epidermis, causing moderate damage and collagen and elastin synthesis. These two components are essential to skin cells.
What's the end RESULT? As a result of the treatment, you may observe skin tightening, facial lifting, decreased pore size, rejuvenated complexion, reduced acne scars, and a visible improvement in stretch marks.
Cynosure Potenza has taken the world's first Health Canada-approved medical grade RF device to the next level. With the unique combination of monopolar and bipolar RF frequencies, users can receive the most customized radiofrequency treatments available. 
The four-mode system allows for targeted treatments, whether deep or shallow. Monopolar RF mode heats up large areas of tissue, perfect for face and body treatments, while the bipolar RF mode is more concentrated, offering skin revitalization.
Potenza RF Microneedling is unique compared to other laser treatments available, as they can be applied to all skin types, on any area of the body, regardless of the season.
Who is a good candidate for Potenza treatment plan?
If you're starting to see the first indications of ageing like wrinkles, sagging skin, and pimples, Potenza RF could be the perfect solution for you. Everyone who struggles with skin flaws like scars from acne, stretch marks, or enlarged pores can benefit from it.

How many treatments are required?
We recommend getting a package of 3 treatments for best results.  Treatment times should be spaced 6 weeks apart. Collagen and elastin takes time to build up, so the 6 weeks healing time will allow for optimal collagen and elastin production.  There is minimal downtime, with side effects including mild swelling and redness.
The Key to Celebrity Skin: What's the Secret?
Check out the celebrities that use the Cynosure Potenza RF Microneedling as part of their skin routine for flawless skin.
How much is the Potenza RF Skin Tightening?
The cost for using Potenza RF Skin Tightening is \$850 for a single treatment of the full face and neck. A package of three treatments is available for \$2400.
CELEBRITY SKIN SPECIAL LIMITED TIME OFFER
INTRO To Potenza RF Microneedling Special
Reg: $850 NOW: $497 +hst. Single Session only.


SAVE $353

$1397 + hst. For a package of 3 ($465 per session).


SAVE OVER $1000

$2597 + hst. For a package of 6 ($433 per session).


SAVE OVER $2300
Book Your Free Consultation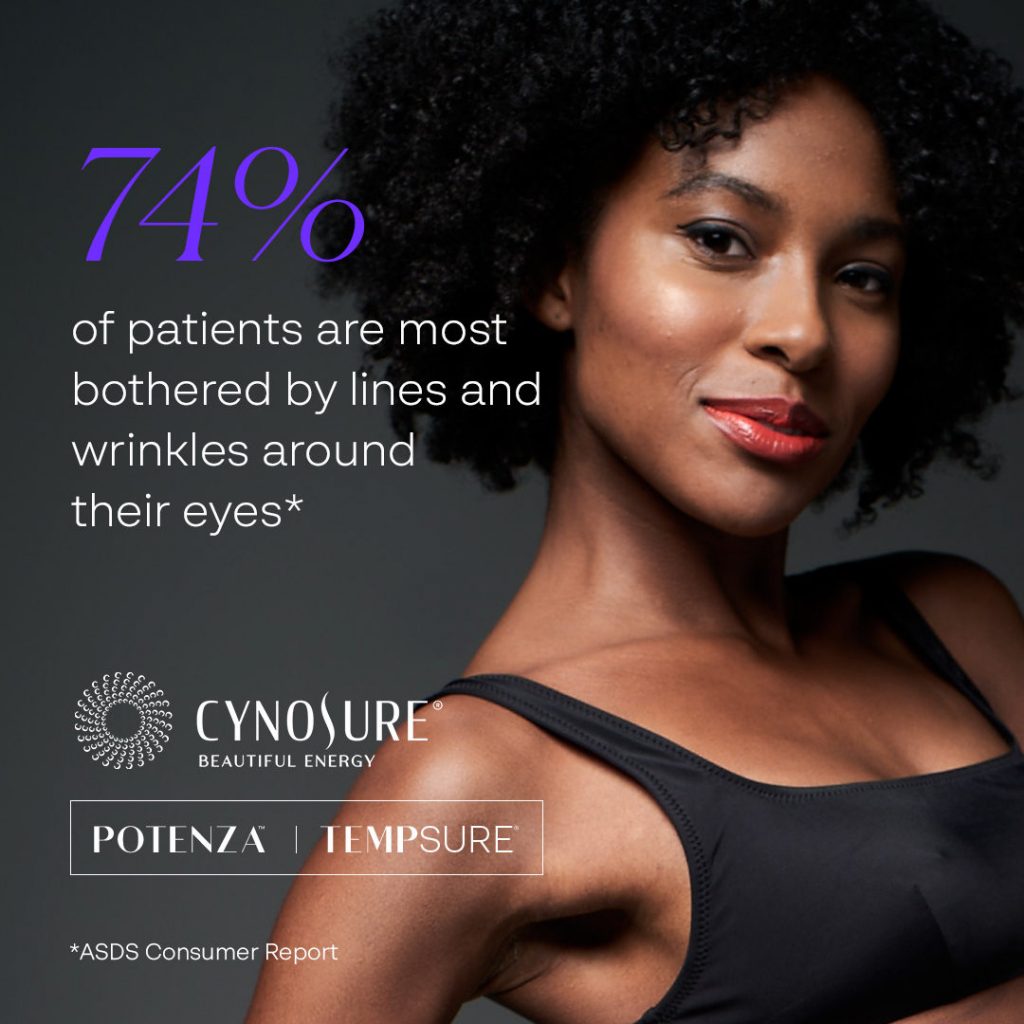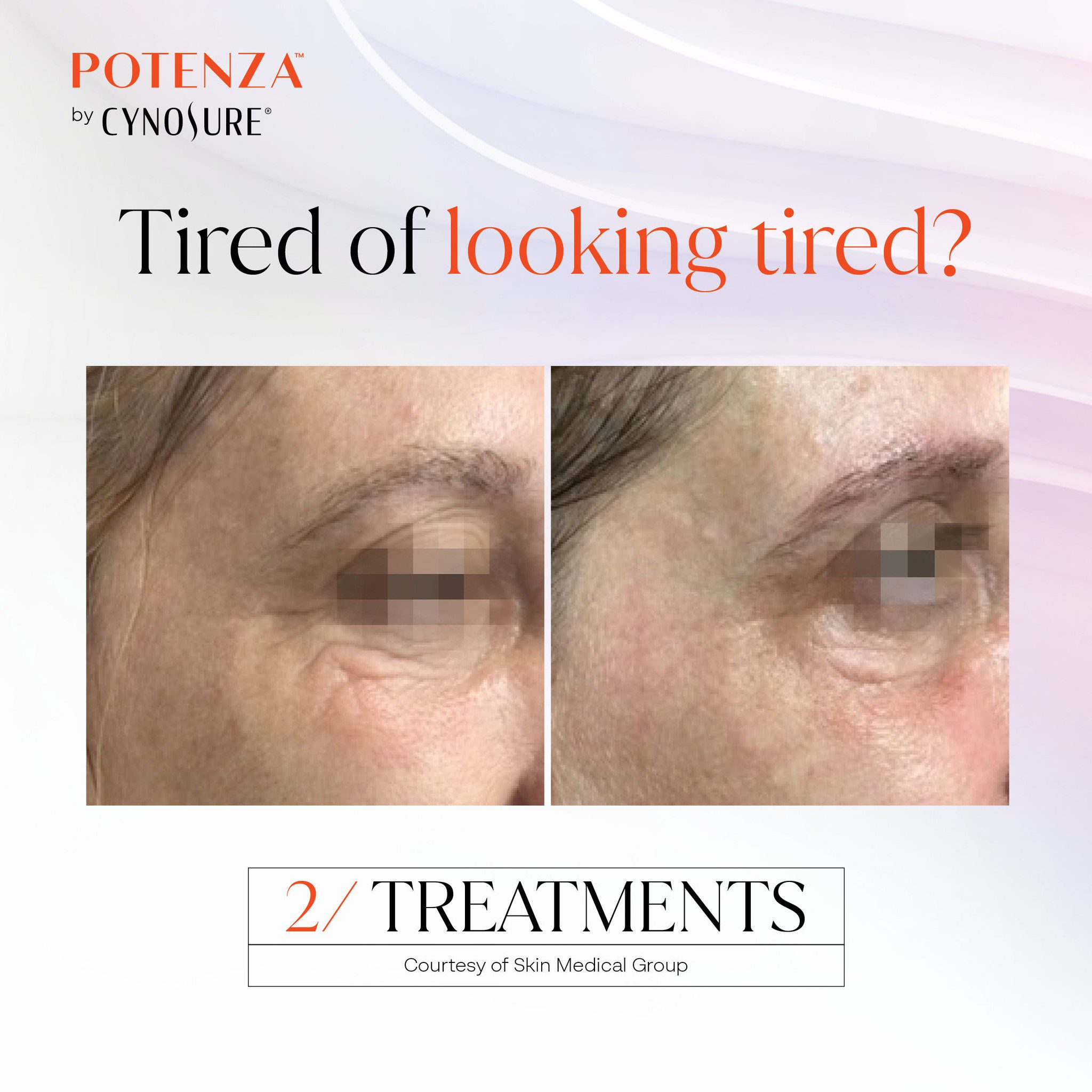 What is RF microneedling?
RF microneedling, also known as radiofrequency microneedling or microneedling RF treatment, is an innovative technique that creates microscopic wounds on the skin's surface using tiny needles. These microneedles deliver radiofrequency energy to the deeper skin layers, generating thermal energy that stimulates the production of collagen and elastin fibres, resulting in a more youthful appearance.
Who would benefit most from RF microneedling?
RF microneedling is an excellent option for those who wish to enhance the skin's texture, tone, and elasticity. All ages can benefit from this minimally invasive treatment, although most patients who undergo it are over 30. Patients must have reasonable expectations, be in excellent health, and have no history of cold sores or surgery in the treated area.
What occurs during the session?
During an appointment for RF skin tightening, the technician will apply a topical anesthetic to the treatment area to make it virtually painless. Then, they will use a device with uninsulated needles to create microscopic wounds on the surface of the epidermis. To obtain optimal results, the depth of the microneedles can be altered to target different skin layers, and the amount of RF energy can also be modified.
What is the recuperation period for radiofrequency microneedling?
Patients may experience some redness and swelling immediately following their treatment, but these adverse effects typically subside within a few hours. Patients can recommence normal activities on the same day but should avoid wearing makeup for the first day. Within a few days, noticeable improvements can be observed, and the full effect of the treatment is typically visible within a few months.
Are there hazards associated with radiofrequency microneedling?
RF skin tightening is a safe and effective treatment when administered by a trained professional. However, as with any medical procedure, there are some risks involved. For example, patients may experience pain, discomfort, and discoloration during and after the treatment. Rarely, patients may experience scarring, infection, or skin colour changes. Therefore, patients should give informed consent before undergoing treatment and pose any pertinent concerns to their provider.
How many treatments are required for visible improvement?
Most patients will observe an improvement in their skin after a single RF skin tightening treatment, but a series of treatments is typically advised for optimal results. A practitioner may recommend a series of 3-5 treatments, spaced 4 to 6 weeks apart, depending on the patient's objectives and the severity of their skin concerns. In addition, maintenance treatments can be conducted every six to twelve months to maintain the growth of healthy new skin.
What are some of the benefits of radiofrequency microneedling?
Radiofrequency microneedling is a minimally invasive treatment that can enhance the skin's texture, tone, and laxity with minimal recovery time. It is an excellent option for patients who desire dramatic results without surgery. Utilizing the body's natural healing processes, RF skin tightening stimulates the production of collagen and elastin fibres, resulting in a more youthful appearance. Additionally, RF skin tightening can be combined with other treatments, such as hyaluronic acid injections, to increase the efficacy of the treatment.
What studies support the use of radiofrequency microneedling?
According to a 2017 study published in the Journal of Cosmetic Dermatology, radiofrequency microneedling treatments substantially improved skin texture, fine lines, and wrinkles. It is an effective treatment for lower face and neck skin laxity, according to a 2018 Journal of Drugs in Dermatology study. These and similar studies demonstrate the safety and efficacy of radiofrequency microneedling as a cosmetic treatment.
What is Secret RF microneedling?
This radiofrequency microneedling treatment Secret RF enhances the skin's texture, tone, and laxity. As with other RF treatments, Secret RF microneedling delivers radio waves to the deeper skin layers to stimulate collagen and elastin filament production. Utilizing microneedles that penetrate the skin at varying depths, Secret RF enables the practitioner to tailor the treatment to the individual requirements of each patient.
Can Microneedle with RF be performed on the body in addition to the face?
Yes, microneedle with RF can be used on both the face and the body. Stretch marks, scars, and sagging skin on areas such as the abdomen, quadriceps, and arms can be improved with this treatment. Similar to the face, the depth of the micro-needles and the quantity of RF energy can be adjusted to optimally target various levels of the skin and achieve the best results.
How does microneedle RF stimulate collagen production?
A: Microneedle RF stimulates collagen production by generating thermal energy in the deeper skin layers. This heat energy initiates the body's natural healing process by causing controlled micro-traumas. As the skin restores itself, new collagen and elastin fibres are produced, which are responsible for the firmness and elasticity of the skin. Over time, the increased production of collagen results in visual enhancements to the skin's texture, tone, and laxity.
How long do the effects of radiofrequency microneedling last?
Depending on the patient's age, skin type, and other factors, the effects of this treatment can last anywhere from several months to over a year. Maintenance treatments can be conducted every 6-12 months to maintain the growth of healthy new skin. To maximize the longevity of their results, patients should also safeguard their skin from sun damage and maintain a healthy lifestyle.
Does RF microneedling cause pain?
Radiofrequency microneedling is a virtually harmless procedure that can be performed with topical anesthetics. Applying topical anesthetics and cooling techniques can alleviate any distress a patient may experience during treatment. Patients may experience erythema, edema, and sensitivity following treatment, but these symptoms typically go away within few hours to several days.
Can anyone perform RF microneedling, or should experts only complete it?
This treatment should only be performed by trained and experienced practitioners who understand the risks and benefits of the procedure. Even though it is a minimally invasive treatment, it still entails some risks. It is essential to ensure that the practitioner performing the treatment has the expertise to ensure safe and effective outcomes. Patients should research and select a provider with a track record of effective therapies.
At Laser Skin Clinic, we pride ourselves on specializing in RF skin tightening, a cutting-edge technology designed to tackle the early signs of aging and enhance skin tone, texture, and laxity. Using RF energy directed into the deeper layers of the dermis, this treatment proves to be a superb choice for clients in search of a nearly painless procedure that yields noticeable results. Ideal candidates for this non-invasive approach are those without prior surgical procedures or medical conditions that could interfere with treatment.
During each session, non-insulated needles puncture the skin's surface, delivering RF energy deep into the layers of the dermis. This action triggers the synthesis of collagen and elastin fibers, leading to enhanced skin firmness and decreased skin laxity. Our trained staff members are knowledgeable about every facet of the treatment and are available to answer any queries or address concerns from our clients. Customized treatment plans are developed to focus on the areas of most concern to each client.
To guarantee optimal results, we usually recommend a series of treatments, with subsequent sessions scheduled 4-6 weeks apart. Whether you're concerned about surface-level issues or deeper layers of the skin, our RF skin tightening treatments promise a more youthful and vibrant appearance.
Potenza RF Microneedling Before and After