We Offer You the Cynosure PicoSure® Laser Tattoo Removal Toronto with NEW $250 Flat Fee Pricing.
LASER TATTOO REMOVAL TORONTO | RICHMOND HIL
We offer both the Cynasure PicoSure® and the Quanta Q-Switch lasers for tattoo removal.
PICOSURE® TATTOO REMOVAL
Looking for laser tattoo removal Toronto? Our Cynosure's PicoSure® tattoo laser machine is the best laser tattoo removal device being used today, and the industry's gold standard for laser tattoo removal. The PicoSure® is the world's first picosecond aesthetic laser-optimal wavelengths for treating tattoo removal. Creating an intense photothermal impact in trillionths of a second, PicoSure's advanced technology spares the skin high thermal damage and targets the chromophore for better clearance in fewer treatments. 
The PicoSure® technology proves that tattoo removal tech has improved significantly over the years. Research and various clinical studies have proven that the picosecond 755-nm alexandrite laser is a safe and very effective device for tattoo removal.
Creating an intense photothermal impact in trillionths of a second, PicoSure's advanced technology spares the skin high thermal damage and targets the chromophore for better clearance in fewer treatments.
Optimally targets melanin to treat a range of pigmentary conditions
Incurs minimal thermal damage due to picosecond pulse duration
Customizable treatments with 2-6mm, 8mm, and 10mm spot sizes
Proven clinical validation, with 26 publications and 59 abstracts to date
PicoSure makes tattoo removal even easier. The 755nm wavelength is able to target black, blue, and green tattoo inks, while the optional 532nm wavelength offers effective treatment of "sunset colours"—red, yellow and orange—which are typically hard to correct. You'll also be able to:
Tailor treatments using variable spot sizes
Use boost mode to better treat recalcitrant tattoos with shortened pulse width
Treats at three wavelengths: 532nm, 755nm, and 1064 nm. 
Treat black ink in darker skin type patients using the 1064nm delivery
Quanta Q-SWITCHED TATTOO REMOVAL
Our Quanta Q-Plus EVO Series is the next generation three-wavelength laser that has been so appreciated in the tattoo removal world. Upgrade with a 3 Hz Ruby, the quickest on the market today, and several new emission modes, the device opens doors to new treatments that the old models of the EVO were not as well suited for.
A breakthrough in advanced optical technology the OptiBeam™ II Technology OptiBeam™ handpiece allows the Q-switched laser to be used optimally, helping to prevent problems in the laser tattoo removal process by distributing the devices laser power evenly.
Q-Switched Nd:YAG Laser
Energy up to 1600 mJ/pulse @1065 nm,
Pulse Width of 6 ns, 12 ns or 250 microseconds
Adjustable Repetition Rate up to 10 Hz
Q-Switched Ruby Laser
Energy up to 1200 mJ/pulse @694 nm
Pulse Width of 30 ns
Energy on the skin up to 1.2 J/pulse
Q-Switched Nd:YAG 532 and 1064 nm
Same spedifications of Q-Plus A
Combined with a Ruby Laser @694 nm
Pulse Wiedth of 30 ns
Energy on the skin up to 1 J/pulse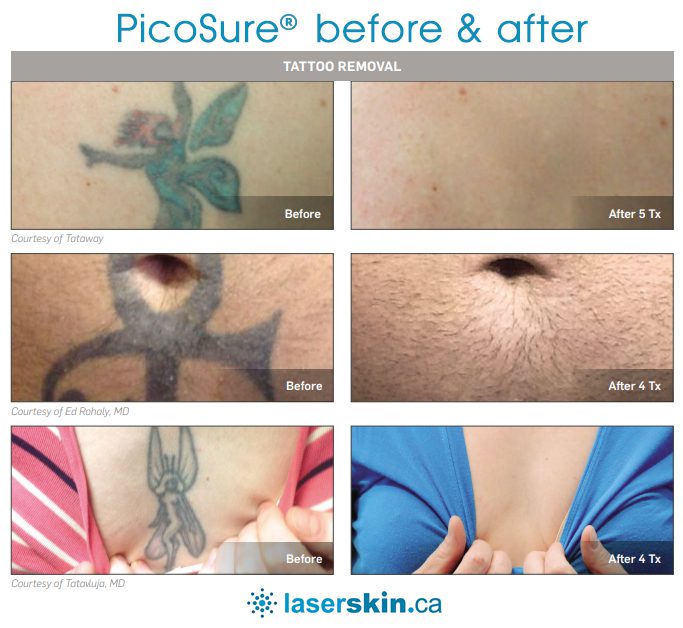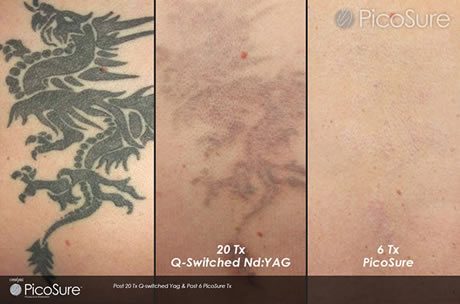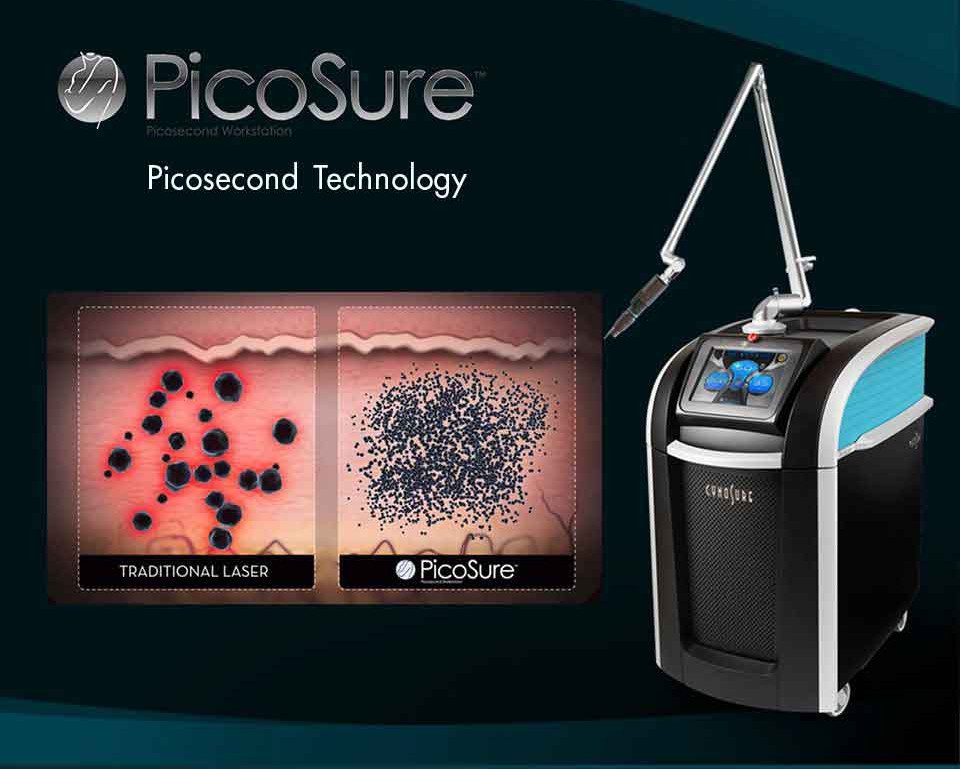 PicoSure® Laser Tattoo Removal Before and After Photos

PicoSure® Laser Tattoo Removal Toronto | Richmond Hill
Laser Tattoo Removal Toronto
Laser Tattoo Removal Richmond Hill
BENEFITS OF LASER TATTOO REMOVAL
As tattoos have become increasingly popular, the requests for tattoo removal have also increased.  Laser tattoo removal is the most popular method for tattoo removal.
Lasers have been used to remove tattoos since the late 1970s.  In 1979 an argon laser was used for tattoo removal in 28 patients, with limited success.
In the 1980s, a new clinical study in Scotland into the effects of Q-switched ruby laser energy on blue/black tattoos. Further studies into other tattoo colors were then carried out with various degrees of success.
When ink is injected into the dermis of the skin, thousands of particles of tattoo pigment remain in the dermis. Laser therapy causes these particles to heat up and fragment into smaller pieces, known as the photomechanical effect.  In most cases, macrophages carry the ink particles to the lymph nodes closest to the site of the tattoo. Macrophages are specialized immune cells, whose job it is to surround foreign particles and clear them from the tissue.
During the photomechanical effect, the energy is absorbed by the ink particles in a very short time, called nanoseconds.  For laser tattoo removal, the destruction of tattoo pigments depends on four factors:
The colour of the laser light must be more highly absorbed by the tattoo pigment than the surrounding skin. Therefore, different tattoo pigments require different laser colours. (eg. red light is absorbed by green tattoo pigments, while yellow tends not to absorb light).
The pulse (time) duration of the laser energy must be very short.
Enough energy must be delivered during each laser pulse to heat the pigment to fragmentation.
The colour of the light must penetrate deep into the skin to reach the tattoo pigment.
Different lasers remove different tattoo colours.
Q-switched Ruby: 694 nm. This laser creates a red light which is absorbed by green and dark tattoo pigments.
Q-switched Alexandrite: 755 nm. This laser absorbs green pigment, does not work well with red, orange, yellow, brown etc. Available in picosecond speed with claims it can remove ink faster.
Q-switched Frequency-double Nd:LYAG: 532 nm. This laser creates a green light which is absorbed by red, yellow, and orange pigment.
Q-switched Nd: YAG: 1064 nm. Works better on darker skin as the light isn't absorbed by melanin like the ruby.
Picosecond Laser: Picosecond pulses are more efficient than nanosecond pulses in clearing black tattoos. However, in polychromic tattoos the difference is minimal compared to Q-switched.
How Many Laser Sessions are Required to Remove a Tattoo?
The Kirby-Desai scale is often used to assess the potential success and number of treatments necessary for laser tattoo removal. Patients often receive a poorly defined assessment of the number of treatments and often engage in the process without full awareness of the potential success. In the Kirby-Desai scale, numerical values are assigned to six parameters: skin type, location, color, amount of ink, scarring or tissue change, and layering.
The average number of tattoo removal treatments required using laser was 8 treatments, with a range of 3 to 20 treatments. Treatments must be spaced out 6 weeks apart.
Skin type: Patients higher on the Fitzpatrick scale, (darker skin) are not ideal for laser tattoo removal. They often require longer wait times between treatments due to using the laser on lower settings to try to avoid unwanted side effects such as hypopigmentation.
BOOK A FREE CONSULTATION TODAY
Looking for laser tattoo removal Toronto? You have a tattoo you'd like to remove? Why not fill out our online form, upload a few photos of your tattoo, and we'll get right back to you on the cost and answer any questions you may have.
We do our laser tattoo removal procedure at our Richmond Hill location, and we do our non-laser tattoo removal procedure in Mississauga, Richmond Hill, and Toronto.
CLICK here to fill out our online tattoo removal form.