EVERYTHING YOU NEED TO KNOW ABOUT ABOUT SKIN TIGHTENING TREATMENTS - HOW TO TIGHTEN SKIN
Growing older means learning lessons of humility, grace, and wisdom that can only be learned through years of living. It also means understanding and being at peace with your place in the world. Your body will change as you get older, particularly in the way your skin and face look. Learning how to tighten skin as we age is an important part to aging gracefully. Below you will find the various types of skin tightening treatments one can choose from.
Finding a positive attitude toward wrinkles, age spots, and loose skin may require some adjustment. In the end, feeling good about your body as you age has less to do with home remedies or medical procedures and more to do with perspective.
Nobody can totally turn back time, but there are therapeutic treatments and preventative measures you may do to tighten up your skin. This article will examine the causes of skin sagging and various solutions for loose skin.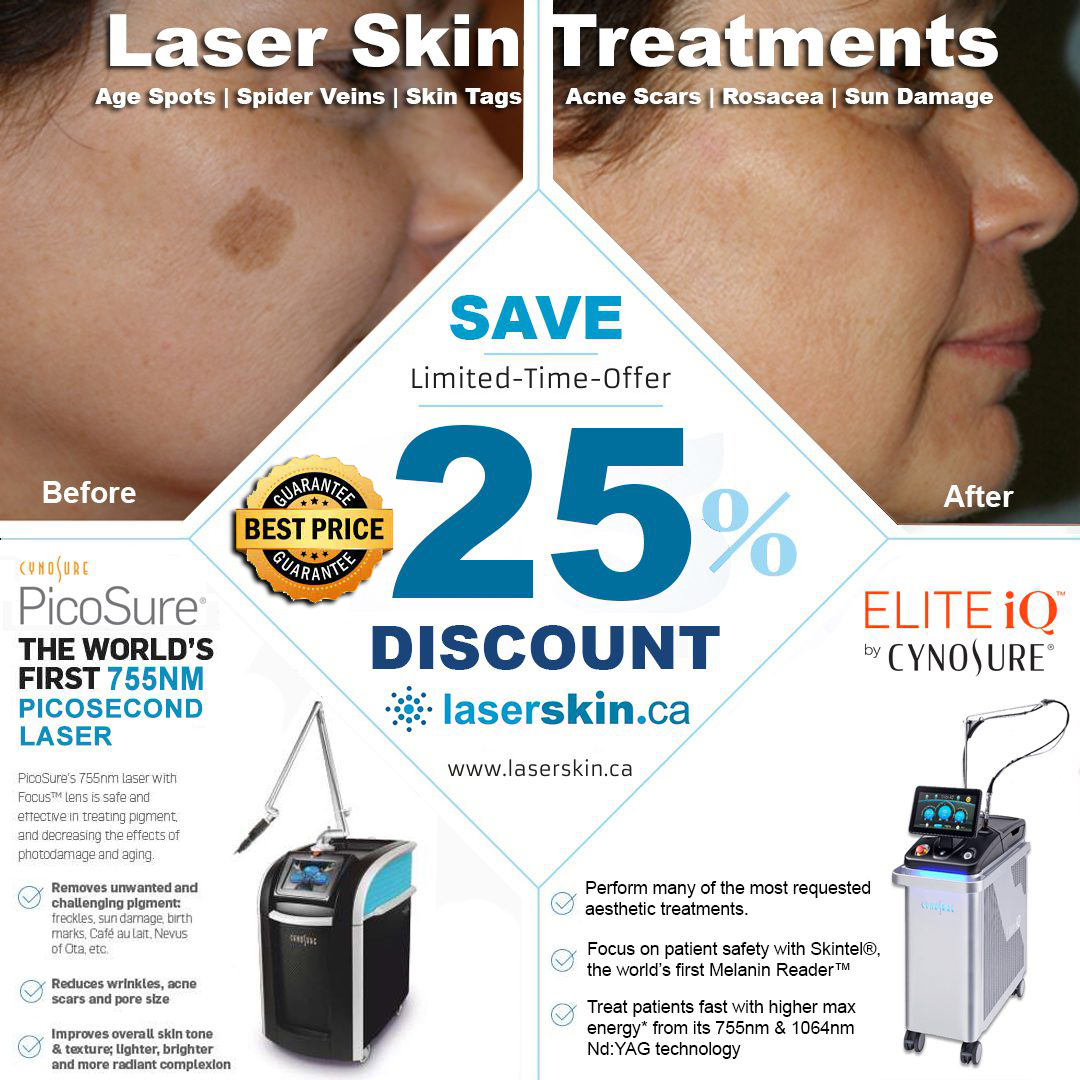 In general, non-surgical skin tightening techniques operate by heating deeper layers of skin with targeted energy, which stimulates the creation of collagen and elastin and progressively improves skin tone and texture. To assist reduce cellulite, certain therapies also target fibrous tissue.
Skin tightening can be done on most parts of the body.  The most common areas for skin tightening are the face, jawline, neck, and stomach. The most common age for skin tightening is between 30 to 70 years old. People who do not have aging skin can do skin tightening as a preventative measure.
WHY DOES MY FACE SKIN SAG?
Most of the proteins in your body are collagen. It builds the joint tissue between your muscles and bones and supports the formation of your skin.
Your body makes collagen naturally, but as you get older, less of this vital protein is produced. Your skin loses its elasticity as a result, and wrinkles become more obvious.
The natural amount of fat in the deeper layers of your skin decreases as your levels of collagen do. That leaves empty space beneath your skin layers, which can make your facial skin sag or droop where it was formerly firm.
Other lifestyle factors can also result in facial wrinkles forming Early. If you're prone to wrinkles, it's mostly a result of genetics. Other factors that can contribute to early wrinkles include:
Diet High in processed foods
Extreme Weight loss of gain
Smoking
Frequent exposure to UV rays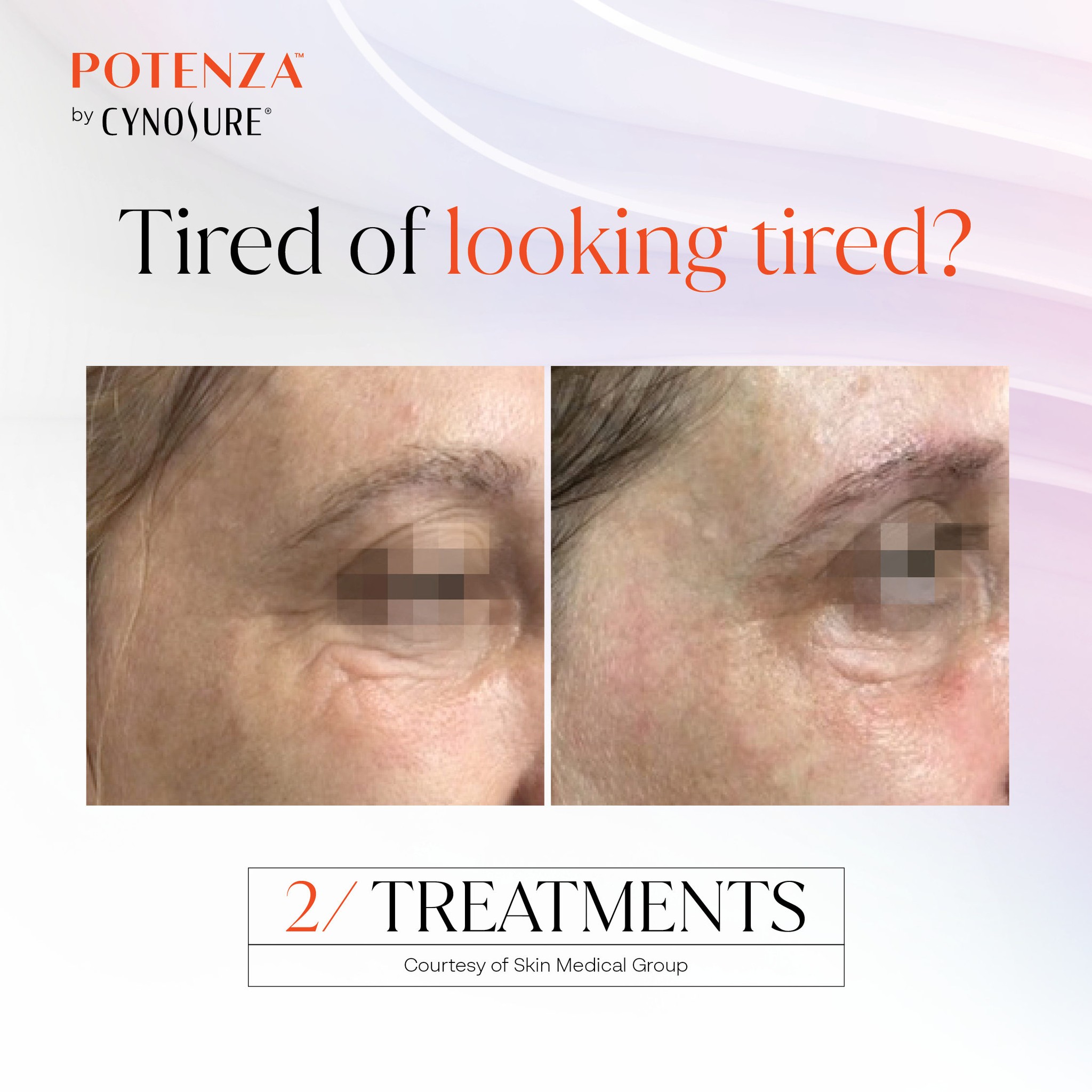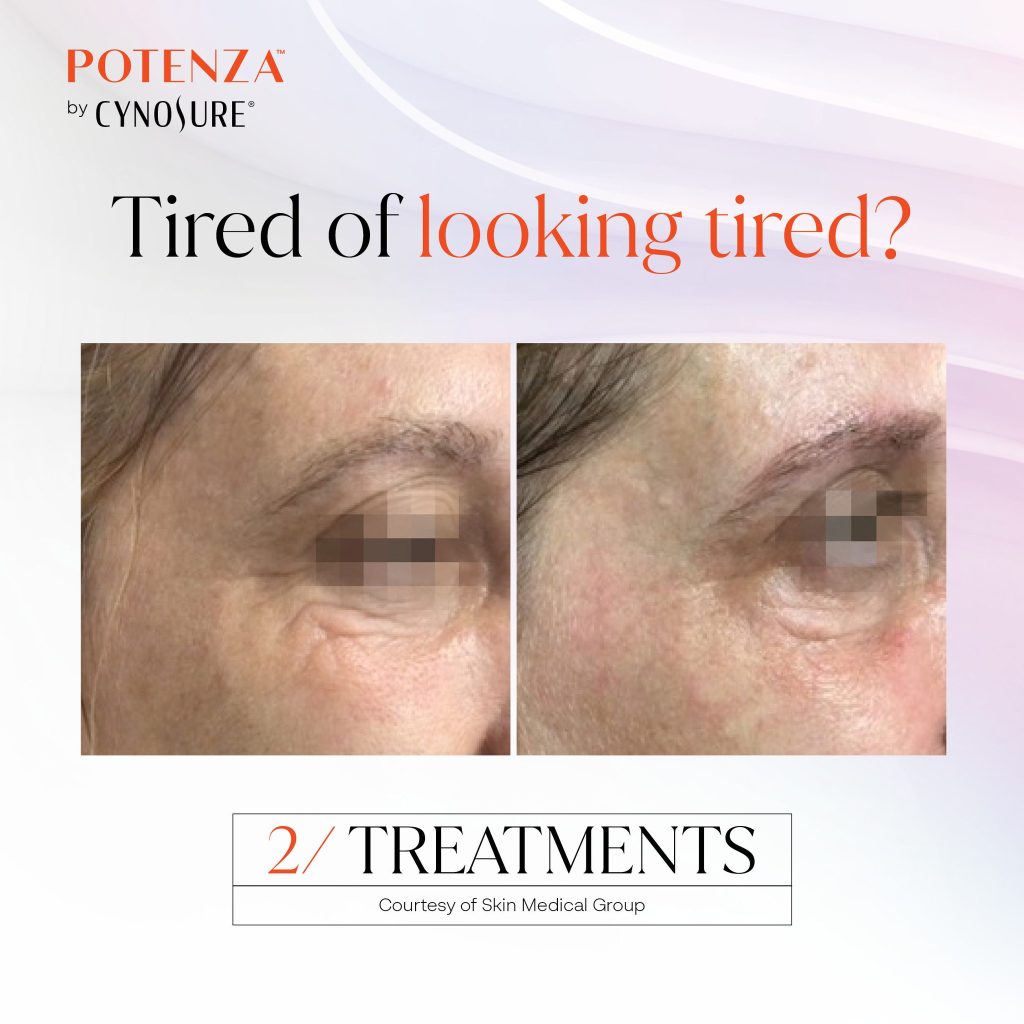 AT HOME SKIN TIGHTENING TREATMENTS
The skin on the face can be tightened using a variety of home remedies. A few of these include:
Banana paste
Cucumber juice
Pineapple juice
Aloe Vera Gel
Coffee grounds scrub paste
Honey
Applying any of these home remedies requires that the face be well cleaned and dried. Wash off after 15-20mins.
COLLAGEN SUPPLEMENTS
Even though you can narrow down the wavelengths on an IPL device by using filters, the light wave from an IPL still makes it less selective and harder to control than using a laser.  Because light is absorbed by different targets at different skin depths, there is less energy being directed to the hair follicles with an IPL compared to a laser. 
As a result, more treatments are required for IPL hair removal than laser hair removal. For IPL hair removal, your hair colour and coarseness are important.  Blond and white hair does not respond to IPL.  The lack of precision on an IPL means the energy needs to be set lower for safety, thus more treatments, and less permanent results compared to laser hair removal.
IPL hair removal cost is cheaper than laser. You may think you are getting a great deal, but in fact you will end up paying more for less effective results and more treatments.  Even though IPL is also popular, it isn't the safest.  Burning and scarring can occur with IPL if the settings are set wrong. For safety concerns IPL needs to be set at lower settings for darker skin types thus less effective than laser. 
Laser can treat more skin types, with fewer sessions, and more permanent results.  So even if you are paying more per session for laser, in the long run, it is more cost-effective. Laser treatments allow for precise and safer energy delivery to the hair follicles instead of the surrounding skin.
DOES USING SUNSCREEN HELP?
One easy approach to prevent sagging skin on your face and neck is to wear sunscreen. The ultraviolet (UV) rays from the sun won't harm your skin if you use sunscreen every day. It also lowers your chance of developing skin cancer. To keep your skin appearing young, be careful on apply sunscreen to your neck and bust.
DOES DRINKING WATER HELP?
Your skin will appear younger if you stay hydrated. Additionally, it will improve your outlook and mood. The aging effects on your skin will become more pronounced if it is regularly and consistently dehydrated.
DOES FACE YOGA WORK?
For skin that looks younger and a body that feels better, yoga has been suggested. Your skin's oxygenation levels may rise just from doing yoga.
But most dermatologists disagree that "face yoga" facial workouts meant to tighten your skin Works. Face yoga won't likely prevent wrinkles because repeatedly placing your face in particular positions is a contributing factor in their development.
Skin Tightening Before and After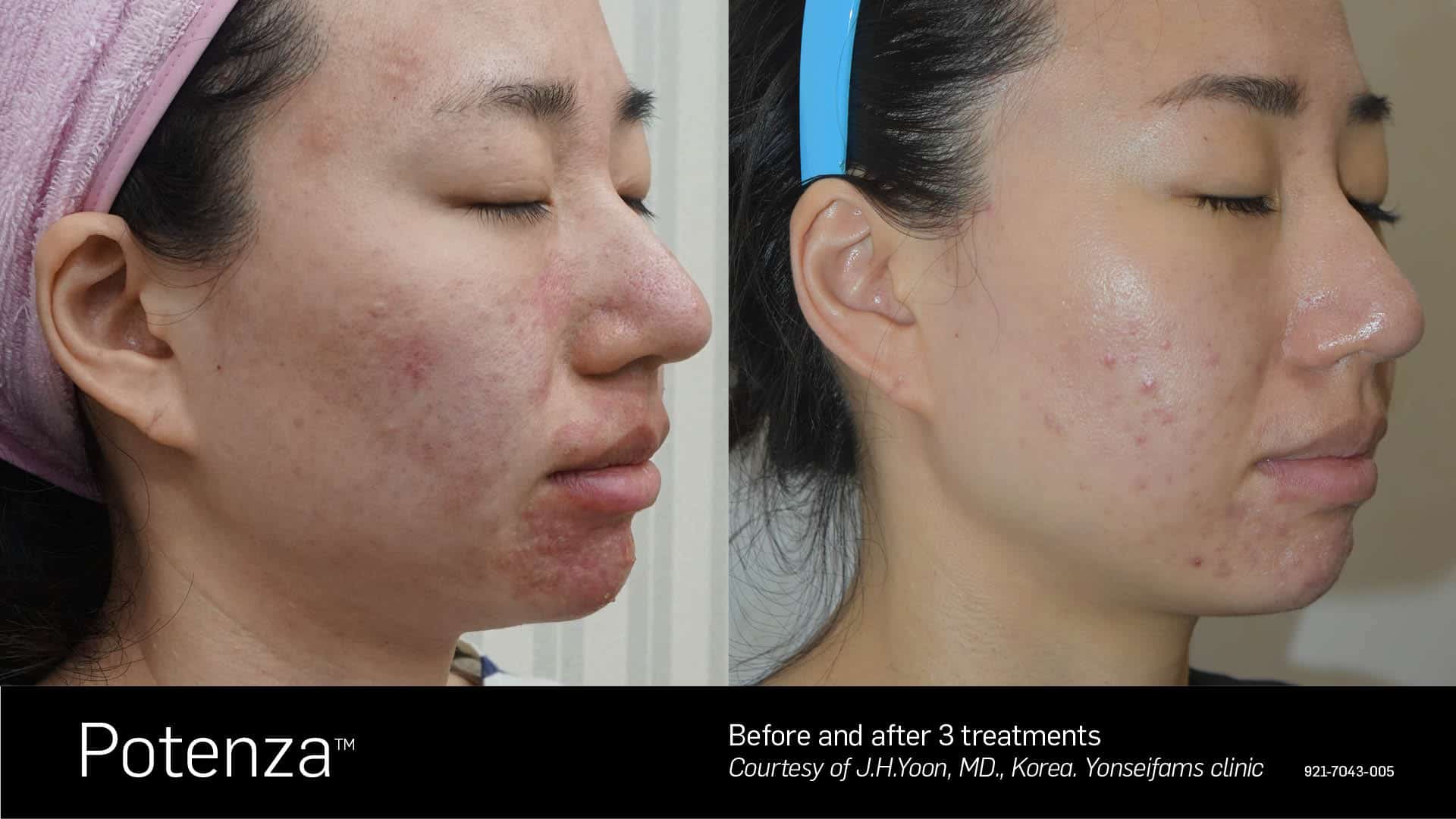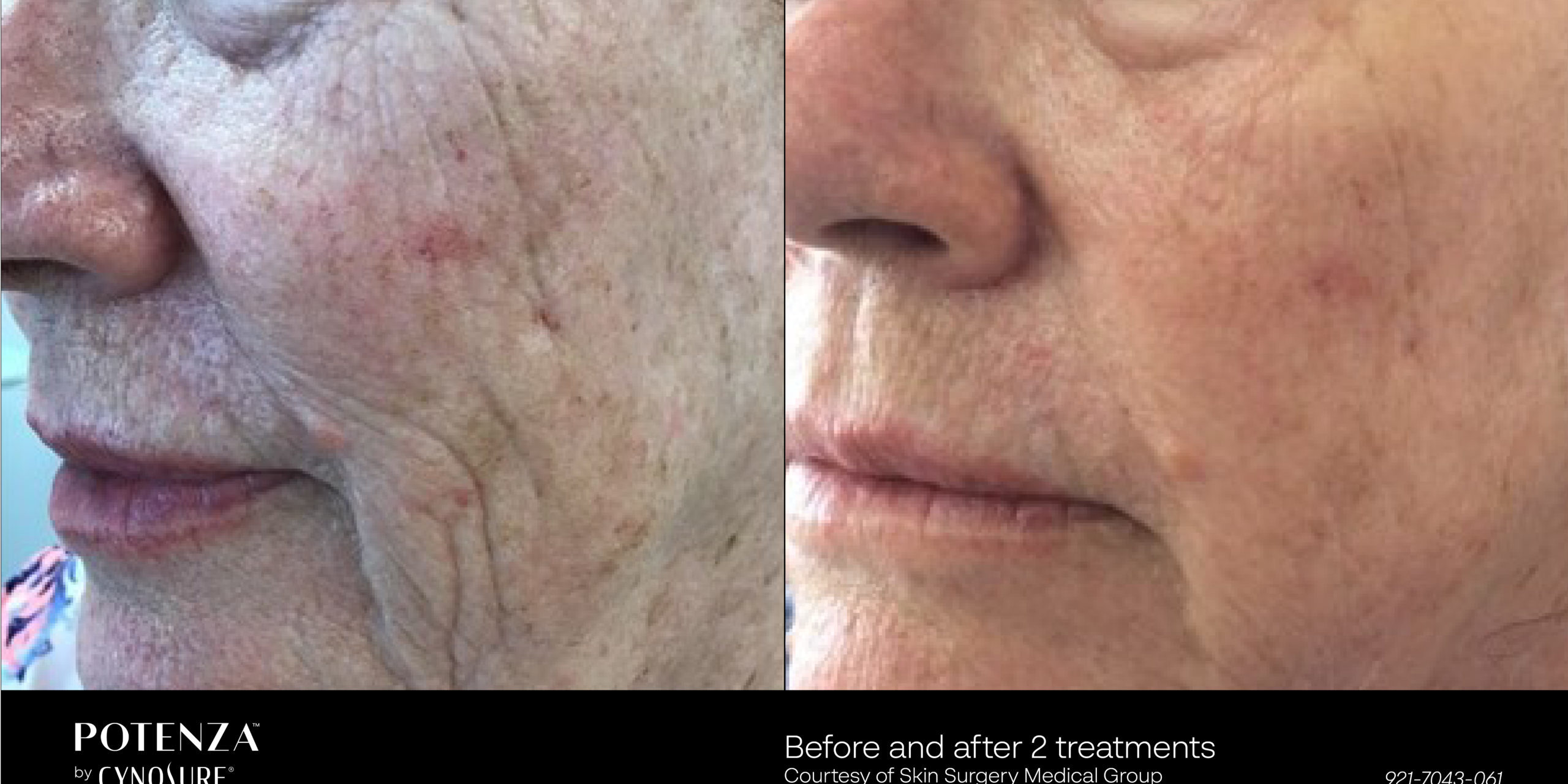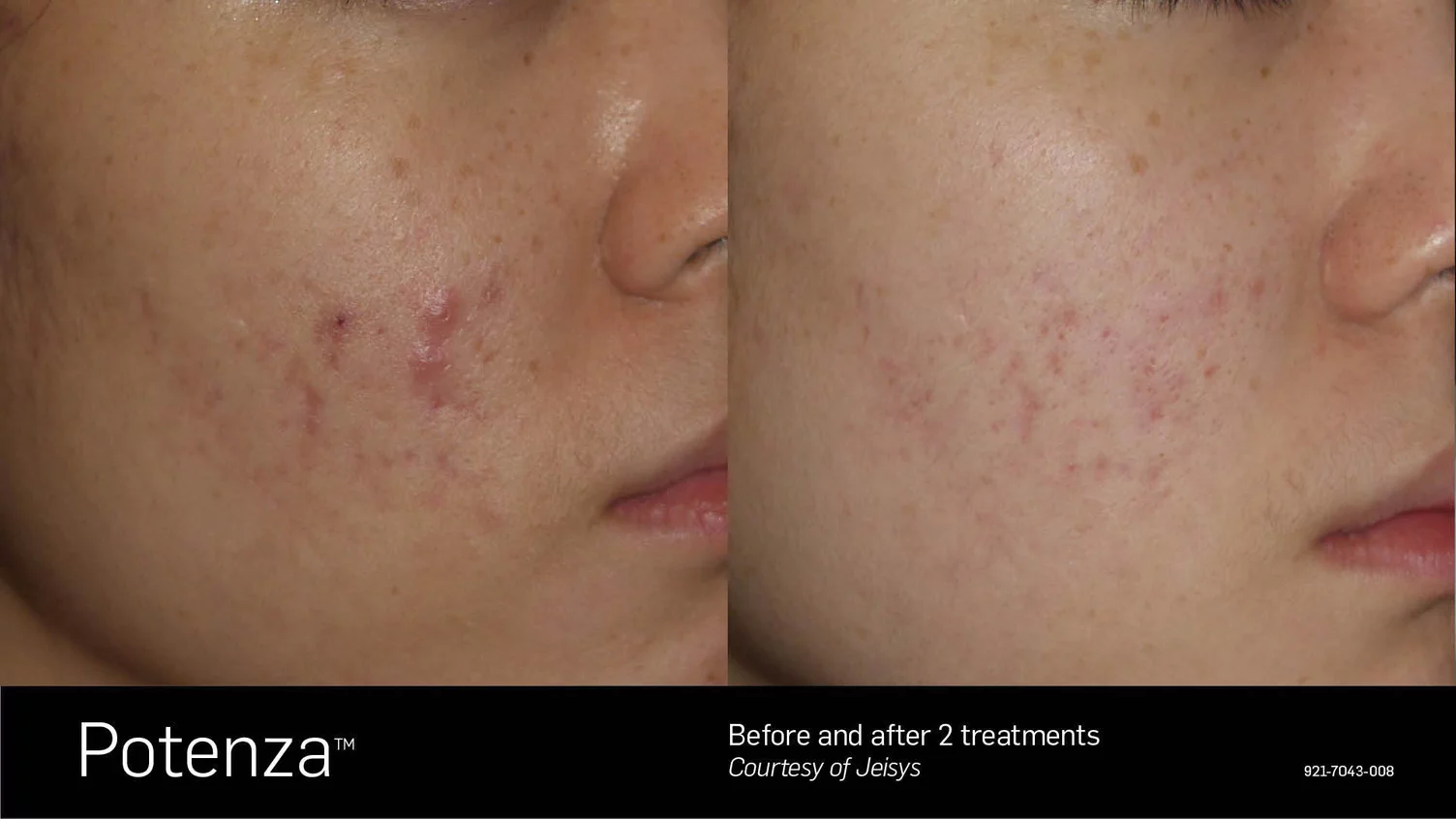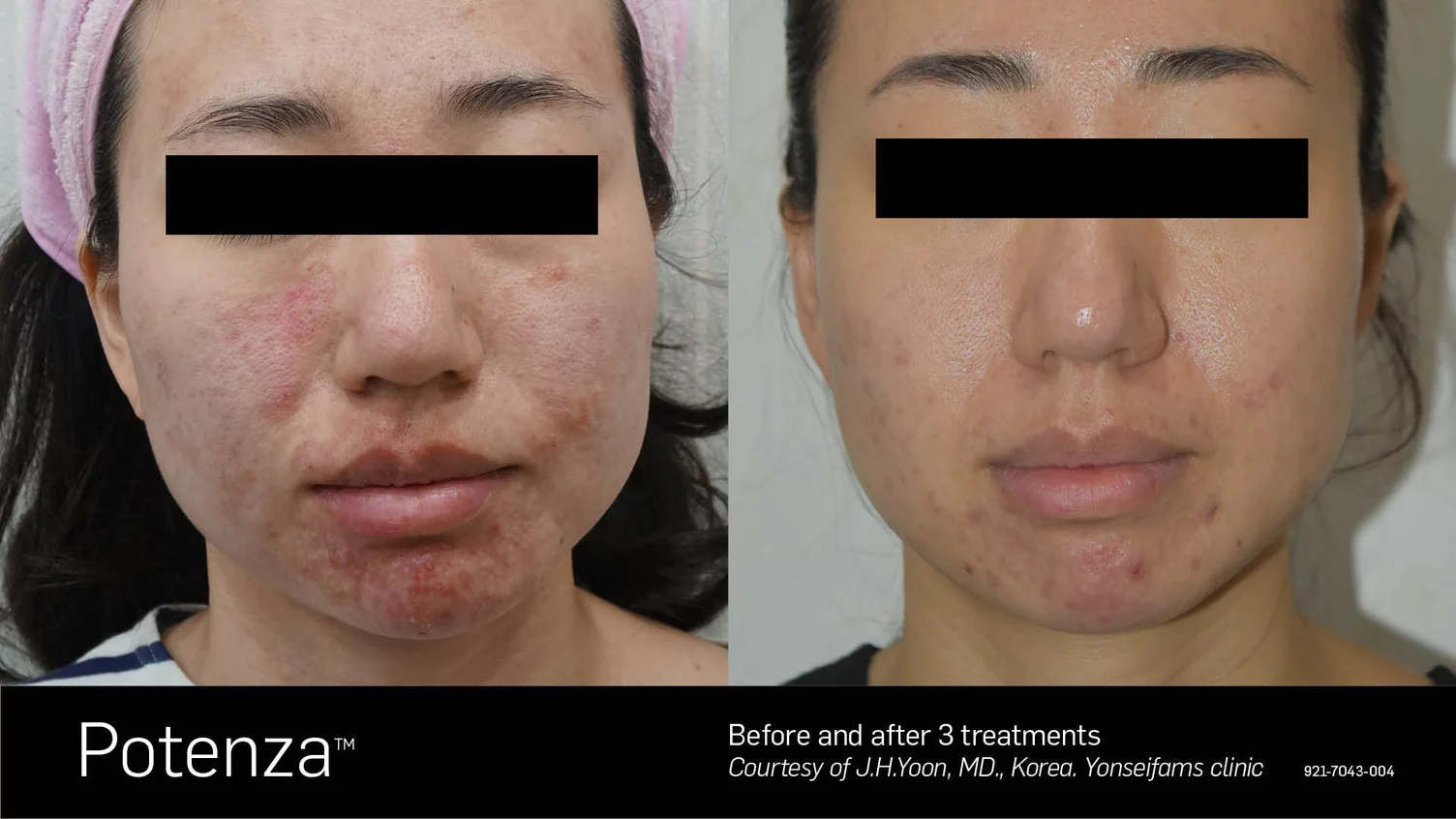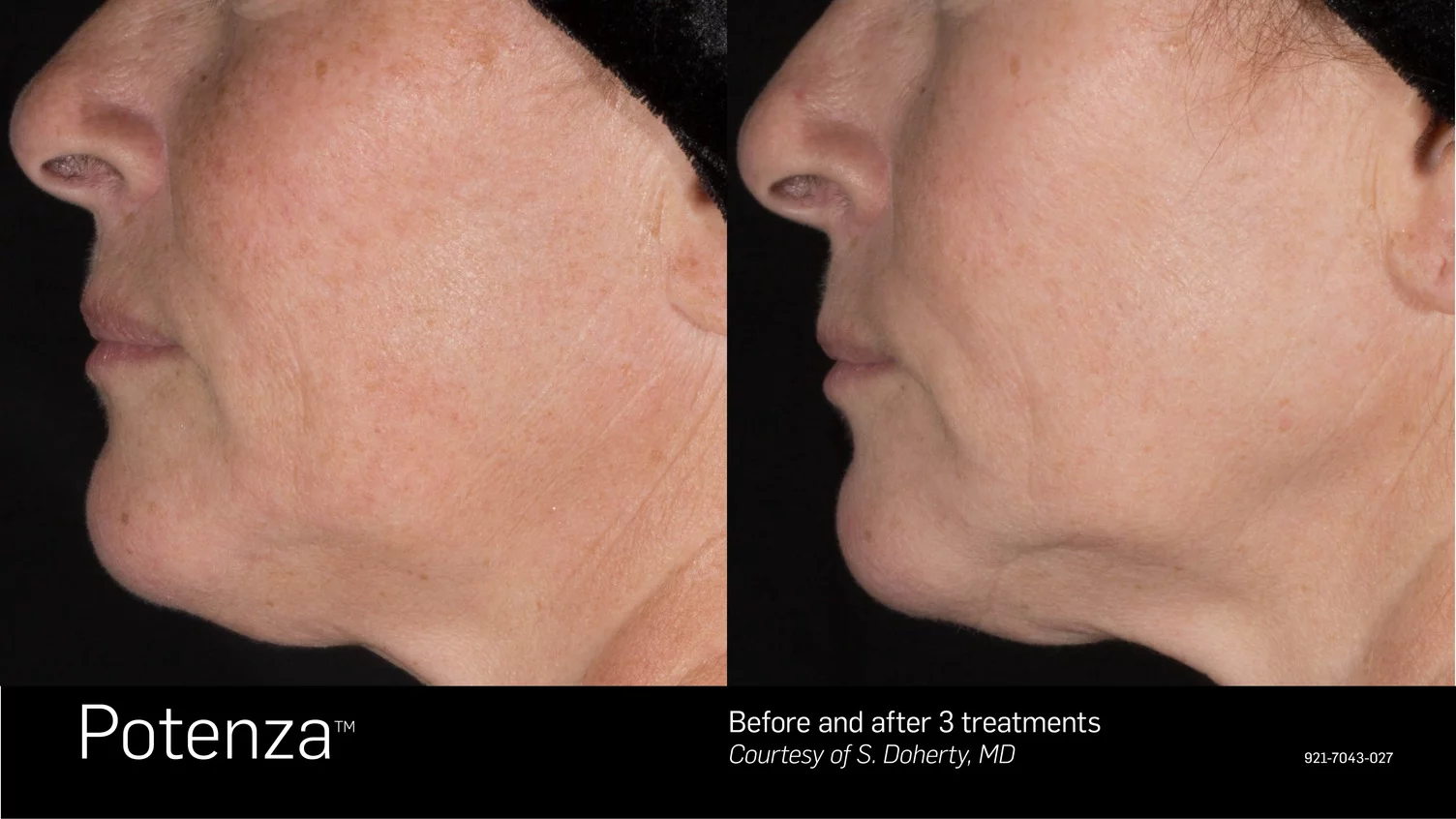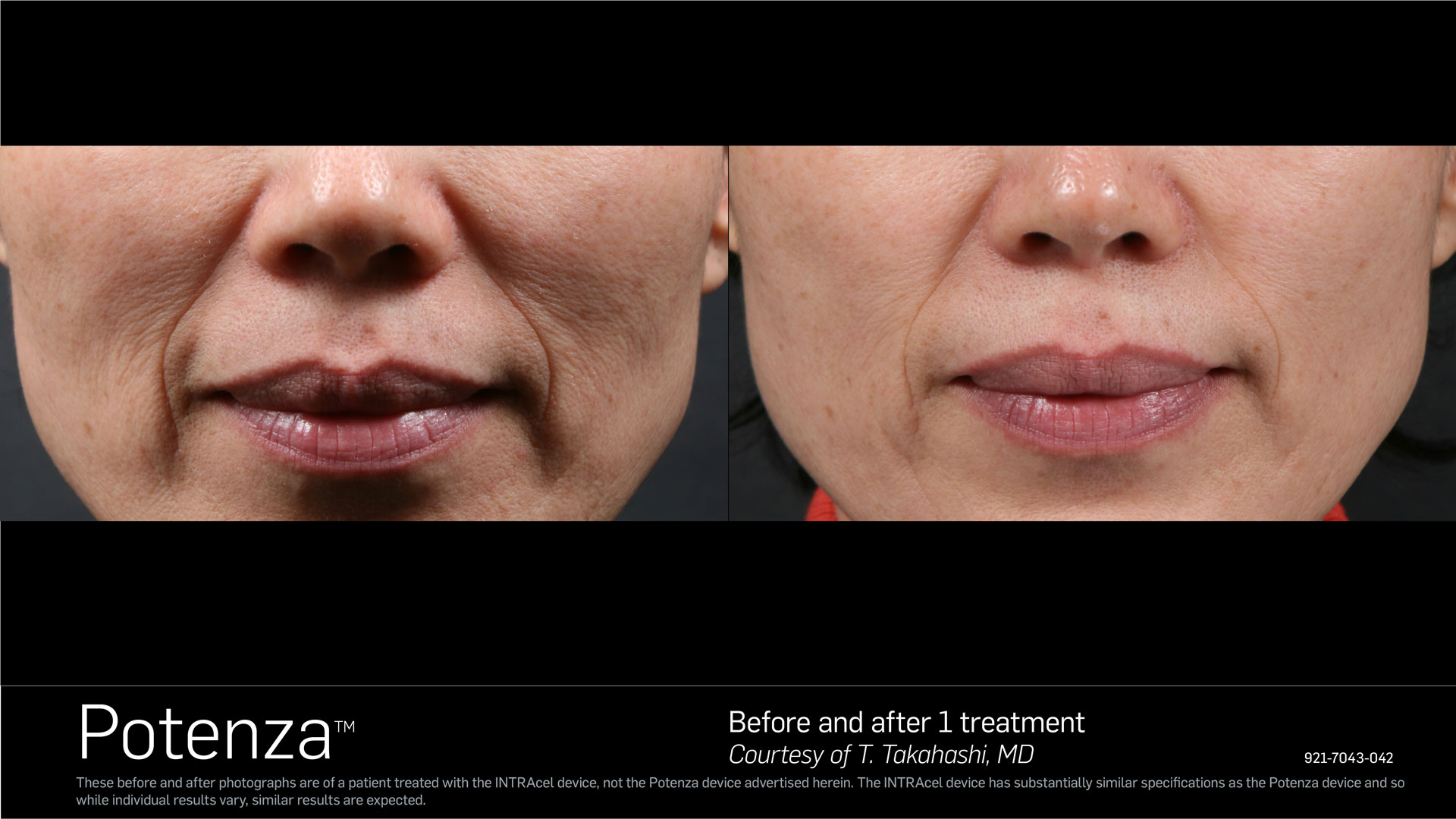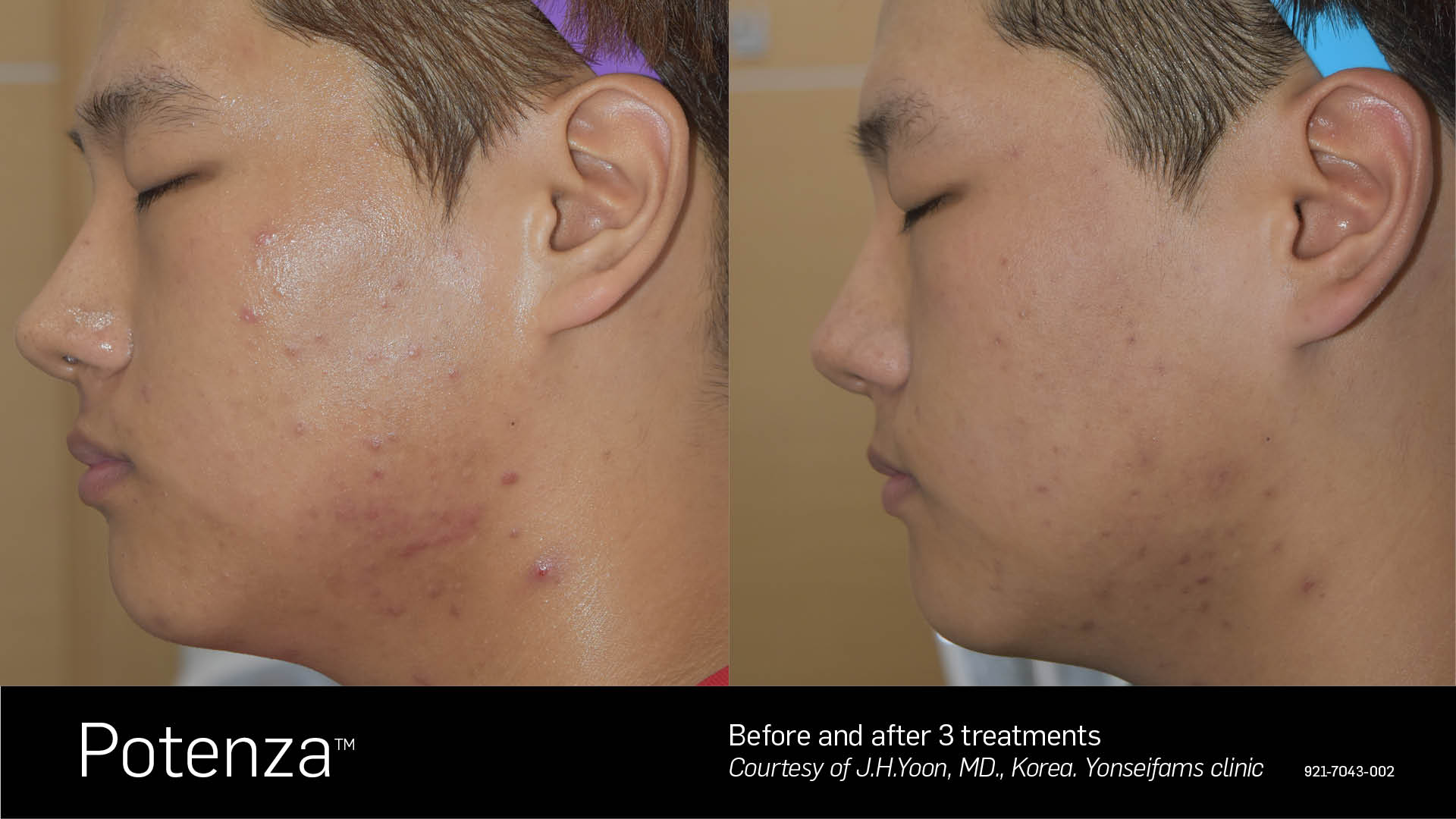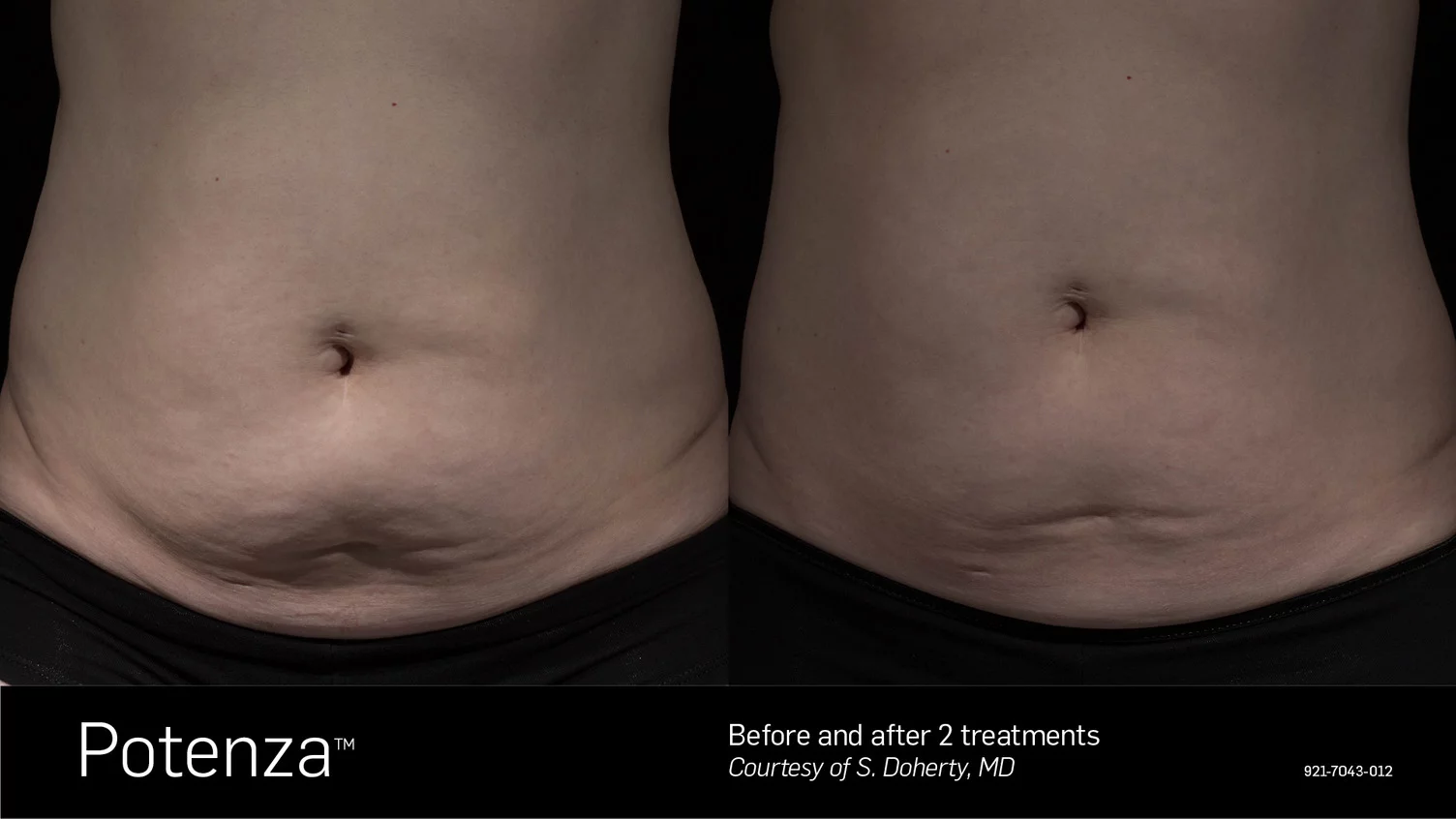 IN-CLINIC SKIN TIGHTENING TREATMENT
Your skin is deeply penetrated by ultrasound waves, which promote the creation of collagen. While some patients only require one session of this therapy, others require further sessions.
Your face, neck, and the region under your chin are all areas that ultrasound therapy focuses on. Normally, it is around $2,000 for the skin tightening treatment.
An injectable drug called Kybella eliminates fat cells under your chin. The procedure is intended to be permanent and to lessen the appearance of a double chin.
To see benefits, the injection may need to be administered numerous times. Kybella typically costs $1,350 for each treatment.
A facelift is an invasive surgical treatment in which a doctor trims away extra and sagging skin from your face, "pushing back" the skin to make it look taut.
Costs range from $7,000 to $11,000. Under general anesthesia, facelifts can also affect the skin around your neck.
Facelifts can be "complete," which refers to a lengthy incision that begins at the brow line and runs the entire length of your face, typically inside the hairline. "Mini" facelifts include smaller incisions and a faster healing process.
A minimally invasive injectable drug is Botox. The average cost of a treatment is between $300 and $400, and one session has results that persist for three to four months.
Your face's specific muscles are effectively paralyzed with Botox, giving the appearance of smoother, less wrinkled skin.
Skin tightening using laser is a minimally invasive treatment with little or no downtime. Laser heats the skin, making collagen to constrict, causing skin to tighten and look firmer.  Usually, 3 to 6 sessions are required for optimal results. Results can last up to 3 years. 
The goal of laser skin resurfacing is to improve the texture and tone of your skin while encouraging collagen synthesis in the deeper layers of your skin.
One treatment is between $1,200 and $2,000 in price. Although the effects of this procedure are temporary, you may notice tighter skin for several years following.
Another sort of treatment, radio frequency, encourages the creation of proteins in the deeper layers of your skin to make it firmer.
It has been demonstrated that radio frequency therapy is at least as successful as cosmetic firming lotions, if not more so.
The cost of this therapy is around $1,000 every round, and it could be necessary to repeat it after a while.
Using minuscule needles that prickle your skin, microneedling attempts to stimulate the creation of collagen. Each session may cost between $100 and $700. To notice results, you'll probably need numerous sessions spread out over three to four months.
Results from microneedling can occasionally take several months to become apparent, and they are typically not long-lasting.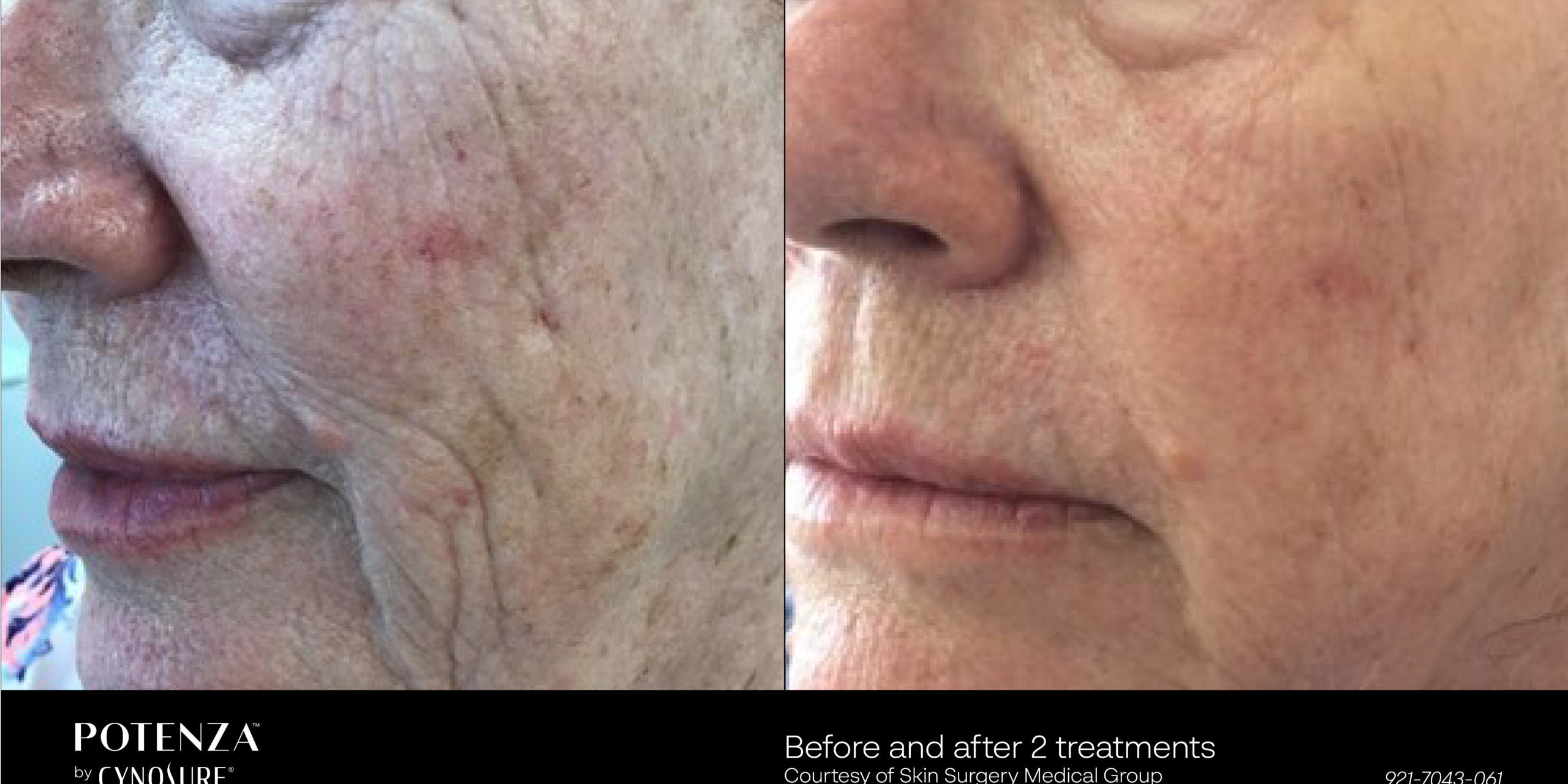 Radiofrequency + Microneedling
The best of RF treatment and microneedling is combined in this effective skin tightening treatment called RF Microneedling.
We believe RF microneedling is the best treatment for skin tightening, acne scars, stretch marks, and fine lines and wrinkles.  This next section will talk about the benefits of RF microneedling.
RF Microneedling is a cosmetic procedure using tiny needles combined with radiofrequency waves to rejuvenate facial skin.  Controlled skin injury stimulates the growth of new health skin, with increased collagen and elastin production. RF microneedling is not only effective on skin tightening, but is ideal for minimizing acne scarring, stretch marks, and fine lines and wrinkles.  It is safe for all skin types.
Is Radiofrequency Microneedling Worth It?
Yes, rf microneedling is worth the price your pay. Beside benefitting from the skin toning and skin tightening superficially and structurally, it can hide and fade any stretch marks and acne scarring you may have.
How Long Does RF Microneedling Last?
Once you've completed your initial treatments, results should last several years. We do recommend getting an annual or semi-annual treatment for maintenance as you are fighting the aging process.
What is the Difference Between Microneedling and RF Microneedling?
Think of microneedling on steroids as RF microneedling.  Microneedling by itself is an effective treatment for toning skin but combined with radiofrequency the treatment is amplified to new levels. The heat created by the RF energy works to constrict underlying skin layers and increases the collagen and elastin production, smoothing even the most stubborn lines and wrinkles. The RF energy can reach the sub-dermal layers of the skin that plain microneedling cannot. The deeper penetration allows for greater amount of collagen and elastin stimulation and produces faster more effective results.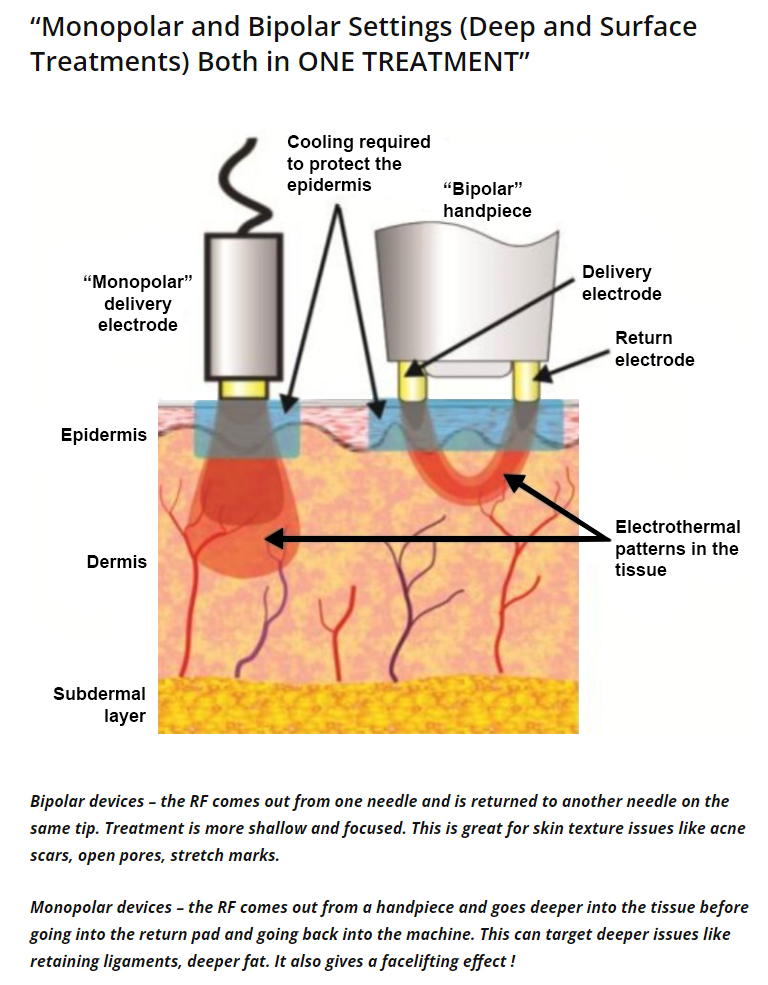 Is RF Microneedling better than Botox?
RF microneedling last much longer, is less invasive, has fewer side effects, is all natural, and addresses more than wrinkles and lines.
What can go wrong with RF Microneedling?
RF microneedling is a very safe procedure. It is not a laser, so it doesn't have the risks and side effects associated with laser skin treatments. So it is ideal for all skin types. Side effects for RF microneedling are minimal, with redness post treatment. Some small pinpoint bleeding and slight bruising may occur, but most are gone within 24 hours.
Is RF Microneedling Painful?
You will feel a warm sensation and a pricking feeling during the treatment. However, to minimize discomfort we apply a topical numbing cream about 20 minutes before the procedure.
How Soon Do You See Results from RF Microneedling?
Collagen and elastin take time to build up. Collagen can take up to six months to be optimized post treatment. You should see initial pore reduction and some skin tightening almost immediately after your first treatment. Collagen and elastin will continue to produce months after the treatment.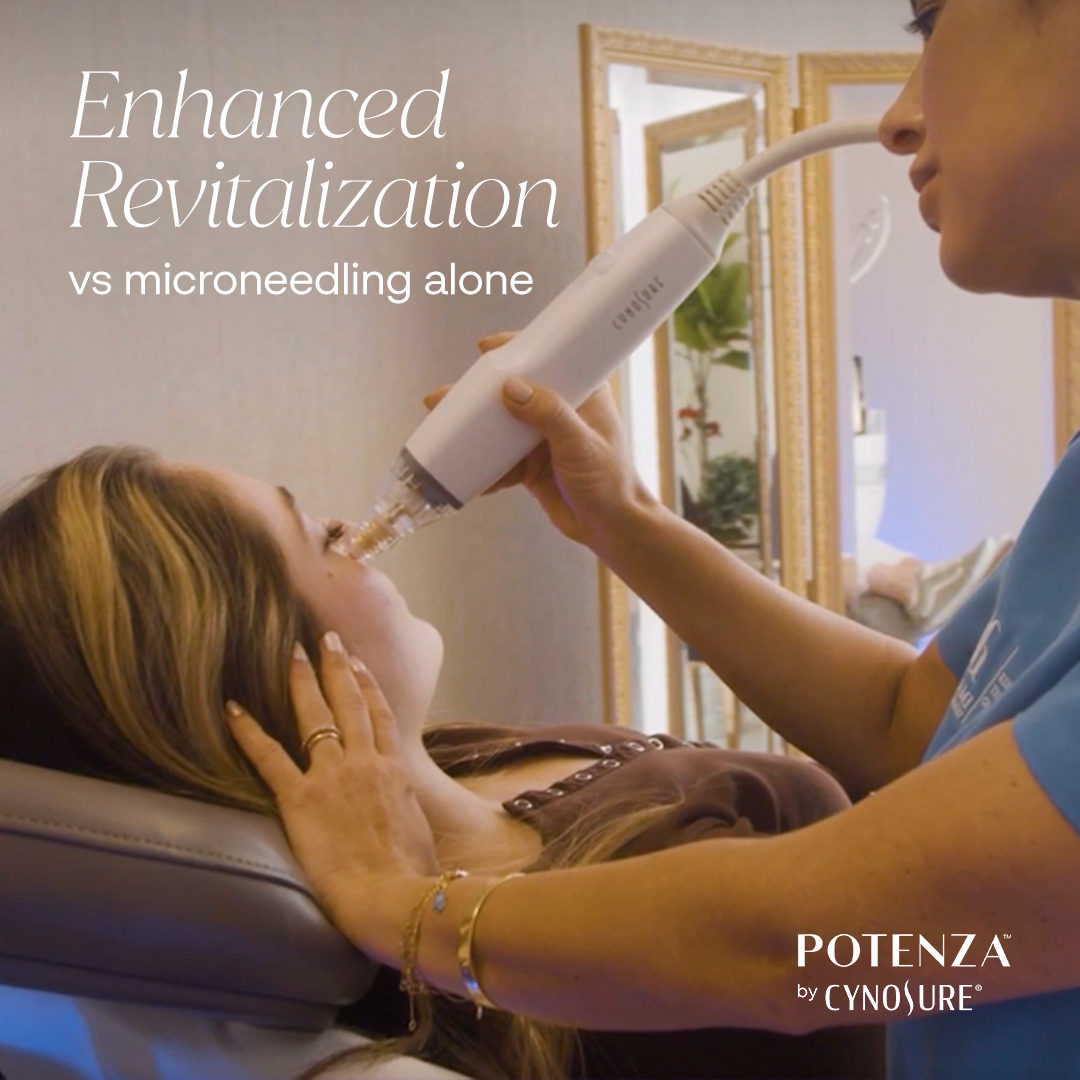 How Often Should You Get RF Microneedling?
If you want to maintain a good production of collagen and elastin, you should be consistent with the treatment frequency to get the best results. The ideal interval between treatments is 4-6 weeks. Older patients should do the treatment every 4 weeks for skin laxity.  For younger patients who want to concentrate more on skin blemishes and sun damage should come every 6 weeks.  Patients with acne scarring should come every 4 weeks.
What is Potenza RF Microneedling?
Potenza is the latest skin esthetics device from Cynosure, a leader in the skin laser industry. There are many things that sets Potenza apart from other RF microneedling devices on the market. Potenza RF Miconeedling is the new Gold Standard in radiofrequency microneedling. It is the world's 1st 4 mode microneedling device offering aestheticians unrivaled versatility and personalized treatments for our patients with its one-of-a-kind Fusion and Tiger Tip technology.
Who is a Good Candidate for Skin Tightening?
You are a good candidate for noninvasive face-firming procedures if:
You've already tried home remedies or treating sagging skin with products
You're not currently nursing or pregnant
You have mild to moderate "skin laxity" that's becoming more pronounced over time
You want to address your fine lines and wrinkles on the forehead or around the eyes
You want to address texture irregularities on your skin
You want to tighten your skin, fix uneven skin tone from sun damage
You want to smoothen acne scars or stretch marks
Is RF Skin Tightening Safe?
Radiofrequency face skin tightening is considered safe and effective. The FDA has approved it for reducing the appearance of wrinkles.
READY TO BOOK A FREE SKIN TIGHTENING TREATMENT CONSULTATION?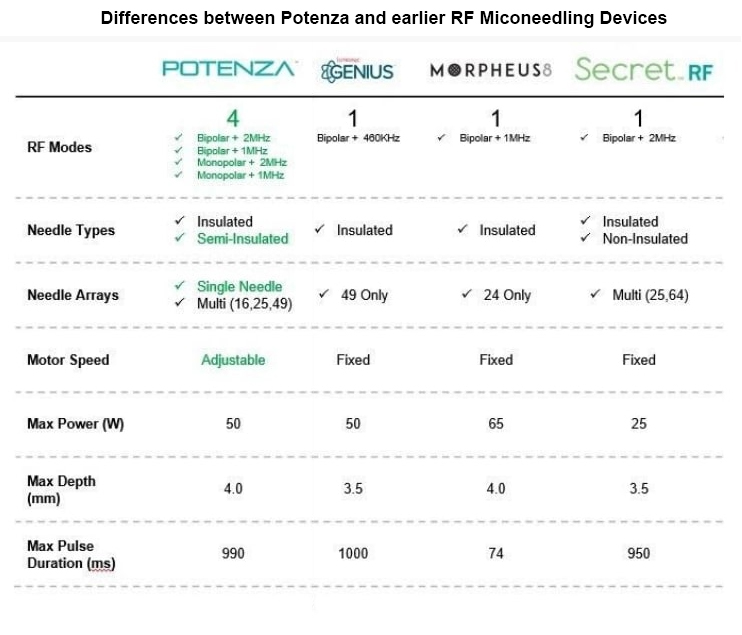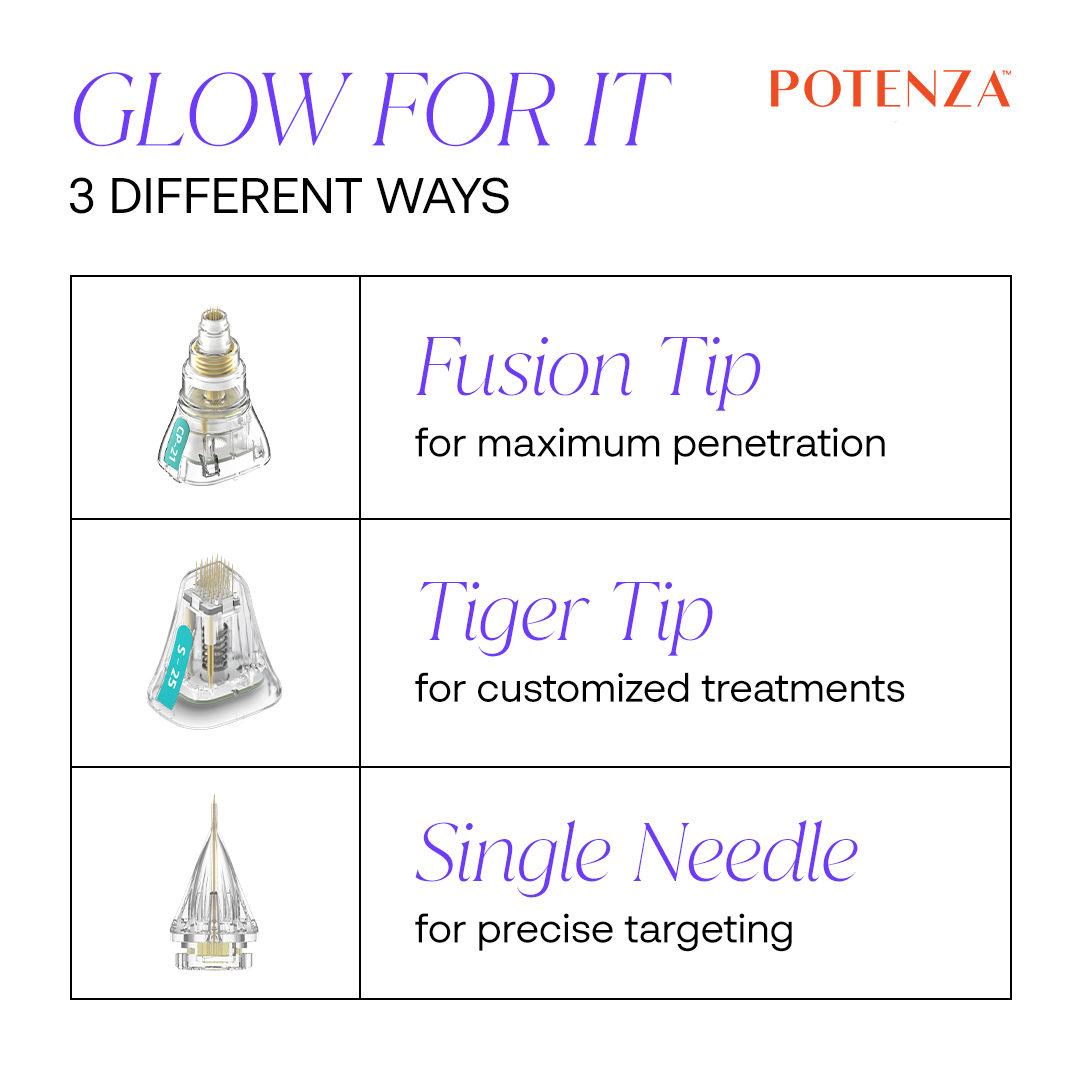 If you don't like how your facial skin appears, think about how you're feeling. You could experience increased self-consciousness about your appearance at times because of outside forces that come with aging.
Get a free consultation at our clinic if your self-esteem or everyday life are affected by how you feel about your sagging face skin. Depending on your skin type and appearance, we can decide what the best course of action is.
For information about the Potenza RF Microneedling CLICK HERE
For information about Skin Tightening Treatment CLICK HERE
For information about Acne Scar Treatment CLICK HERE

For information about Stretch Marks Treatment CLICK HERE

For information about Fine Lines and Wrinkles CLICK HERE