The Cynosure Elite iQ™ is the Best In-Clinic Laser Hair Removal Device
Get Summer-Ready: Discover the Best Laser Hair Removal Options
In Toronto, there is a wide variety of laser hair removal machines available to those interested.  Your success in laser hair removal has a lot to do with the machine you choose to do your treatment.  Lasers for medical purposes emit a single wavelength of light that is focused on a specific location. This light is exclusively absorbed by the pigment in the hair and does not reach the surrounding skin or other tissues in the treatment region. If you're looking for the best laser hair removal, we recommend the Elite iQ.
With the patented SkinTel® technology, the Elite IQ is the only FDA cleared melanin reader that adjusts to your exact skin type and colour. It finds the perfect setting for every skin tone, from fair to dark and tanned, and every hair texture, from fine to coarse hairs.
Here are some of the best laser hair removal treatments in the city of Toronto:
Alexandrite hair removal lasers
The Alexandrite laser is the most used laser hair removal technique. It's also the quickest laser system on the market. The Alexandrite laser, for example, may treat a big treatment region like the back in as little as 30 minutes. Pain is a drawback of rapid laser repetition. One of the least comfortable laser hair removal technologies is the Alexandrite laser. Newer machines, on the other hand, feature built-in cooling systems to improve the patient experience. With a shorter wavelength of 755nm, the Alexandrite laser is appropriate for targeting the melanin in the hair follicles of people with light to olive complexion tones.
Best laser hair removal systems - Alexandrite
Elite iQ
Cynosure Apogee
GentleLase
EpiTouch Plus
Laser Hair Removal Prices
Prices for laser hair removal can vary greatly from clinic to clinic. The cost of laser hair removal should be based on the experience of the laser clinic and the laser hair removal machine they use. At Laser Skin Clinic we offer the Gold Standard Cynosure Elite iQ laser.  Even though our machines are the best in the industry, our cost for laser hair removal is very competitively priced.  Click on the images to see our laser hair removal prices.
Diode hair removal lasers:
Diode laser hair removal equipment are a relatively new addition to the laser hair removal market. Their energy source is made up of diodes, which are semiconductors that are grouped to form a laser beam with a wavelength of 800-810nm. This wavelength is longer, allowing it to penetrate deeper into the hair follicle. Diode lasers are good for eliminating thick or coarse hair and are generally safe on darker skin types. The Diode hair removal laser system is popular among men who want to get rid of back or chest hair.
Best Diode Hair removal lasers in Toronto:
SopranoXL
LaserLite
Epistar
Apex
SLP, F1 Diode
LightSheer
MeDioStar
Nd:yag hair removal laser
The latest breakthroughs in cosmetic laser technology are available through the Nd:YAG systems. Aside from excellent hair removal lasers, this system has a variety of uses, including tattoo removal and laser skin resurfacing for sun damage treatment. The wavelength of Nd:YAG systems is 1064nm. The melanin contained in hair and skin is the target of most other laser systems. Targeting melanin, on the other hand, limits application to eliminating black hair from people with a light complexion. Carbon is a better chromophore (a colored chemical molecule that absorbs light) than melanin at the 1064nm wavelength. A carbon lotion is administered to the skin before treatment. The carbon is subsequently absorbed by the undesirable body hair.Because the laser targets carbon rather than melanin, laser hair removal with the Nd:YAG.The YAG laser is suitable for all skin types, including tanned skin.
Best Laser Hair Removal ND:YAG systems in Toronto
Cynosure Elite iQ™
GentleYAG
Medlite IV
Lyra
Sciton
Cynosure
Cutera
Laser Hair Removal Before And After Images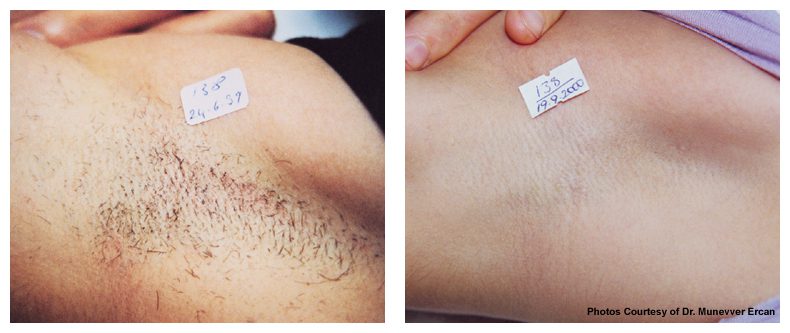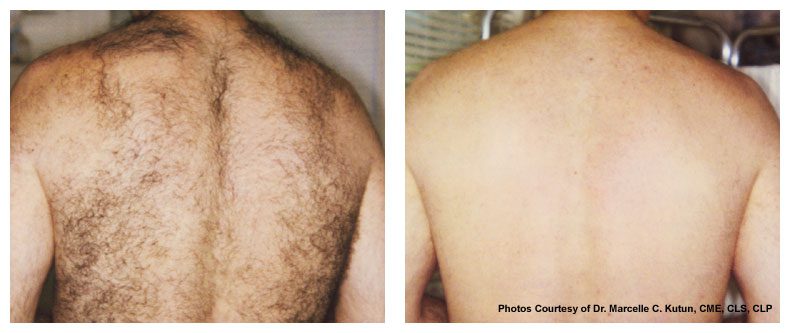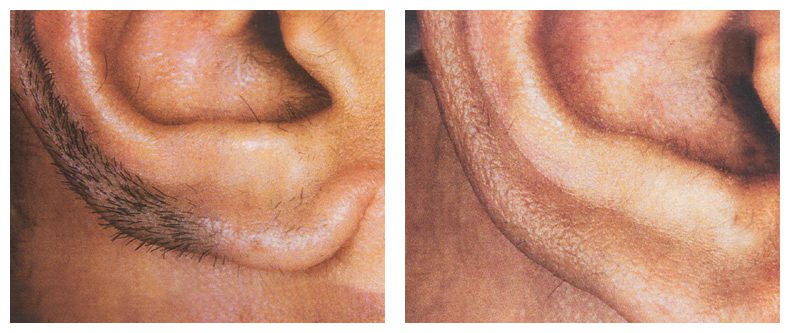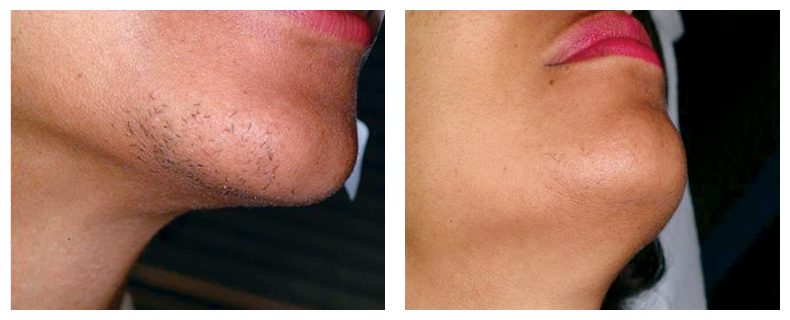 HOW LASERS WORK FOR HAIR REMOVAL
To start, here's a rundown of lasers and how they work: They direct powerful light to the follicle, permanently damaging it and preventing hair growth. The ideal candidate has always been someone with a fair complexion and dark hair because they target the pigment in the hair—the contrast between dark hair and lighter skin helps the laser focus on its bullseye.
As a result, laser hair removal for dark skin has always been a risk: Because the devices couldn't tell the difference between the pigment in brown or black skin and dark hair, they could produce dark and bright patches, blisters, and even scarring in the skin surrounding the follicle.
But today there are better lasers that can be utilized in a far more precise—and safe—way, allowing a wider spectrum of skin tones to get rid of the unsightly fuzz.
Laser hair removal procedure
A medical specialist (a physician, physician assistant, or registered nurse) cleans the treatment area before the procedure. A numbing gel might be used if the area is very sensitive. Everyone in the room must wear special protective eyewear during the treatment to avoid laser eye damage.
The medical specialist next concentrates a beam of high-energy light on the chosen location once the numbing gel has taken effect. The operation will take longer if the region to be treated is large. Small portions may take only a few minutes, whereas bigger areas, such as the chest, may take an hour or more.
What to expect after laser hair removal?
The recuperation time following the operation is minimal, and most patients can resume their daily routines immediately. It's just as crucial to use sunscreen before the surgery as it is to keep wearing it afterward. This will assist to keep the irritation at bay.
Immediately following the operation, you should notice a decrease in the number of hairs in the treated area. You may notice an increase in hair growth in the treated area two to eight weeks following laser hair removal. This is because not all hair follicles respond to the laser in the same way.
After the first treatment, most patients observe a 10 to 25% reduction in hair. Permanent hair loss usually takes between six and eight sessions. Before the process, you'll meet with your specialist to have a better understanding of how many therapy sessions you'll need. You'll probably need a touch-up session once a year to keep the effect
INTRODUCING THE NEW ELITE iQ™ FOR THE BEST LASER HAIR REMOVAL TORONTO
The Gold Standard in Laser Hair Removal
Cynosure Elite IQ Laser for Laser Hair Removal and Laser Skin Treatment
SO SMART IT READS YOUR SKIN BEFORE REMOVING A SINGLE HAIR
Cynosure Elite IQ laser is our work horse dual-wavelength aesthetic laser. We use the Elite IQ™ for many treatments, including laser hair removal, vascular lesions (rosacea, facial and leg veins), pigmented lesions (sun damage, age spots), benign lesions (warts, skin tags, moles), skin rejuvenation (wrinkles, fine lines, skin tightening, psoriasis), Scar removal (acne scars). 
Elite iQ platform offers customized laser hair removal treatments for all skin types including the back, face, chest, underarms, arms, legs, and bikini area.
With the patented SkinTel technology, the Elite IQ has the only FDA cleared melanin reader that adjusts to your exact skin type and colour. It finds the perfect setting for every skin tone, from fair to dark (and tanned), and every hair texture, from fine to coarse hairs.
It allows our practitioners to identify test spot settings, optimizing hair removal treatments tailored to each of our client's skin type and ethnicity. There is no more judging skin types by eye or second guessing if a patient has been in the sun.  SkinTel® allows our practitioners to know the right parameters for treatment, allowing for the ideal laser skin treatment that is safe and effective.
HOW DOES ELITE IQ LASER WORK?
The Elite IQ contains two lasers, a 755 nm Alexandrite laser, and a 1064 nm Nd: YAG laser.  The combination of these two wavelengths plus the SkinTel® reader, makes the Elite IQ the best hair removal laser on the market.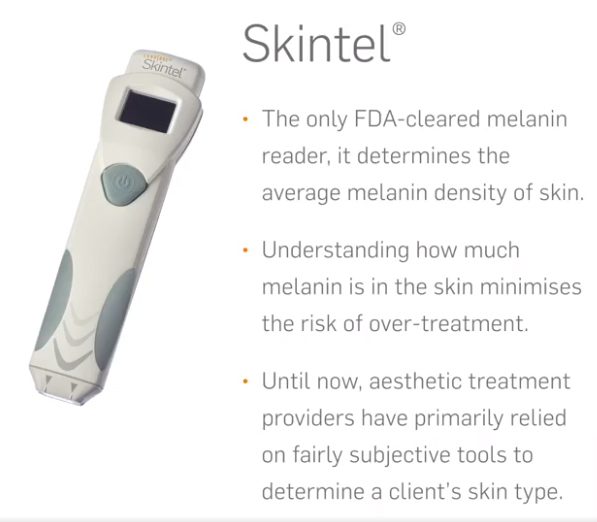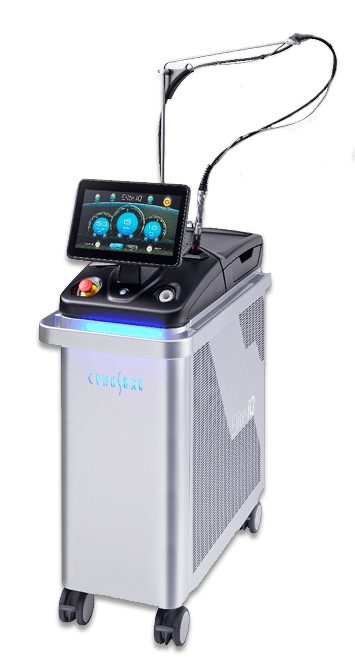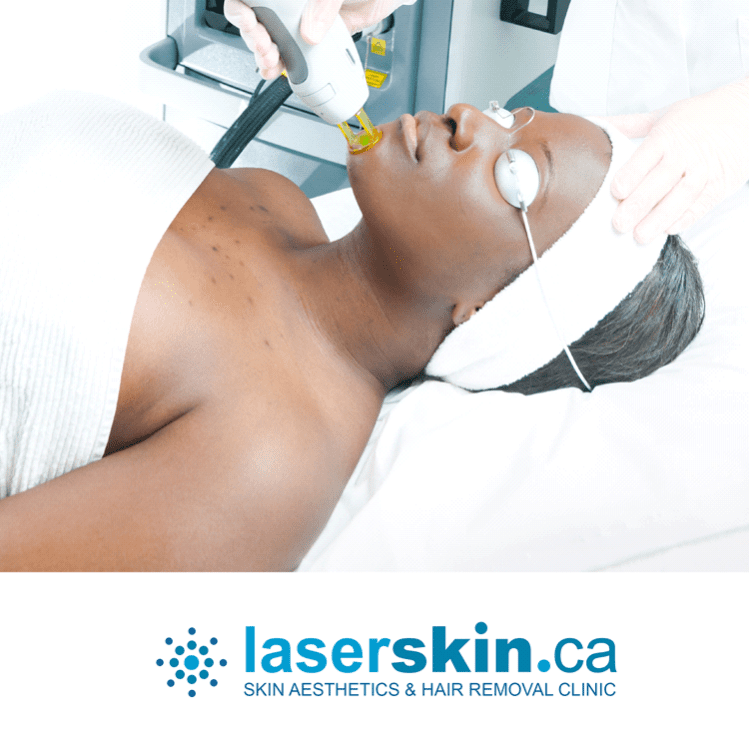 Summary
Laser hair removal is an ideal method for removing your unwanted hair from different parts of your body, including the bikini line. Laser hair removal devices work by emitting a beam of light that is quickly absorbed by the hair follicle, damaging it and preventing further hair growth.
However, it is important to note that laser hair removal is not suitable for all skin types, and darker skin tones may require special considerations due to the increased risk of side effects.
In Canada, Health Canada regulates laser hair removal clinics and ensures that they meet safety standards. There are many laser hair removal clinics in Toronto that offer professional hair reduction services. While home laser hair removal devices are available, it is important to be more cautious when using them as they may cause skin and hair damage, ingrown hairs, and other side effects.
Before undergoing laser hair removal treatments, it is important to consult with a qualified provider to determine if the treatment is right for your skin and hair type, and to find a reputable hair removal clinic in Toronto.