Tattoo Sleeves
The term "sleeve tattoo" or "tattoo sleeves" refers to a vast tattoo or a group of smaller tattoos that cover most or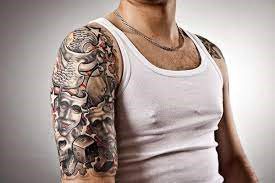 allof the arm. These designs are bold and undoubtedly get noticed. Like anything else in life, sometimes our tastes develop and change, and when you look back at your tattoo sleeves, you start to question if you still want it on your arm. Perhaps you still want to retain it for a bit, or perhaps you've decided it's time to get rid of it. So
Can tattoo sleeves be removed?
The good news is, yes! It is possible to
remove tattoo
sleeves. We at
Laser Skin Clinic
understand your need to get rid of any tattoo you feel you've outgrown, and we can assist you with the painless and efficient Picosure
laser tattoo removal
.
Sleeve tattoos for men
There are many sleeve tattoos for men ideas on the internet. If you are a man contemplating on getting a tattoo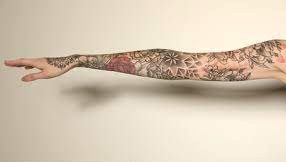 sleeve, then there are hundreds of images you can choose from the internet.  Just type in "sleeve tattoo ideas for men" and you will see hundreds of very nice designs for full sleeve and half sleeve tattoo designs. Men's tattoo sleeves have gained in popularity over time. More and more men are getting tattoo sleeves, but as more men get sleeve tattoos, so are the number of men who have tattoo regret.  So, if you have an existing tattoo sleeve, and thinking of removing it, then you've come to the right place.
Tattoo Sleeves for Women
As men's tattoo sleeves grow in popularity, sleeve tattoos for women have also gained in popularity.  It is not as common to see women with a full or half full sleeve tattoo, but more and more women are getting them done. Women should be aware though, the vast percentage of people experiencing tattoo regret are women, so if you are contemplating to get sleeve tattoos for women, think hard about it so you won't experience tattoo regret in the future.
How Much Will It Cost to Get Tattoo Sleeves Removed?
Depending on various factors, tattoo sleeves removal procedure may cost a few thousand dollars. The cost to
remove a tattoo
sleeve at Laser Skin Clinic is determined by the size and the number of treatments. Some
tattoos are much more intricate to remove
than others, depending on the age, size, and colour. Luckily, we charge a FLAT FEE
laser tattoo removal
of only 0 per session. The maximum size we can do is approximately 5" x 5".  So, if your tattoo sleeves are larger than this, then we would need to break it down into 2 or 3 sessions.  There is a two week wait between sessions for new areas. For the same area, we need to wait 6 to 8 weeks for the healing process to work property.  Because of the number of sessions required, we do offer packages of 3, 5 and 8 sessions at discounted prices. 
Click here
for the full pricing for tattoo sleeve removal. It's only natural that an older
tattoo would be easier to remove
than newer ones since the ink has been there for some time and has faded over time. The more difficult a tattoo is to remove, the more sessions that would be required, so this plays a role in influencing the
cost of sleeve tattoo removal
. Additionally, some colours can be removed more quickly than others. It would be simpler to remove darker hues like black, brown, and dark blue than lighter hues like red. Also, the size of the tattoo matters too. The average sleeve tattoo measures more than 25 square inches, making it an extra huge tattoo. As a result, removing a half-sleeve tattoo may be less expensive than removing a full-sleeve tattoo.
Tattoo removal
is often more time- and money-consuming for larger, more vibrant tattoos than for smaller, lighter ones.

Side Effects of Tattoo Sleeve Removal
Like with most treatments, there's a chance of side effects, but they're significantly diminished when working with a certified dermatologist. Some bruising could develop following a procedure. After therapy, it's crucial to ice the affected area. Allergy symptoms to the components of your ink are frequent side effects. Since tattoo ink is not regulated, any ink handled may contain substances that cause a bad reaction in your body. The danger of hyper- and hypopigmentation during
tattoo removal
can occur. To safeguard the melanin in your skin, we at Laser Skin Clinic use suitable wavelengths to ensure your skin is protected. Most adverse effects are transient and go away in less than a week. Nearly all danger of adverse effects is eliminated with proper post-procedure care.
FAQs on Sleeve tattoo removal
How does laser work for tattoo sleeve removal?
The laser breaks the molecular bonds that hold the ink on your skin together. After
laser treatment
, the ink is only broken down rather than eliminated. As a result, your body can eliminate the pigment like any other waste material.
Is tattoo sleeve removal painful?
Although
laser tattoo removal
can be painful, it probably won't be as painful as obtaining the tattoo. The discomfort of
tattoo removal is equivalent to severe sunburn; the laser
pulses feel like a rubber band snapping on your skin. The ability and experience of the individual doing the removal are two factors that may affect how much pain you endure. It can impact how uncomfortable the procedure is, which is why it is advised that you get it done by a dermatologist who holds the appropriate licensure. Your dermatologist can modify the procedure to suit your comfort level and administer numbing lotion or a local anaesthetic injection to lessen or eliminate pain. Also, some areas of the skin are more sensitive than others, so the amount of pain you feel also depends on where it is situated.
How many sessions are required to remove a tattoo sleeve?
The overall number of procedures needed for total removal depends on various criteria, including the age of the tattoo, its location, size, and the type of ink/colours used. Most
tattoo removal lasers
frequently need 8-12 or more sessions to remove a tattoo thoroughly. To altogether
remove the tattoo
with Picosure, it should only take less sessions. Remember that each individual and each tattoo are unique; some may demand more care while others require less.
How long must I wait in between treatments?
Healing timeframes vary depending on the individual. These treatments are spaced between 2 to 5 weeks, or sometimes as much as eight weeks if you have a darker complexion. It is essential to give the body this time in between treatments so that it may mend and flush out any remaining ink.
Does removing a tattoo sleeve leave scars?
When performed correctly,
tattoo removal
leaves no scars. To get the best outcomes, make careful to select a removal facility with experience. It is crucial to follow the correct aftercare instructions, which include avoiding the sun for three days and keeping the area dry and clean to prevent harm and hasten the healing process.

Conclusion
At
Laser Skin Clinic, we use the most advanced laser technology
and remarkable skin restoration techniques to get rid of your tattoo sleeves and other tattoos. We offer 0 pricing for Picosure
laser tattoo removal
per session for 5"x 5" tattoos. Our objective is to provide you with the best Picosure laser
tattoo removal
at a great price.