How Much is Tattoo Removal?
How much is tattoo removal in Toronto?
You will observe that our non-laser and laser tattoo removal prices are distinct. This is because the two techniques are relatively different from one another. For example, our non-laser tattoo removal procedure (Tattoo Vanish) often does not need more than five sessions to remove a tattoo; however, each session takes longer, between 1 and 1.5 hours, and we can only treat 16 square inches or four by 4 inches at a time.
Our Cynosure PicoSure is mainly used for laser tattoo removal. It effectively eliminates black, red, brown, yellow, purple, green, and blue ink. Each session is far shorter than non-laser tattoo removal, and we may cover a more extensive area each session, but laser tattoo removal requires an average of 8-10 sessions.
The same tattoo region must heal for six weeks between sessions using both techniques. For a new tattoo location, two weeks must pass between sessions. Click here for laser tattoo removal costs.
Non-laser tattoo removal cost
The primary benefit of our non-laser tattoo removal procedure is that it can erase ALL colours and requires around 50-60% fewer sessions than laser. The system includes running a tattoo machine and needle over the tattoo. Each pass is numbed with numbing cream. Once the hand reaches the ink depth, we apply Ink Eraser serum. A scab develops in two to three days; after two weeks, it begins to peel off.
The primary drawback of the non-laser tattoo removal approach is that we can only treat tattoos that are 4 inches by 4 inches or less each session. This prevents your immune system from overworking if the tattoo wound is massive. Therefore, for tattoos bigger than 4 inches by 4 inches, we propose our PicoSure laser tattoo removal technique.
For our laser tattoo removal technique, we charge a FLAT FEE. Therefore, our laser tattoo removal costs $250 per session, and each session is shorter (10 to 30 minutes vs 60 minutes for non-laser tattoo removal).
$250 per treatment single laser tattoo removal flat fee note: this is for laser tattoo removal only, not for non-laser tattoo removal.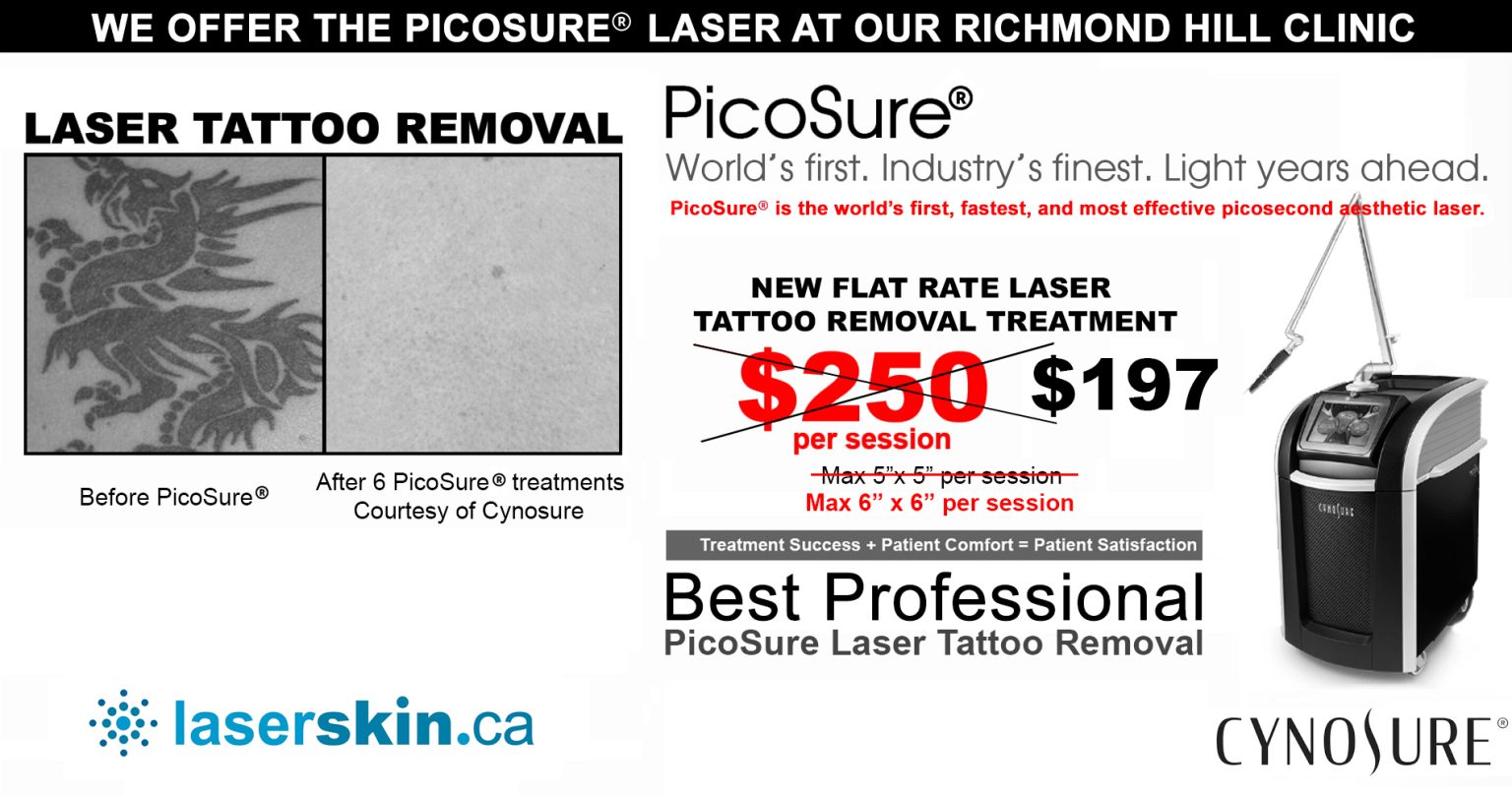 Laser Tattoo Removal Offers
10% discount on three treatments: spend $675 and save $75
Five treatments, 15% discount: spend $1,125 and save $125
A single tattoo removal session costs $250 per visit for each body part.
Tattoo removal expenses are always the first consideration for individuals seeking to have a tattoo covered or removed. Flat-rate pricing might be a more cost-effective alternative to the conventional pricing method used by our rivals.
Tattoo removal expenses are a concern in the beginning to erase or fade a tattoo, but our flat rate pricing and simple-to-comprehend pre-paid packages take the guesswork out of planning.
Tattoo Removal Clinic does not charge per square inch or add extra expenses depending on tattoo location, the colours in the tattoo, or the number of tattoos treated within a single office visit, bucking the industry standard for tattoo removal prices.
But what if I want to erase many tattoos?
We treat each customer individually, but wherever feasible, we will treat them simultaneously for the same flat charge.
Because healing and aftercare are so crucial, there are restrictions on the total size and quantity of tattoos each session. During our free consultations, we'll clarify what can and cannot be done in these scenarios, which account for a tiny fraction of our overall clientele.
I want to remove my whole back, arm, or leg; is the cost the same?
Larger tattoos (whole backs, sleeves, chest, etc.) will be divided into smaller 55-inch portions that may be treated 4-6 weeks apart in rotation. For example, fully saturated back sections will be split into three or four treatment zones, each needing a separate office appointment 6 to 8 weeks apart. Likewise, utterly saturated sleeve tattoos need 4 to 5 parts, and fully saturated big chest pieces require two segments. During an initial session, we will inform you of these proposed treatment procedures and organize your future visits properly.
My tattoo has many colours; does this increase the cost of removal?
No, we do not charge based on the number of colours in your tattoo or the kind of laser utilized.
How much would it cost to fade or erase my tiny tattoo?
Our fixed rate price covers the vast majority of tattoos. However, we reserve the right to change costs for exceptionally tiny portions. For example, for tattoos smaller than 1 inch by 1 inch, we charge $150.
There are no hidden prices, fees, or up-charges. Tattoo removal is the only service you will ever be charged for during an office visit.
Consultations for laser tattoo removal are always free and, in most situations, may be conducted over the phone if the client is not nearby. So schedule an online consultation and your first treatment with us now at 647-559-3662.
How Much Is Tattoo Removal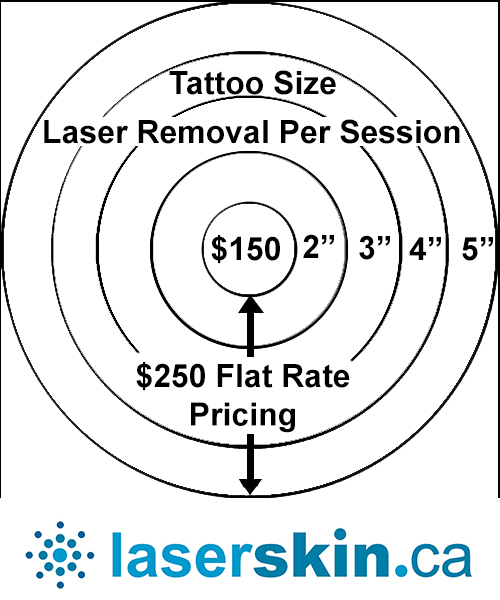 Set up a free consultation today
Are you looking for tattoo removal in Toronto? Fill out our online form, submit a few images of your tattoo, and we'll contact you with the pricing and any questions you may have. Contact our tattoo removal Toronto or Richmond Hill Clinic. CLICK HERE
How Much Is Tattoo Removal?