TOP 10 BEST AT HOME LASER HAIR REMOVAL DEVICES
What's the best at home laser hair removal device?  One of the most irritating things to deal with is unwanted hair sprouting on certain places of the face and body. If you want your skin to be smooth and silky, you should get rid of your unwanted hair as soon as possible. While shaving and waxing can help, they are only short-term solutions. If you want a painless and long-term solution to your unwanted hair, you should consider laser hair removal treatment. Here are a list of the best at home laser hair removal devices on the market.
Laser and IPL hair removal has been a common treatment option for millions of people in recent years. CLICK here for laser vs IPL comparison.
There are many varieties of portable laser hair removal machines that are available for use conveniently. Here are the top ten best at home laser hair removal:



Philips Lumea Prestige IPL Cordless Hair Removal Device: This gadget, which is described as the brand's "most effective IPL," claims to show effects in as little as four treatments, with additional sessions helping to prevent regrowth – so if you're looking for a speedy fix, this is the device for you. The device will transition to a customized program for the relevant body or facial area depending on the attachment. There are five settings and a sensor to help you find the one that is most comfortable for your skin tone. You can also get suggestions and tips by downloading a free app that allows you to establish a customized treatment program for each location. After using the product for the full 12 weeks, 87% of patients said most hairs had stopped growing back and any stubborn hair grew back finer.
Philips Lumea BRI921/00 Advanced IPL For Face & Body: This second submission from Philips comes in at a slightly more inexpensive price range. After just a few weeks of use, testers discovered that hair regeneration was reduced, and the hair that did grow back was thinner and hence less apparent. This device has the same skin sensor (which determines which setting you should be on) and a useful precision attachment for smaller areas. A panel noted a visible reduction in hair on the body and face after 12 weeks, and no one reported any pain or irritation while taking it.
BoSidin: The BoSidin isn't the most affordable IPL device on our list. However, the greater price tag ensures a highly effective operation. It's also the most stylish IPL we've ever seen. One of BoSidin's main selling features is that it employs OPT technology to give the same level of intensity as medical-grade hair removal products. This implies that even the strongest of hairs will be defeated. The 180-degree rotating head allows you to use this gadget anywhere over your body, from your underarms to your upper lip, for next-level precision. In addition, dynamic cooling technology reduces pain by lowering the skin's temperature.
Silk'n Infinity: We're constantly attempting to reduce clutter, particularly in our restrooms. As a result, people love the Silk'n Infinity IPL device's compact size. The Silk'n Infinity, like other IPL devices, employs laser pulses to stop hair growth at the root. After the suggested number of sessions, the company says that consumers will see a 92 percent reduction in regrowth. In fact, after eight treatments, you'll most likely have permanent hair reduction and will only require maintenance sessions every now and again. You'll never have to bother about refilling the cartridge again, and you'll be able to experience skilled hair removal for as long as you need it. The Silk'n Infinity is incredibly fast and small, measuring under 13 x 7.5 cm. It also has ultra-high-speed pulse repetition.
Remington(Fastest working IPL device): For good reason, the Remington home laser hair removal system is one of the most popular and best-selling IPL devices available. It works in a flash. Three treatments are all that are required to observe results. In fact, some reviewers state that after just one application, their hair was thinner. Even if you're not that lucky, the business claims that its 16 joules per flash can reduce hair by up to 94 percent after just three sessions. The Remington is also FDA-approved and clinically tested, so you can rest easy knowing it won't harm your skin.
Imene IPL: This is the most painless at-home laser hair removal device. Hair removal can be a painful procedure. This Imene IPL was created with sensitive souls in mind, featuring an ice compress to soothe skin and lessen irritation, allowing you to zap away fuzz to your heart's content without having to hold back shrieks. The built-in ice compress plate keeps the skin cool and comfortable, calming and soothing the skin and reducing redness, irritation, and swelling. For the least discomfort and best results, utilize the cooling function in conjunction with the hair removal function.
Braun IPL Silk Expert Pro 5: This device claims to be able to treat your legs in less than five minutes and claims to be able to offer the equivalent of 22 years of treatment in its lifetime. With a whopping ten intensity levels, 90% of testers of this device were blown away by how rapidly this gadget achieved benefits, reporting a reduction in regrowth after just four and eight weeks. It comes with a variety of adjustable heads (as well as a Venus razor as a bonus), which according to a panel made it simpler to reach most parts of the body. It also covered a lot of skin in a short amount of time, according to testers, and was simple to set up and handle thanks to its single control button.
SensicaSensilight Pro IPL Hair Removal Device: This ingenious device has both pulse and glide modes, the latter of which allows you to cover the skin without having to push the button repeatedly, making it easier to operate. Testers noted a difference in hair regrowth after four weeks, and as time went on, it grew even more effective at slowing regrowth and making hair sparser. The panel stated the design was cumbersome, and that changing heads was difficult, but they liked the different attachments, which allowed for more precision in particular areas.
Panasonic ES-WH90 Cordless IPL Hair Removal Device: This is a device for anyone concerned about unwanted facial or body hair. It can also be used on the body, and following the experiment, 83 percent stated it successfully slowed their hair growth, with the majority also seeing their hair growing back finer. It was simple to place and cover bigger portions of the body, but it was difficult to use near the underarms, and it wasn't the lightest option. It was, however, straightforward to use, and our testers loved the precision head and the five intensity levels, which allowed them to choose what was most comfortable for them
Best At Home Hair Removal Laser vs Best In-Clinic Laser Hair Removal

We saved the best for last, but sorry, this is not a home use device. When it comes to permanent laser hair removal, nothing can beat the Candela Gentlemax Pro Plus laser.


Candela Gentlemax Pro Plus: The gold standard for professional in-clinic laser hair removal. This is a device for anyone who is concerned about unwanted facial or body hair.
THE BENEFITS OF USING CANDELA'S GENTLEMAX PRO PLUS HAIR REMOVAL LASER
Permanent hair reduction
Smooth, silky skin
Reduction of ingrown hairs
times with no downtime required
Reduces excessive hair growth (PCOS)
Safer and more effective than other laser treatments
Safe on all skin types
Targets blonde or grey hair
Less painful
Requires fewer treatments
Decreases treatment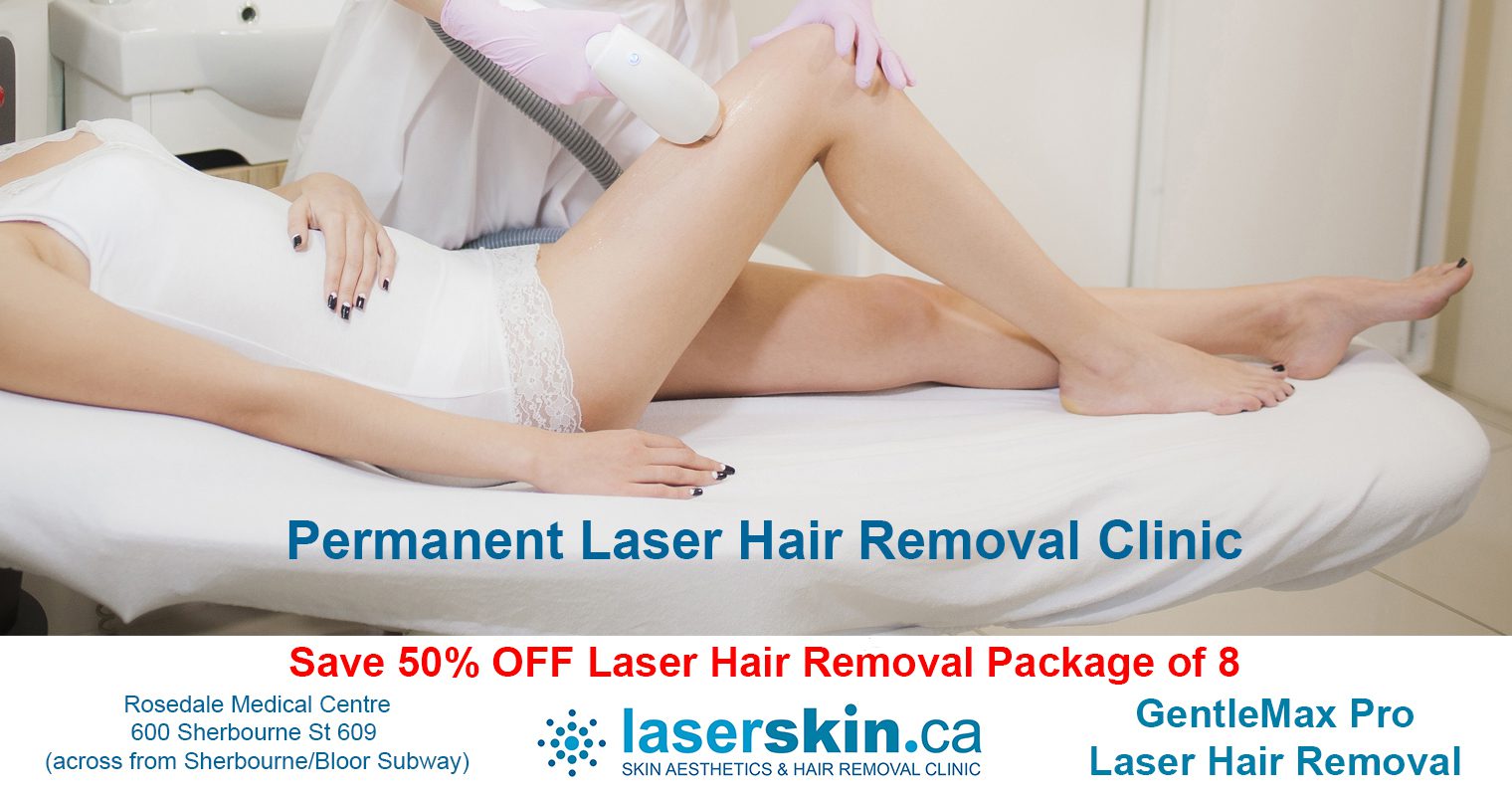 INTRODUCING THE NEW CANDELA GENTLEMAX PRO PLUS™ FOR LASER HAIR REMOVAL
The Gold Standard Gentle Hair Removal™
The Gentle Hair Removal laser targets the hair follicle with intense laser light energy for thermal destruction to provide permanent hair reduction over the course of a few treatments. With fast treatment times, Gentle Hair Removal delivers a more comfortable patient experience through its distinctive Dynamic Cooling Device™. This cooling system sprays the skin before each laser pulse with a cooling burst of cryogen over the treatment area, providing a Cooling Protection Factor over 50% greater than contact or air cooling4,5 for optimal comfort!
During this unique laser treatment, two highly effective and proven wavelengths work together to eradicate unwanted hair. The laser beam may penetrate the pigment of the targeted hair follicles and disintegrate the hair shaft without harming the surrounding healthy skin tissue, regardless of the patient's skin color, whether lighter or darker.
Permanent results
Safe to treat all skin types
Quick treatment
No downtime
Pain free
GentleMax Pro™ is a dual platform laser made by one of the industry's leaders, Syneron Candela. The GentleMax Pro™ is a dual platform laser using a 755nm Alexandrite laser and a 1064nm Nd:YAG laser, allowing a wide range of treatment options.
Candela's GentleMaxProPLUS™ platform is the newest advancement in the number one dermatologist-recommended laser hair removal brand. 1 It is meant to exceed patients' expectations as well as other needs, as it is built on a foundation of over 20 years of clinically Proven effectiveness across all skin types. 
Increased power, speed, and larger spot sizes, as well as short pulse durations, allowing for a better laser hair removal experience.