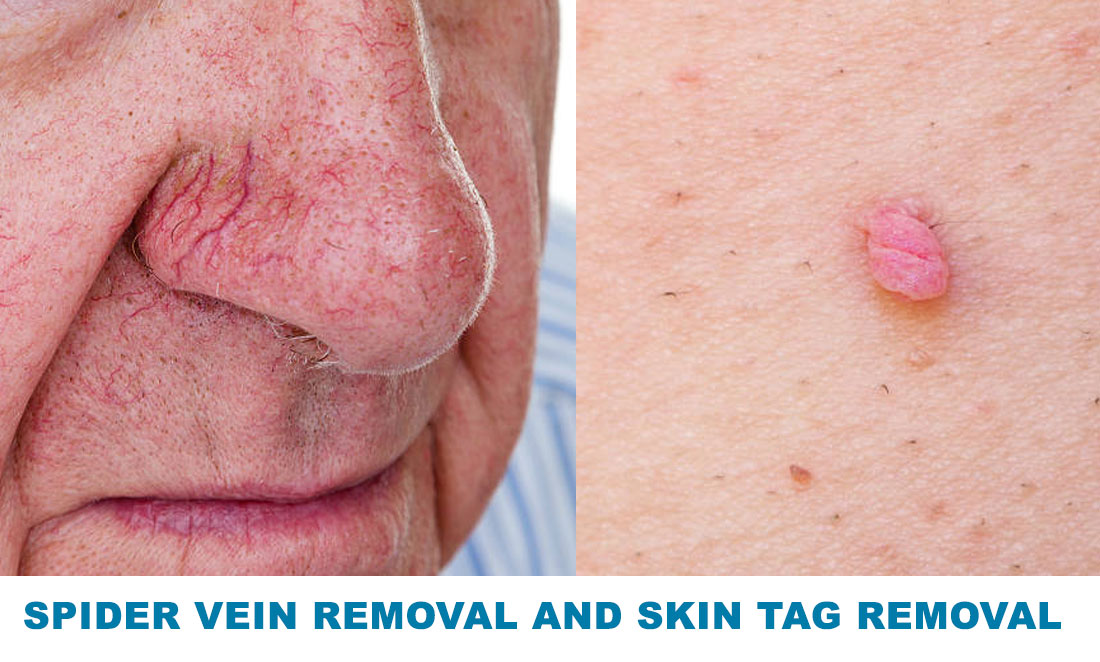 Minor Skin Laser Treatments: Laser skin tag and spider vein removal at Laser Skin Clinic
The Laser Skin Clinic stands as a beacon for non-invasive aesthetic transformations in cosmetic advancements. With a meticulous focus on refining the skin's appearance, the clinic harnesses the precision and efficiency of laser technology to address minor yet bothersome skin irregularities. Two of their hallmark treatments, laser skin tag and spider vein removal, have revolutionized the way individuals approach skin imperfections. Offering a swift, safe, and scar-free alternative to traditional methods, these laser treatments at Laser Skin Clinic promise clear, rejuvenated skin with minimal downtime, ensuring clients can put their best face forward with confidence.
Laser Skin Tag Removal
Skin tags, medically known as acrochordons, are benign skin growths often attached to the skin by a thin stalk. They are commonly found in areas of the body with skin-to-skin friction, such as the neck, underarms, eyelids, and groin. Though generally harmless and painless, many people remove skin tags for cosmetic reasons or if they cause discomfort when rubbed by clothing or jewelry.
With advances in medical technology, laser skin tag removal has become a popular method among dermatologists and their patients. This piece provides an in-depth exploration of the procedure, its advantages, and the anticipated experience during and post-treatment.
How Does Laser Skin Tag Removal Work?
Laser skin tag removal uses laser light to target the water content inside the skin tag. As the laser is absorbed by the water within the skin tag, it heats up and eventually breaks down the cells within the growth. This process, known as ablation, causes the skin tag to dry up and fall off. Different lasers can be used, but the most common ones for this procedure are the CO2 and Nd: YAG lasers.
Benefits of Laser Skin Tag Removal
Precision: A significant benefit of employing lasers is their accuracy. Lasers can specifically target the skin tag without affecting the surrounding skin. This reduces the risk of scarring and discoloration.
Speed and Efficiency: The procedure is quick, often taking just a few minutes per skin tag. This makes it possible to treat multiple skin tags in a single session.
Minimal Pain and Discomfort: Although patients might feel slightly burning or tingling, the procedure is relatively painless. Local anesthesia or numbing creams are sometimes used to enhance comfort.
Reduced Risk of Infection: Since lasers sterilize the skin as they work, there's a decreased risk of infection compared to other removal methods.
No Stitches Required: Unlike surgical removal, no incisions are made during laser treatment, meaning no stitches are necessary.
What to Expect During the Procedure
Upon visiting a dermatologist or skin clinic, the affected area will be cleaned, and, if needed, a numbing cream or local anesthesia will be applied. Protective eyewear will be provided to shield your eyes from the laser beams. The dermatologist will then use the laser device to target each skin tag. Each laser pulse might feel like a snap of a rubber band against the skin. Once all skin tags are treated, a soothing ointment will be applied.
Aftercare and Recovery
Laser skin tag removal has a minimal recovery period. Here's what you can expect post-procedure:
Redness and Swelling: It's common to experience some redness and swelling in the treated area. This typically subsides within a few hours to a couple of days.
Scab Formation: The treated skin tags might turn darker and form a scab. It's crucial not to pick at these scabs to prevent scarring.
Avoid Sun Exposure: It's advised to shield the treated zone from direct sunlight for a minimum of one-week post-procedure to avoid skin darkening.
Moisturize and Soothe: Apply a soothing ointment or cream as the dermatologist advises to keep the area moisturized and promote healing.
Laser Spider Vein Removal
Telangiectasia, referred to as spider veins, are small, surface-level blood vessels that manifest as red, blue, or purple streaks on the skin. Frequently seen on the legs and face, these veins, although harmless, can be a cosmetic concern for many. With the advent of modern technology, laser spider vein removal has emerged as a popular and effective treatment for those seeking to erase these vascular blemishes. Let's delve deeper into this innovative solution.
Understanding Spider Veins
Spider veins are different from varicose veins. While varicose veins are raised, swollen blood vessels can cause discomfort, spider veins are flat and don't typically cause pain. Causes range from genetics and hormonal changes to prolonged standing, obesity, and sun exposure.
How Laser Spider Vein Removal Works
Laser treatments involve directing concentrated beams of light at the spider veins, targeting the hemoglobin within the blood vessels. The light energy gets absorbed, which causes the blood inside the veins to coagulate. This process eventually destroys the vessel, which is then reabsorbed by the body and fades over time.
There are two primary types of lasers used for spider vein treatment:
Pulsed Dye Lasers (PDL) emit a specific type of light absorbed by the blood vessels, making it effective for shallow spider veins, especially those on the face.
Nd: YAG Lasers: These are often used for deeper spider veins, particularly on the legs.
Benefits of Laser Spider Vein Removal
Non-Invasive: One of the primary advantages of laser treatment is that it's non-invasive, meaning no injections or incisions.
Minimal Discomfort: While patients might feel a warm sensation or slight pinch during the procedure, it's generally well-tolerated. Cooling devices or gels are often used to minimize discomfort.
Quick Procedure:
Depending on the size and placement of the treated area, a session usually takes around 15 to 30 minutes.
Effective Results: Most patients see a 50% to 70% improvement after multiple sessions. The results are also long-lasting, with veins fading permanently over time.
No Downtime:
After the treatment, patients can resume their regular activities without delay.
What to Expect During the Procedure
The procedure can be scheduled after an initial consultation, where the dermatologist assesses the suitability of laser treatment for the spider veins. The skin is cleaned, and protective eyewear is provided. The laser device is then used to emit pulses of light energy to the targeted veins. Once the session is complete, a soothing lotion may be applied to the area.
Post-Treatment Care and Recovery
While laser spider vein removal is minimally invasive, there are some post-treatment guidelines to ensure the best results:
Redness and Swelling: Some immediate redness or swelling may appear in the treated area, which usually subsides within a few hours or days.
Sun Protection: The treated area can be more sensitive to sunlight. Avoid direct sun exposure and use sunscreen to prevent hyperpigmentation.
Avoid Strenuous Activities: Refrain from vigorous exercises for a few days after the procedure.
Moisturize: Keep the skin hydrated with a gentle moisturizer to promote healing.
Follow-up: Depending on the severity and extent of the spider veins, multiple sessions might be required, spaced 4-6 weeks apart.
Risks and Considerations
While laser spider vein removal is safe, some potential side effects include:
Skin Discoloration: There may be temporary hyperpigmentation or hypopigmentation. In infrequent instances, these modifications might last indefinitely.
Blistering and Scarring: If not performed correctly, the heat from the laser can cause burns or scars.
Bruising: Some patients might notice bruising, which fades within a few weeks.
Before undergoing the treatment, consult a board-certified dermatologist or laser specialist experienced in vascular treatments.
Showing all 3 results