Tattoo Vanish® Removal Clinics in | Toronto | Richmond Hill | Mississauga
NON-LASER TATTOO REMOVAL - TATTOO VANISH
You will notice that the pricing for our non-laser and laser tattoo removal costs are different. This is because the two procedures are quite different from each other. Our non-laser process (Tattoo Vanish) usually does not take more than five sessions to remove your tattoo; however, each session takes longer, approximately 1 – 1.5 hours, and we can only do a 4" x 4" or 16 square inches at a time. 
Our Cynosure PicoSure Laser is used exclusively for laser tattoo removal. It removes black, red, brown, yellow, purple, green, and blue ink. Each session is much quicker than non-laser tattoo removal, and we can cover a larger area. However, more sessions are required for laser tattoo removal, on average, 8-10. 
Both methods require a 6-week healing time between sessions for the same tattoo area. For a different tattoo area, two weeks is required in between sessions. For laser tattoo removal pricing, click here.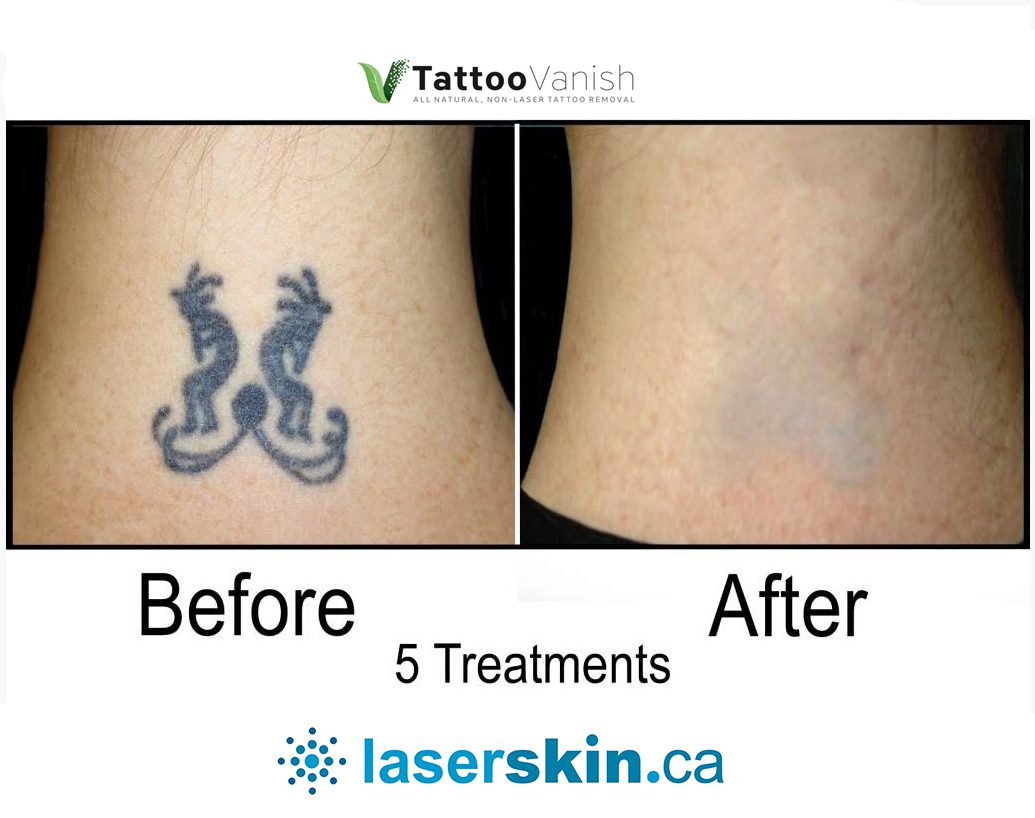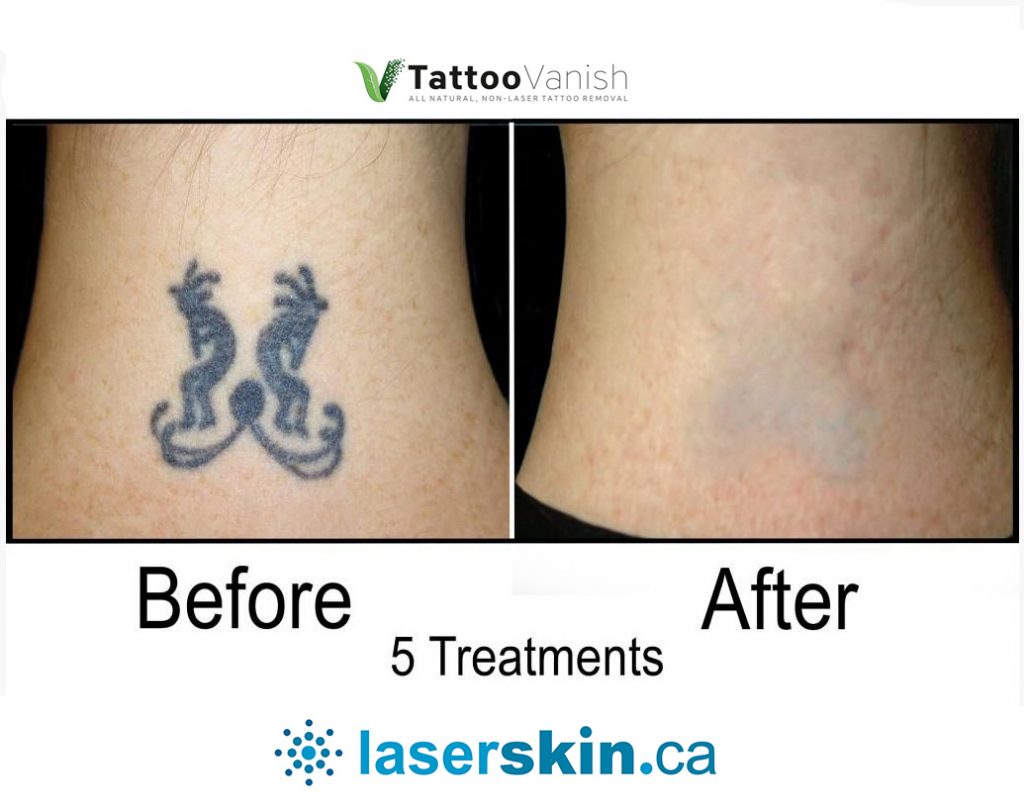 NON-LASER TATTOO REMOVAL COST (ALL LOCATIONS)
The main advantage of our Tattoo Vanish method is that it can remove ALL colours, and the number of sessions is about 50-60% less than laser. The process involves passing over the tattoo with a tattoo machine and needle. Numbing cream is applied on each pass. Once the hand has reached the ink depth, we put a serum called Ink Eraser. A scab forms in 2-3 days, and in about two weeks, it will start to flake off.
The main disadvantage of the non-laser tattoo removal method is that we can only do a tattoo 4″x4″ or smaller per session. This prevents your immune system from overworking if the tattoo wound is too large. For tattoos larger than 4″x4″, we recommend using our PicoSure method. Click HERE for more info about the gold standard in laser tattoo removal.
We offer a FLAT FEE for our laser tattoo removal method.  Our laser costs $197 for each session, and each session is quicker (10 min-30 min for laser tattoo removal compared to 60 min for non-laser tattoo removal.
Does Tattoo Vanish actually work?
Tattoo Vanish is more effective than saline tattoo removal because of the specialized all-natural serum. Saline tattoo removal has been around for a long time, and Tattoo Vanish is an upgrade to this particular type of treatment. 
Is Tattoo Vanish better than laser?
Typically, Tattoo Vanish requires up to 75% fewer treatments than laser tattoo removal. It is the only natural, toxin-free and acid-free method.
Is laser or saline tattoo removal better?
Saline removal is gentler than other methods, leaving your skin intact. This is especially important for sensitive areas like permanent eyebrows and eyeliner, which can be challenging to remove with other methods.
What are the non laser tattoo removal options?
Surgery – the tattoo is removed with a scalpel and then stitched back.
Cryosurgery – freezing the skin with liquid nitrogen and sanding the skin layers off.
Chemical Peel and Glycolic Acid – acid used to remove the outer layers of the skin.
Saline – using a saline solution to draw tattoo ink out of the skin.
Dermabrasion – "sanding" the upper layers of the skin."
Tattoo Vanish – our recommended non-laser method.
Non Laser Tattoo Removal Cost Toronto
Upload Your Tattoo Photo Today