Our miraDry Toronto procedure is a permanent treatment for excessive underarm sweat
What is OUR miradry TORONTO TREATMENT?
Our miraDry Toronto treatment is a procedure performed by a trained medical professional, in as little as one hour.
The miraDry System uses thermal energy that targets and eliminates the sweat glands in your underarm. Once those glands are eliminated, they do not grow back. Goodbye, sweat stains!
The miraDry treatment is the only FDA-cleared treatment that can dramatically reduce underarm sweat by addressing the root cause of excessive sweat and its accompanying odor – not the symptoms.
miraDry is a treatment that uses thermal energy to permanently eliminate sweat glands and significantly reduce sweat, odor and hair in as little as one treatment, optimal results in two.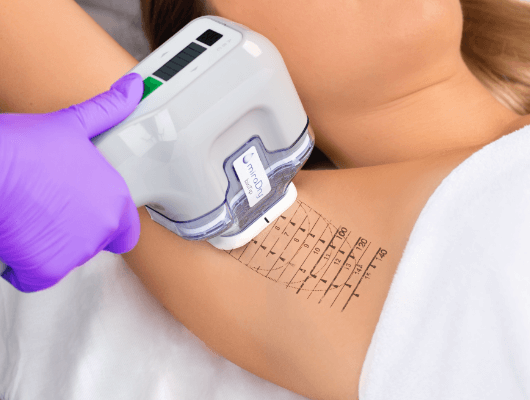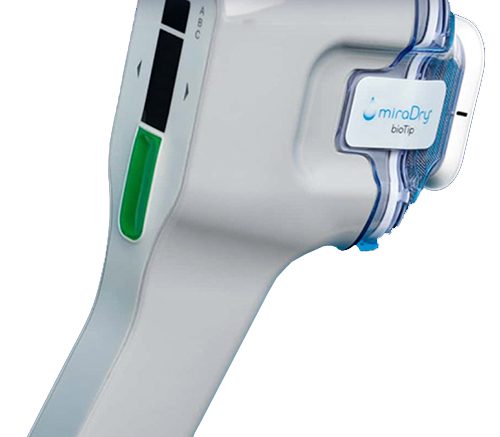 Hyperhidrosis - Excessive Sweating
You are not alone – over 365 million people globally, or 1 in 20, suffer from excessive sweating or hyperhidrosis
Hyperhidrosis is an uncontrollable condition that can interfere with nearly every aspect of life. In people who have excessive sweating, the sweat glands are generally overactive, producing more sweat than is necessary. Excessive underarm sweat, or primary axillary hyperhidrosis, often goes untreated despite being the most bothersome and common form of excessive sweating.
There is only one permanent, non-surgical treatment for excessive underarm sweat – miraDry.
Benefits of our miradry Toronto treatment

Permanent

Immediate

Non-surgical

Safe

Effective

Takes Just 1 Hour
Don't I need to sweat?
Of course! But not from your underarms.
You are born with approximately 2-4 million sweat glands throughout your body. Your underarms only contain about 2% of those glands.
After your miraDry treatment you will experience the many benefits of dry underarms, and you will continue to perspire normally elsewhere.
miraDry is the only permanent, immediate and non-surgical treatment on the market.
Pre & Post Care Patient Procedures
miraDry is a non-surgical treatment designed to permanently reduce underarm sweat, odor, and hair with as little as one treatment, in one hour, and with immediate results.
Shave
Shave both underarms; by the time you come in for your procedure, there will be a little bit of hair growth to identify the area to be treated. If you forget to shave, we will recommend that you reschedule your procedure date.
No Deodorant
Do not wear any deodorant or antiperspirant.
Loose Clothing
Wear clothes with loose arm holes for easy access to the treatment site, e.g. tank top, sports bra, or camisole.
1 Hour
Plan for the procedure to last an hour.
Ice
Immediately ice the treated area using towel-wrapped ice packs and use non-prescription anti-inflammatory medication to reduce swelling. Continue as needed over the new few days.
Clinical Evaluation of a Microwave Device for Treating Axillary Hyperhidrosis CLICK HERE