The Elite Family Just Got Better With
The Elite iQ™, the Best
Hair Removal Laser with SkinTel Technology
Laser Hair Removal Near Me at
Toronto Clinic across Sherbourne / Bloor Subway Station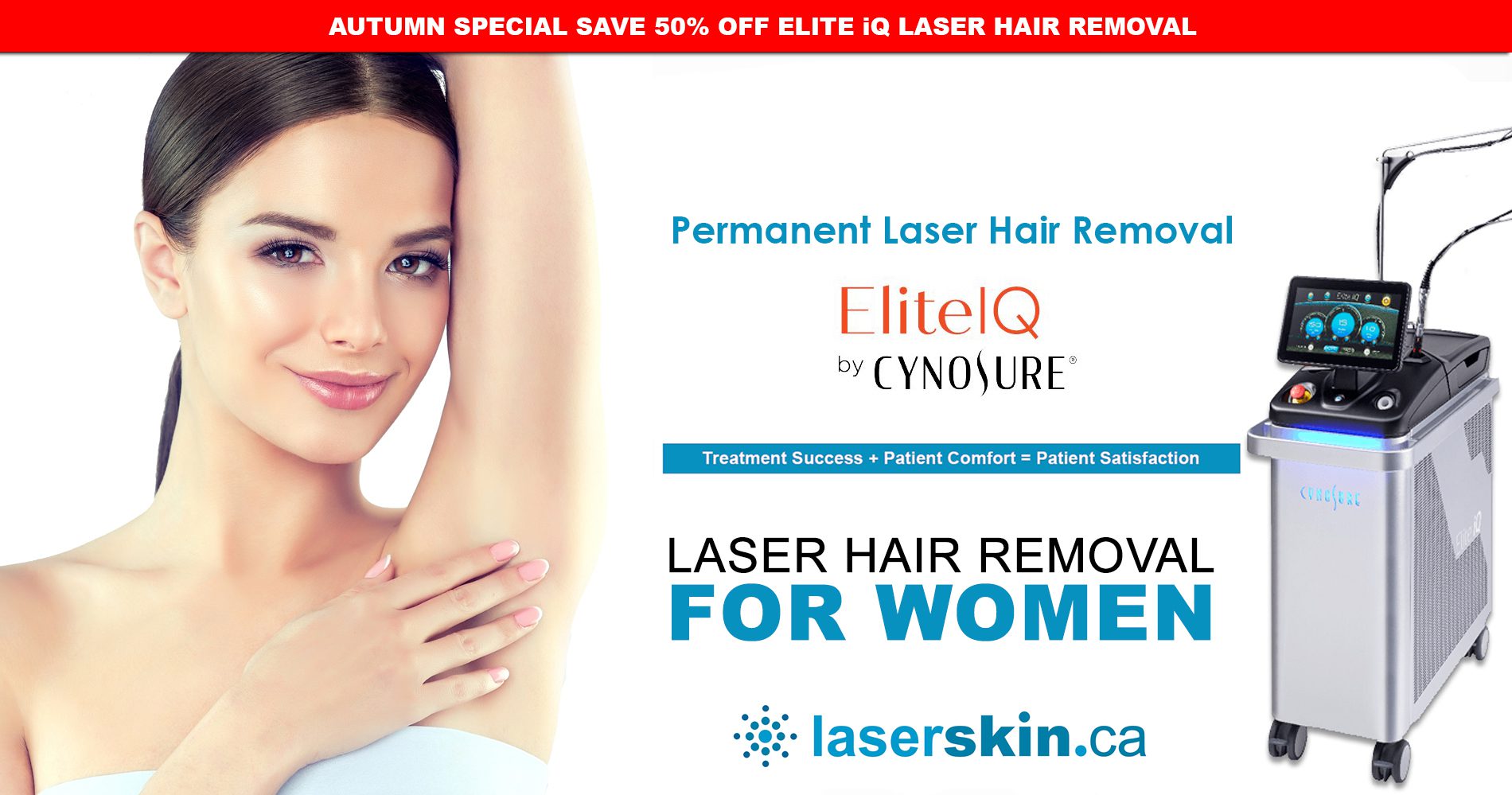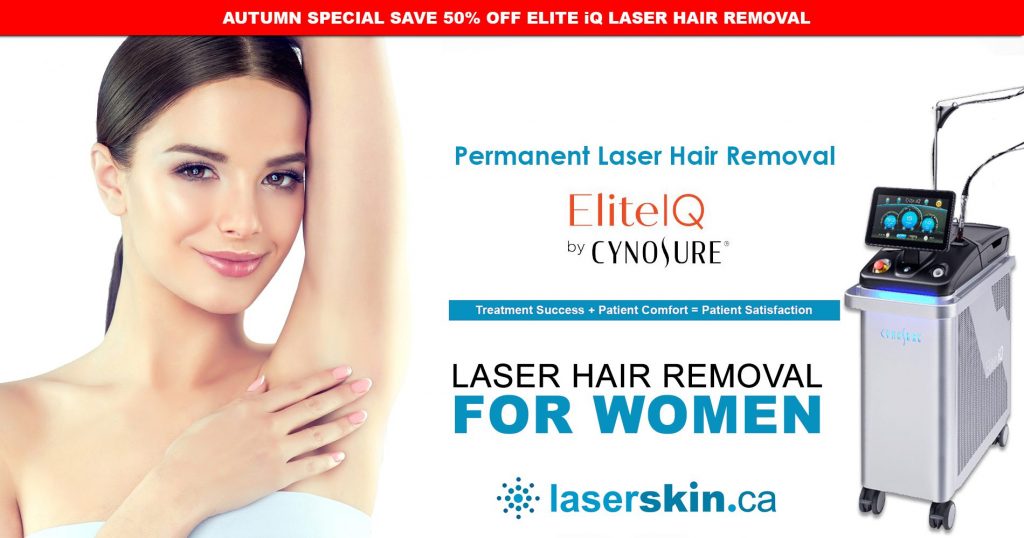 LASER HAIR REMOVAL with Cynosure Elite iQ Treatments
Would you be interested in laser hair removal near me? Our laser hair removal clinic is conveniently located across Sherbourne St/ Bloor St subway station in Toronto.
American women's armpit and leg hair removal gained popularity in the early 20th century due to multiple factors. One cultural change was the definition of femininity. In the Victorian era, it was based on moral character.
Today, almost all women rely on some form of hair removal in their everyday beauty routines, whether tweezing, shaving, waxing, electrolysis, or laser hair removal.
Laser hair removal is the process of hair removal using exposure to pulses of laser light that destroy the hair follicle. It had been performed experimentally for about twenty years before becoming commercially available in 1995 and 1996. Theodore H Maiman invented the first laser to destroy hair follicles in 1960. 
It was in the early 1980s that laser hair removal became essentially permanent. Today's laser hair removal offers almost entirely pain-free and permanent results.
When it comes to hair removal, today's women have many choices.  Ancient Egyptian women may have been the first to remove their hair from their bodies. They removed all their body hair with tweezers made from seashells, pumice stones, early beeswax and sugar-based waxes. 
Some of the first razors, made of copper, were used in Egypt and India around 3000 BCE. Egyptian women removed their head hair and considered pubic hair uncivilized. For the Romans, body hair was a sign of class; the more prestigious one's place in society, the less hair one was expected to have.
Women began shaving their hair in 1915. This was the period between World War I and II. Waxing was introduced in the 1960s, and electrolysis in the 1970s. With the increasing popularity of swimsuits in the 1960s, bikini hair removal gained momentum in the 1970s.
How it works: You pull out individual hairs by the root with tweezers.
Best for: Small areas of the face
How long it lasts: 3-8 weeks
Possible side effects: If the hair breaks off, it could grow back under the skin, causing an ingrown hair.
How it works: Using a razor or electric shaver, you cut the hair very close to the skin.
Best for: It works anywhere.
How long it lasts: 1-3 days
Possible side effects: Ingrown hairs, especially in the bikini area
How it works: A technician spreads sticky wax on your skin, then covers it with cloth strips. The strips are quickly removed when the polish dries, taking the hair with them.
Best for: Anywhere on the body, including the face, underarms, legs, pubic area/bikini area
How long it lasts: 3-6 weeks
Possible side effects: Redness and bumps. You could also get an infection around the hair follicles. The more often you wax, the less likely you are to have an infection.
How it works: A trained expert places a tiny sterile needle inside each hair follicle to destroy the root with an electric current.
Best for: Because it takes a long time, it's best for small areas like the upper lip or chin. Women with white or blond hair who can't get laser or IPL may see results from electrolysis.
How long it lasts: You'll likely need treatments every 1-2 weeks until the hair is mostly gone.
Possible side effects: Redness, swelling, and scarring
Laser Hair Removal near me
How it works: A technician destroys the roots with intense light beams. Laser hair removal is the most effective way to have long-term hair reduction.
Best for Laser and IPL work anywhere on the body. It's best for women with dark hair and light skin. It won't work on white hair and doesn't work well on blond hair, either.
How long it lasts: It may take 6-12 treatments to see results.
Possible side effects: Swelling or redness. Chance of burning and scarring if laser machine is misused.
Note: IPL (Intense Pulsed Light) is different from the laser. Laser technology is much more effective and achieves substantially better results than IPL. Click here to see the difference between laser vs IPL for hair removal.
Book Your FREE Consultation Today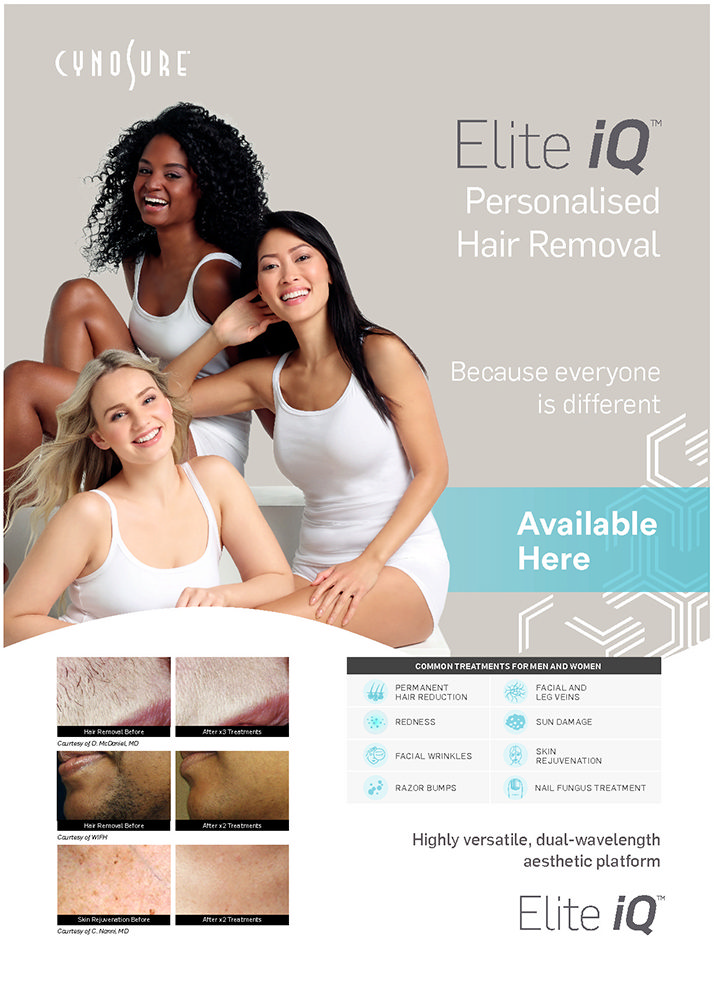 INTRODUCING THE NEW GENERATION CYNOSURE ELITE IQ™ FOR LASER HAIR REMOVAL NEAR ME
The Gold Standard Laser Hair Removal with SkinTel
The Elite iQ laser targets the hair follicle with intense laser light energy for thermal destruction to provide permanent hair reduction throughout a few treatments. With fast treatment times, 
During this unique laser treatment, two highly effective and proven wavelengths work together to eradicate unwanted hair. The laser beam may penetrate the pigment of the targeted hair follicles and disintegrate the hair shaft without harming the surrounding healthy skin tissue, regardless of the patient's skin colour, whether lighter or darker.
Permanent results
Safe to treat all skin types
Quick treatment
No downtime
Pain-free
Elite iQ™ is a dual-platform laser made by one of the industry's leaders, Cynosure. The Elite iQ™ is a dual-platform laser using a 755nm Alexandrite laser and a 1064nm Nd: YAG laser, allowing a wide range of treatment options.
Cynosure's Elite iQ™ platform is the newest advancement in the number one dermatologist-recommended laser hair removal brand. 1 It is meant to exceed patients' expectations and other needs, as it is built on a foundation of over 20 years of clinically Proven effectiveness across all skin types. 
Increased power, speed, larger spot sizes, and short pulse durations allow for a better laser hair removal experience.
SAVE 50% OFF YOUR LASER HAIR REMOVAL
CLICK HERE for our latest laser hair removal near me.