Tattoo Removal Price
Do you have tattoo remorse but hesitate to have it removed because of the high cost? Believe it or not, you have company. Many people walk around with unwanted tattoos. Nonetheless, if you live in or around Toronto, you may visit a laser skin clinic for low-cost laser tattoo removal. Laser tattoo removal methods have come a long way in recent years, making it easier to cover up botched jobs and return to looking fabulous.
For those who have always desired to address an old tattoo that was causing them embarrassment or professional damage, we are here to help. Tattoo removal treatments are now gentler, more effective, and longer lasting than ever before, and our courteous and skilled staff have helped many people like you regain their previous beauty. Now is the time to give that new experience a go that you've always been curious about.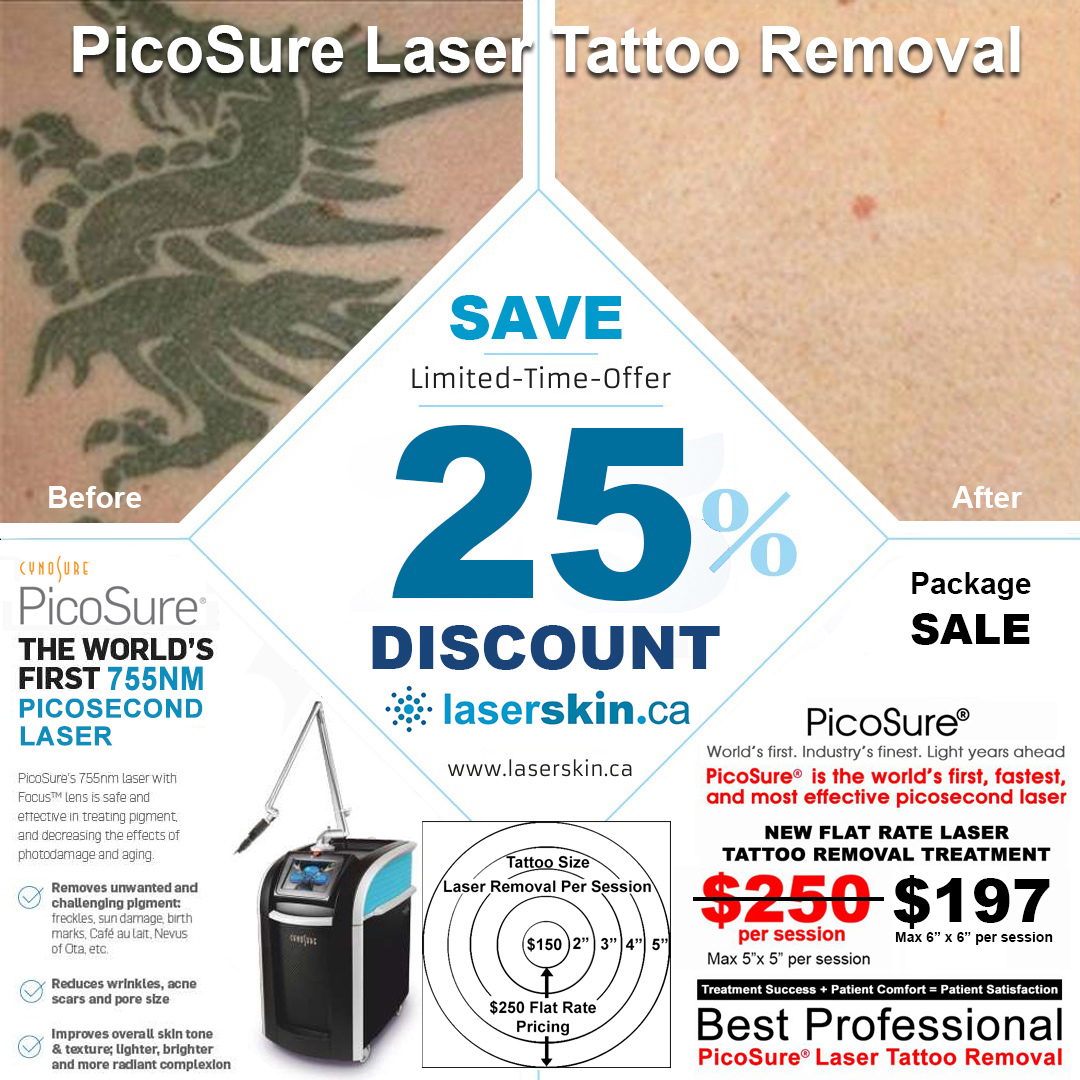 Tattoo Removal Price Laser vs Non-Laser
You'll see that we have a range of prices for both laser and non-laser tattoo removal. The two approaches are so different for this reason. Our Tattoo Vanish non-laser tattoo removal method typically requires no more than five sessions. Despite this, we can only treat 16 square inches (a 4 by 4-inch area) at a time, and each session takes about an hour and a half. Tattoo removal is the only thing we utilize our Cynosure PicoSure laser for. It removes colours, including green, blue, purple, green, and blue ink and black, red, brown, and yellow. Although laser tattoo removal takes fewer sessions overall (on average 8-10), each session is quicker and more areas may be treated at once than with non-laser tattoo removal methods. Both treatments need a 6-week interval for full healing at the precise tattoo place. If you want to treat a different part of your tattoo, you'll need to wait two weeks between sessions. Laser tattoo removal prices are listed on our website.
Removal of a tattoo without using a laser
Our non-laser tattoo removal method has many advantages over laser removal, the most notable being its ability to remove all colours and its need for 50-60% fewer sessions altogether. An automated tattoo machine with needles is used to create the design. Topical anesthetic cream is used at each successive stage. At this point, we apply Ink Eraser serum on the hand to remove the ink. In a few days, a scab will form, and after about two weeks, it will start to flake off.
A significant downside of our non-laser tattoo removal method is that we can only treat tattoos that are 4 inches by 4 inches or less in size during a single session. If the tattoo wound is too large, your immune system won't have to work too hard to heal it. For tattoos larger than 4"x4", we advise using our PicoSure laser removal technology.
When it comes to laser tattoo removal, our rates are FLAT. Each session of our laser tattoo removal costs $197 for tattoos up to 6" x 6" in size and takes less time than the last (10 minutes to 30 minutes for laser tattoo removal vs 60 minutes for non-laser tattoo removal).
We provide laser tattoo removal in our Richmond Hill site and non-laser tattoo removal in Mississauga, Richmond Hill, and Toronto. CLICK HERE for a free consultation.