Tattoo Removal Cost
Tattoo removal in Toronto – how much does tattoo removal cost?
According to the ASPS (American Society of Plastic Surgeons), the average cost of laser tattoo removal in 2020 will be USD 423 (not counting related expenses).
What is the cost of having a tattoo removed in Toronto?
We offer a FLAT RATE $197 tattoo removal price for tattoos up to 6″ x 6″ at Laser Skin Clinic. This pricing technique eliminates much of the guesswork involved in determining the size of your tattoo. If you are seeking tattoo removal near me, consider Laser Skin Clinic, situated at 9140 Leslie St #301, Richmond Hill. With our gold-standard PicoSure lasers, we have done several tattoo removal treatments.
Per treatment cost of flat fee single laser tattoo removal: $250. Note: this is for laser tattoo removal only, not non-laser tattoo removal.
Tattoo Removal Services
Pay $675 for three treatments and save $75.
Five treatments, 15% off, spend $1,125, save $125
The tattoo removal procedure costs $250 for each appointment / per part.
Tattoo removal prices are always the most important consideration for customers who want a tattoo erased or faded for a cover-up. Flat fee pricing might be cheaper than our rivals' standard pricing structure.
Tattoo removal expenses are a consideration when beginning to erase or fade a tattoo, but our flat rate pricing and simple pre-paid packages take the guesswork out of planning.
Tattoo Removal Clinic defies the trend in tattoo removal expenses by not charging per square inch or adding extra charges depending on tattoo location, colour, or if many tattoos are removed in one office visit.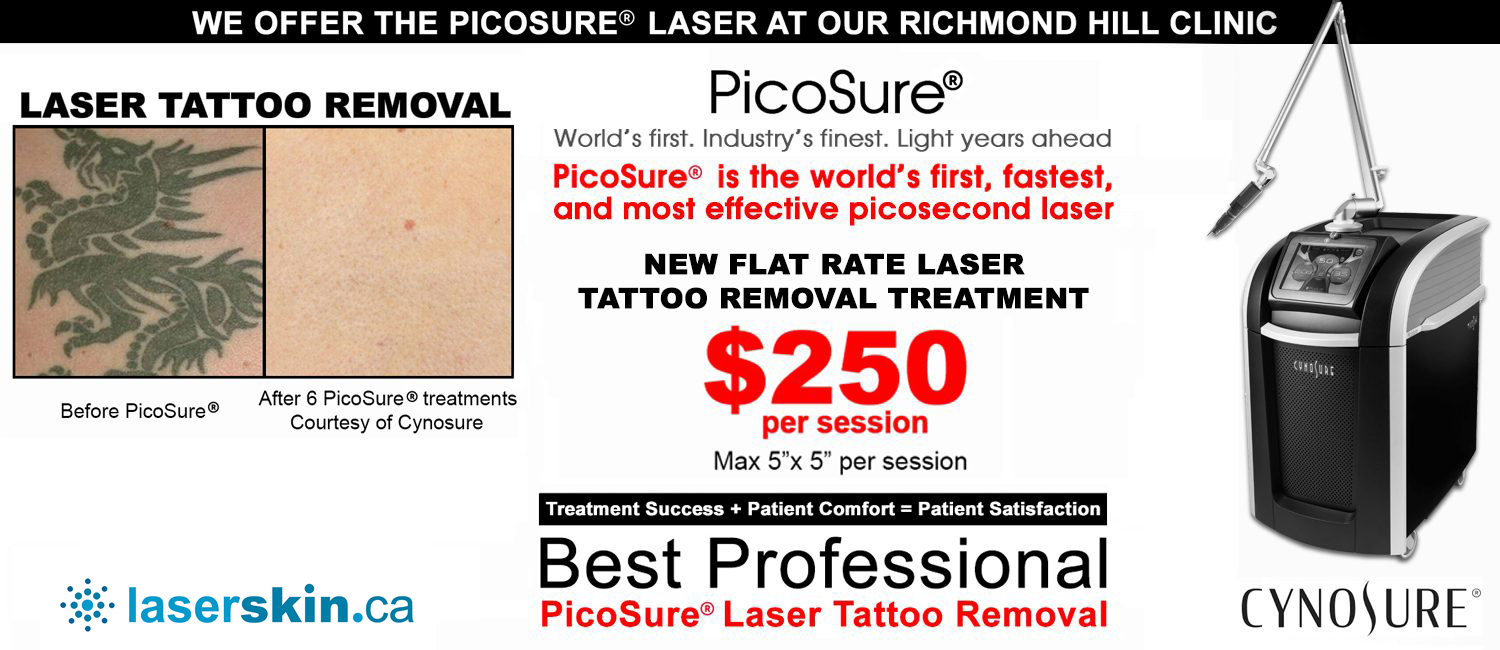 But what if I have many tattoos that I want to be removed?
We handle each customer individually, but wherever feasible, we treat them all simultaneously and at the same flat rate payment.
Because healing and aftercare are critical, there are restrictions on the total size and quantity of tattoos each session. However, these are just a tiny percentage of our broad clientele, and we'll clarify what can and cannot be done during complimentary consultations.
Is it the same price to remove my whole back, arm, and a leg?
Larger tattoos (whole backs, sleeves, chest, etc.) will be divided into smaller 55-inch portions, with each area being treated 4-6 weeks apart in rotation. We can only treat so much in an office visit to ensure appropriate healing and recovery. Thoroughly soaked back parts will be divided into three or four treatment zones, each needing a clinic appointment 6-8 weeks apart. Similarly, highly saturated sleeve tattoos require 4 to 5 parts, whereas fully saturated huge chest pieces necessitate two segments. We will tell you these proposed treatment procedures at your first consultation and plan your subsequent sessions accordingly.
Is it more expensive to remove a multi-coloured tattoo?
No, we do not charge based on the number of colours in your tattoo or the kind of laser utilized.
How much would it cost to fade or erase my tiny tattoo?
Our fixed rate price covers almost all tattoos, although, in some instances, such as tiny pieces, we may alter the cost at our discretion. Our fee for tattoos less than 1′′x1′′ is $150.
There are no hidden fees or surcharges. You will only be charged for the tattoo removal service during an office appointment.
Tattoo removal consultations are always free and, in most circumstances, may be completed over the phone if you are not in the area. So schedule an online consultation and your first treatment with us now.
647-559-3662.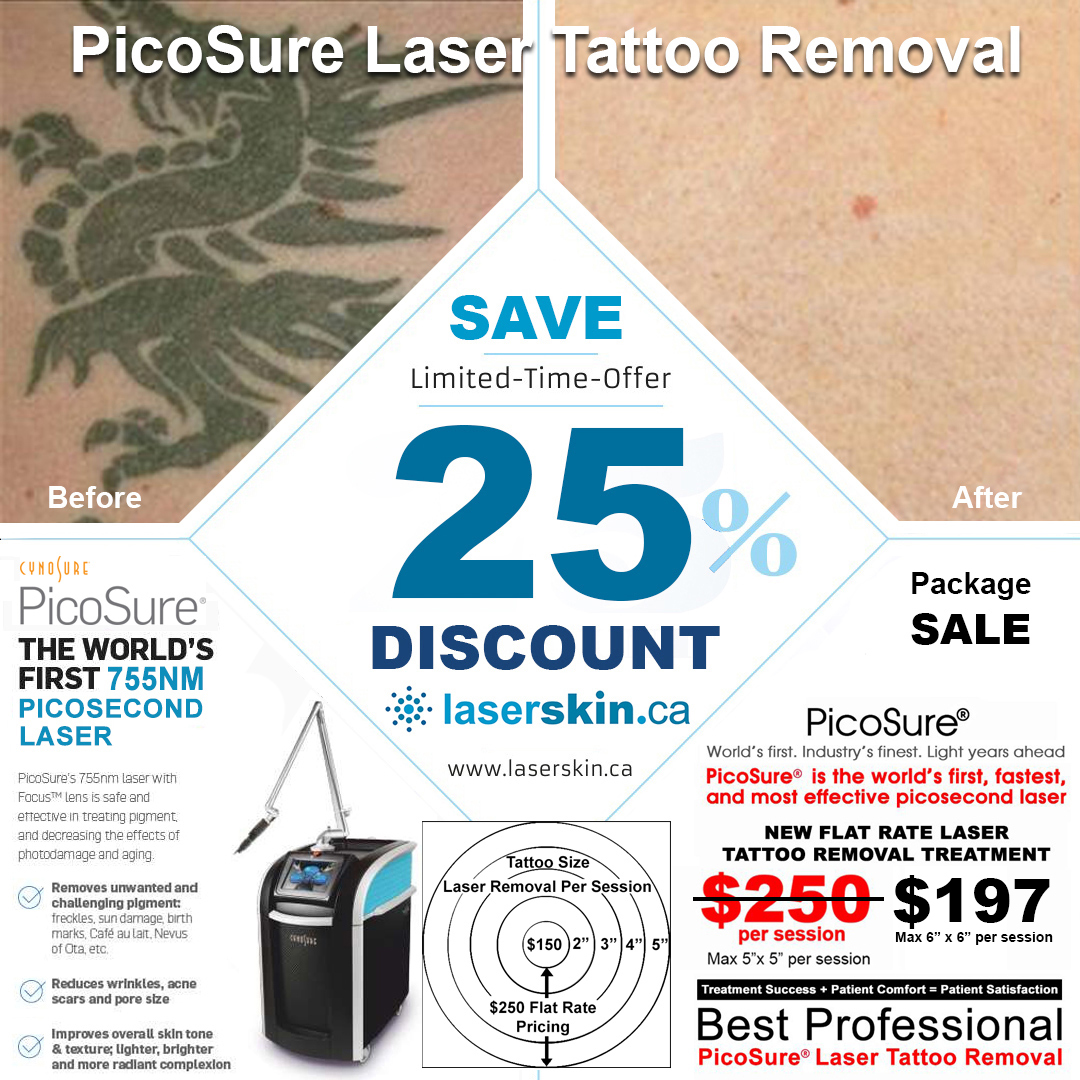 Set up a free consultation today
Are you looking for tattoo removal in Toronto? Do you want to remove a tattoo? Fill out our online form, submit a few images of your tattoo, and we'll contact you with the pricing and any questions you may have. Contact our tattoo removal Toronto or Richmond Hill Clinic. CLICK HERE