Microneedling for Acne Scars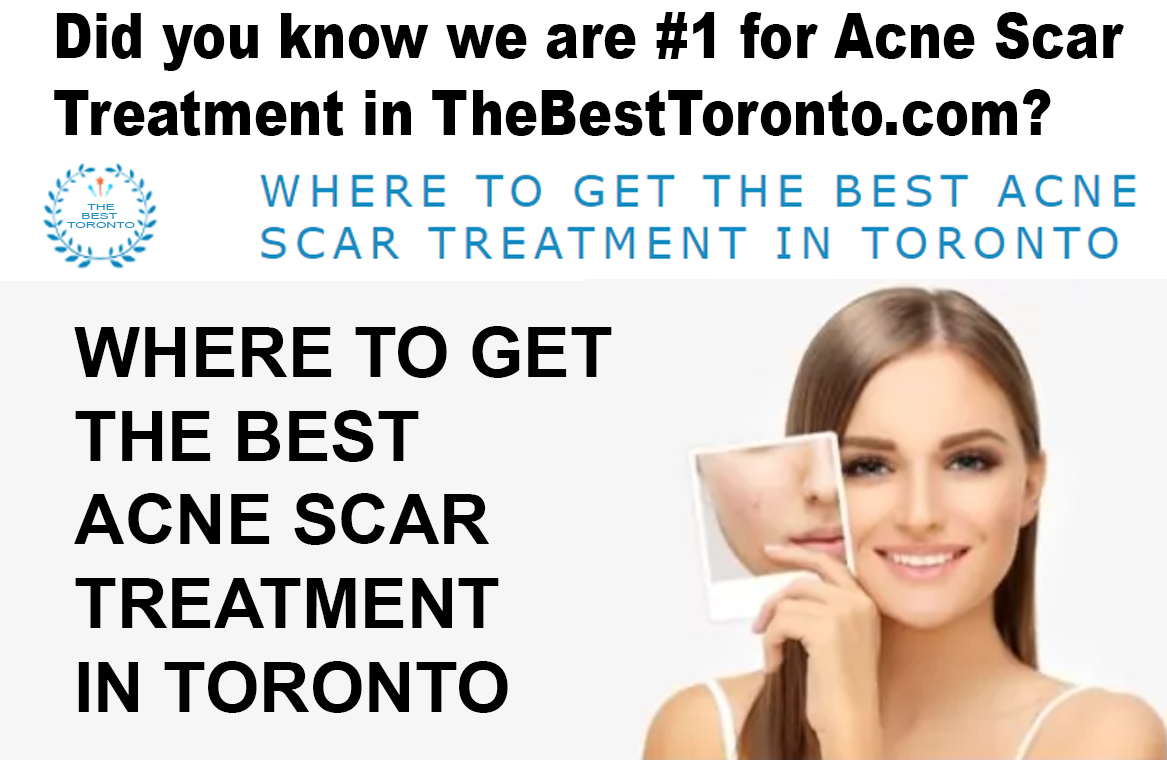 The Potenza RF Microneedling device at our acne treatment Toronto clinic can successfully eliminate acne-causing bacteria while also building collagen and elastin to reduce the appearance of acne scars.
Is RF Microneedling a Good Acne Treatment?
RF Microneedling may improve active acne and acne scars by stimulating the creation of new skin cells via enhanced collagen and elastin synthesis. In addition, it may prevent acne by lowering sebum production, which promotes greasy skin. Sebum decrease will result in fewer whiteheads, blackheads, and cystic acne.
In a recent research, 25 patients with moderate to severe facial acne were included in a clinical trial to assess the efficiency of RF or radiofrequency microneedling as an acne therapy. "The mean percentage reductions in inflammatory acne lesions were 47.18%, 65.13%, and 84.91% one month after the first, second, and third treatments, respectively," the researchers said. According to the findings, RF micro-needling is an excellent therapy for acne vulgaris. We evaluated safety and efficacy using objective metrics." Finally, we believe that fractional RF microneedling is safe and effective for treating acne vulgaris.

Clinical Indications and Efficacy of RF Microneedling on Acne
The cosmetic business has experienced a surge in the usage of energy-based technologies to enhance the appearance of the skin throughout the years. CO2 lasers are excellent for skin rejuvenation but have a lengthy downtime and a significant risk of complications. Although fractionated laser resurfacing has a shorter recovery period, it cannot give the same skin rejuvenation outcomes as completely ablative lasers.
Radiofrequency began to be used for skin renewal. This is not laser technology. Instead of light energy, it converts RF energy into heat energy through tissue resistance inside the epidermal layers. Because it does not utilize light to induce melanin directly, RF energy can treat all skin types. Monopolar and bipolar radiofrequency devices have existed. The Potenza from Cynosure is the world's first RF device to combine monopolar and bipolar RF in a single device.
RF Microneedling treats active acne and scars by combining tiny needles with radiofrequency radiation. Microneedling penetrates the top skin layer, releasing radiofrequency radiation at a precise depth.
Minimal heat damage is given to the mid and deep dermis with microneedling alone, which is required for many skin tightening. You now have the appropriate equipment to treat skin tightening, facelifting, stretch marks, active acne, and acne scars with microneedling, RF energy, and monopolar and bipolar frequencies.
The Cynosure Potenza, the Gold Standard of RF microneedling, is used in our acne treatment Toronto clinic.
Bipolar treatment: RF energy is delivered from one needle and returned to another on the same tip. Treatment is more targeted and shallow. This is an excellent therapy for skin texture problems such as acne scars, open pores, and stretch marks.
The RF radiation is delivered through a handpiece and penetrates deeper into the tissue before returning to the machine via the return pad. This is an excellent therapy for addressing deeper concerns such as retaining ligaments and deeper fat. It may also have a significant facelifting impact.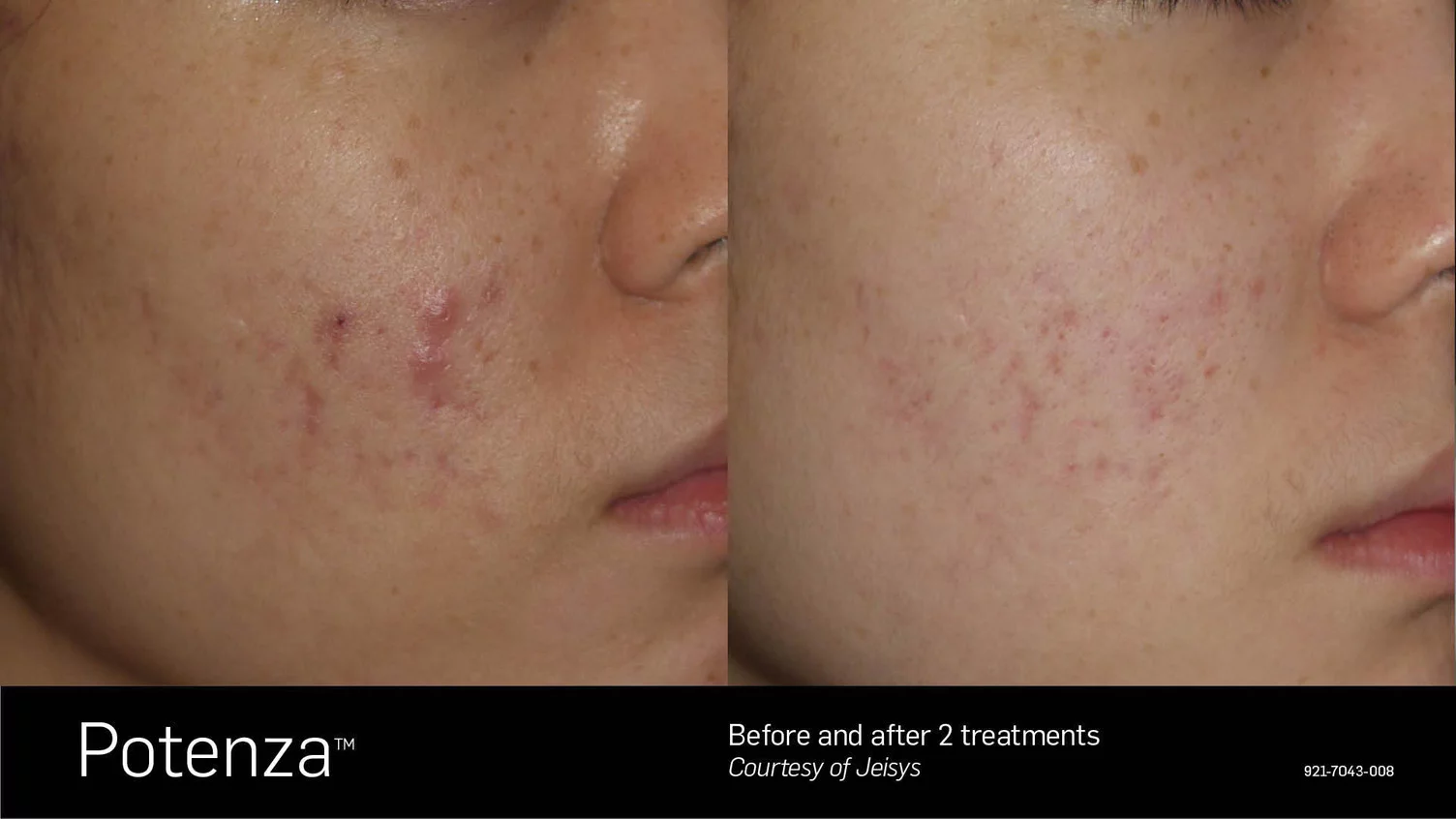 RF Microneedling for acne scars vs Fractional Lasers
Acne scars are treated using fractional lasers and RF microneedling. Before RF microneedling, lasers were the primary treatment method for acne scars. With today's latest technology, RF microneedling has several benefits over lasers.
One drawback of utilizing lasers for acne scars is the possibility of hyperpigmentation, particularly in darker Fitzpatrick skin types. Because RF microneedling does not target melanin like lasers, the risk of hyperpigmentation is considerably decreased, especially in patients with darker skin. For improved effectiveness, the RF microneedling needles and RF energy may be positioned at precise depths of the skin layers.
Both devices may increase collagen formation and enhance the skin's look. In addition, RF microneedling may help promote skin tightening by increasing elastin density. Whereas ablative lasers were primarily used on the face, RF microneedling may be used on any body portion. This is due to the capacity of RF micro-needling to change needle depth and energy levels.
This includes the neck for wrinkle treatment and the belly, arms, thighs, buttocks, and legs for stretch marks and cellulite treatment. Because of the significant risk of scarring in non-facial tissue, these regions are challenging to treat with lasers. Finally, RF microneedling is a well-established technique that has been shown to successfully cure acne and acne scars and fine lines and wrinkles without the hazards associated with laser treatments.
Microneedling for Acne Treatment with Potenza RF Microneedling at Toronto Clinic
The Potenza from Cynosure is above other RF micro-needling devices today.
Tiger Tip technology, which has the world's first semi-insulated needles, results in shorter patient sessions since it can address more tissue during each treatment.
Fusion Tip technology captures and releases air toward the skin with each pulse through a dual-air design. Consequently, topical penetration has increased by 67% for improved outcomes.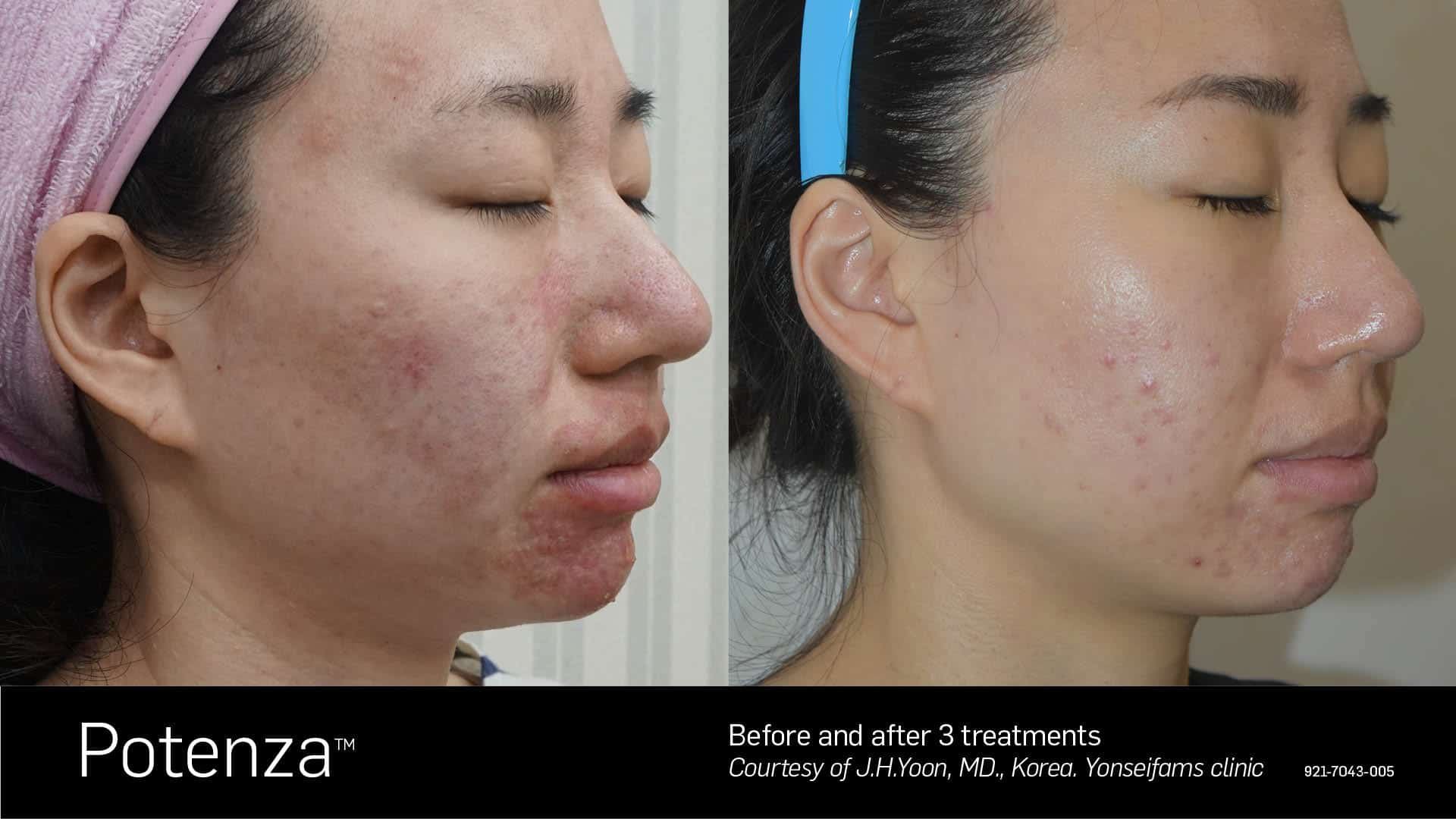 Set up a free consultation today
Are you looking for Potenza RF Microneedling Toronto? Do you want a treatment that can tighten skin effectively? Fill out our online form,  and we'll contact you as soon as possible with the pricing and any questions you may have. Contact our tattoo removal Toronto or Richmond Hill Clinic. CLICK HERE
Microneedling for Acne Scars