Laser Tattoo Removal Cost Toronto
We offer a new FLAT FEE laser tattoo removal cost of only $197 per session for tattoos up to 6″ x 6″ in size.
We also offer Tattoo Removal Packages in our laser skin clinic in Richmond Hill.
Three treatments, 10% discount: pay $531.90 for three sessions
Five treatments, 15% discount: pay $837.25 for five sessions
Single tattoo removal treatment: $197 per section
Tattoo removal costs are always the primary factor for clients looking to have a tattoo removed or faded for the cover-up. Flat fee pricing is an affordable alternative to the traditional pricing process used by other tattoo removal clinics.
Tattoo removal costs are a factor in starting to remove or fade a tattoo, but our flat rate pricing and easy-to-understand pre-paid packages take the mystery out of planning.
Breaking the trend in the cost of tattoo removal, Tattoo Removal Clinic does not charge per square inch or add additional fees based on tattoo location, the colours in the tattoo or if multiple tattoos are treated at one office visit.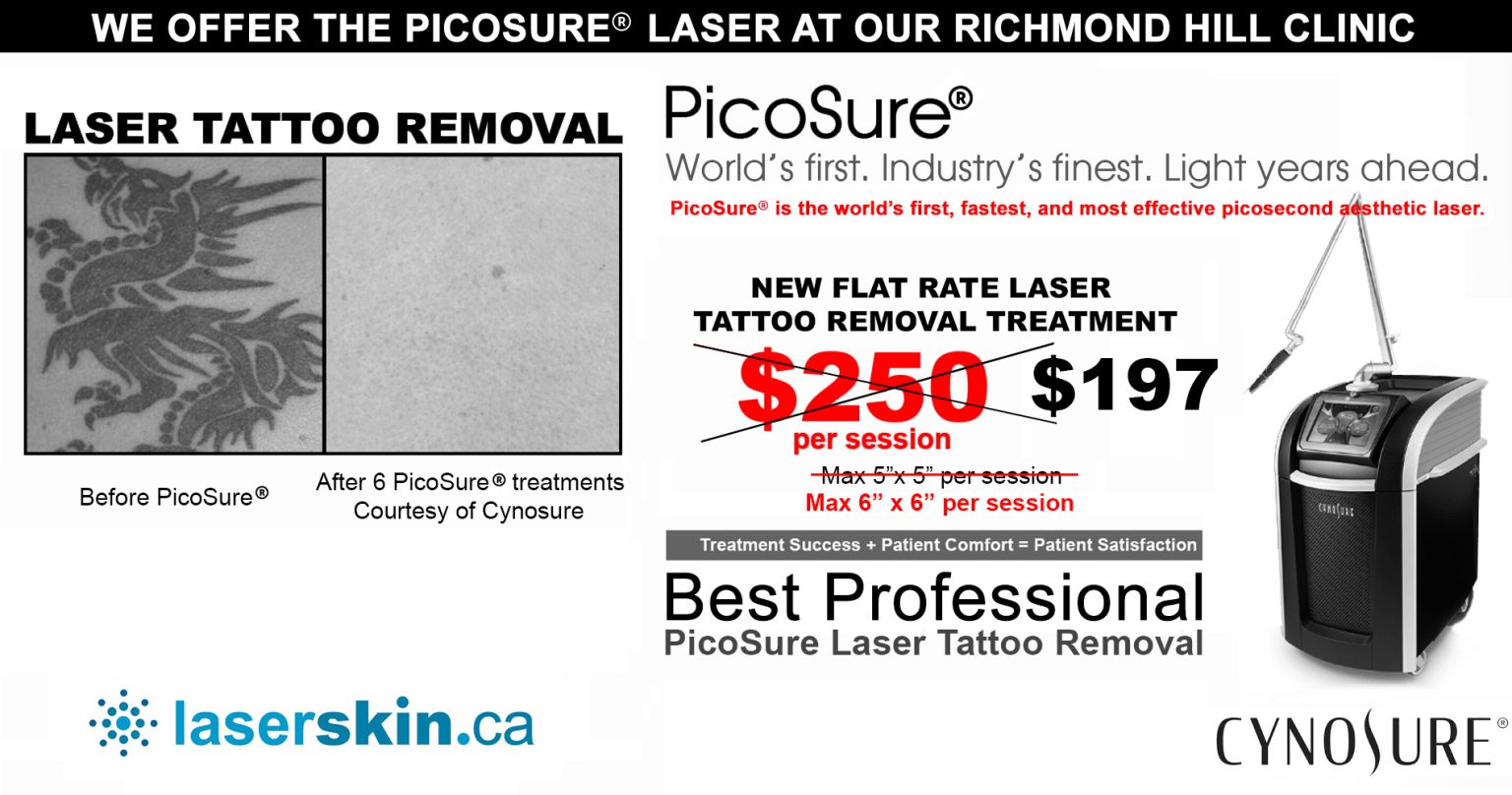 But what if I have multiple tattoos I want to be removed?
We treat every client individually, but whenever possible, we'll treat them at the same time for the same flat rate price.
There are limits on the overall size and number of tattoos per treatment because healing and aftercare are significant. These situations make up only a tiny portion of our total clients, and during free consultations, we'll explain what can and cannot be done.
I have my entire back/arm/leg that I want to be removed. Is it the same price?
Larger tattoos (full-backs, sleeves, chest, etc.) will be broken up into smaller 5×5 inch sections, and each section can be treated 4-6 weeks apart in rotation. Fully saturated back pieces will be segmented into 3 or 4 treatment areas, each requiring a separate office visit approximately 6-8 weeks apart. Likewise, fully saturated sleeve tattoos require 4 to 5 segments, and fully saturated large chest pieces need two parts. During an initial consultation, we will inform you of these suggested treatment protocols and schedule your following appointments appropriately.
My tattoo is multiple colours; does that cost more to remove?
No, we don't charge by the number of colours you have in your tattoo or which laser is used.
My tattoo is tiny; how much will it cost to fade/remove?
Our flat rate pricing covers most all tattoos, but there are circumstances in which we will adjust pricing at our discretion for tiny pieces. Our fee for tattoos smaller than 1 inch is $150. There are no hidden costs or expenses; only the tattoo removal treatment will be charged. Consultations are always free and, in most cases, can be done by phone. Please schedule a consultation online and your first treatment with us today at 647-559-3662.
If you are looking for laser tattoo removal in Toronto, please CLICK HERE for more information about our tattoo removal cost.
Laser Tattoo Removal Cost Toronto