Microneedling Machine
The new Gold Standard in radiofrequency microneedling machine is the Potenza RF Microneedling device. Its unique Fusion and Tiger Tip technology is the world's first 4-mode microneedling providing aestheticians with unprecedented adaptability and tailored treatments for our patients.
Cynosure Potenza raises the bar for the world's first Health Canada-approved 4-mode RF Microneedling device. Radiofrequency microneedling devices are not all the same. The Potenza RF micro-needling device from Cynosure is the world's first FDA-approved RF microneedling system that combines monopolar and bipolar RF at one or 2MHz frequencies in a single device.

How does this affect our patients?
It means you'll get the BEST personalized radiofrequency therapy ever. Treatments can be both deep and superficial with the 4-mode system.
Through soft tissue coagulation, monopolar RF mode provides energy across the tissue area for skin tightening and deep heating. It is suitable for the face and any other body region.
Bipolar RF mode provides a more concentrated energy transmission to superficial tissue, resulting in excellent skin regeneration results.
Tiger TipTM technology, which has the world's first semi-insulated needles, results in shorter patient sessions since it can address more tissue in each treatment.
Fusion Tip technology captures and releases air toward with each pulse via a dual-air design. As a result, topical penetration has increased by 67% for improved results.
Potenza RF microneedling treatments, unlike other laser treatments on the market, can be performed on all skin types, on all regions of the body, and at any time of year.
Who is a good Potenza candidate?
Potenza RF microneedling is excellent for anyone experiencing ageing symptoms such as drooping skin, blemishes, fine lines, and wrinkles. It's also great for people with stretch marks, huge pores, acne scars, or other types of scarring. It is ideal for all skin types and colours because it uses radiofrequency waves rather than laser light. It is the ultimate non-surgical treatment for skin tightening and face lifting.
How many treatments are necessary?
We recommend purchasing a bundle of three RF Microneedling treatments for the most outstanding results. Treatments should be scheduled six weeks apart. Collagen and elastin take time to form; thus, the 6-week healing period will allow optimal collagen and elastin development.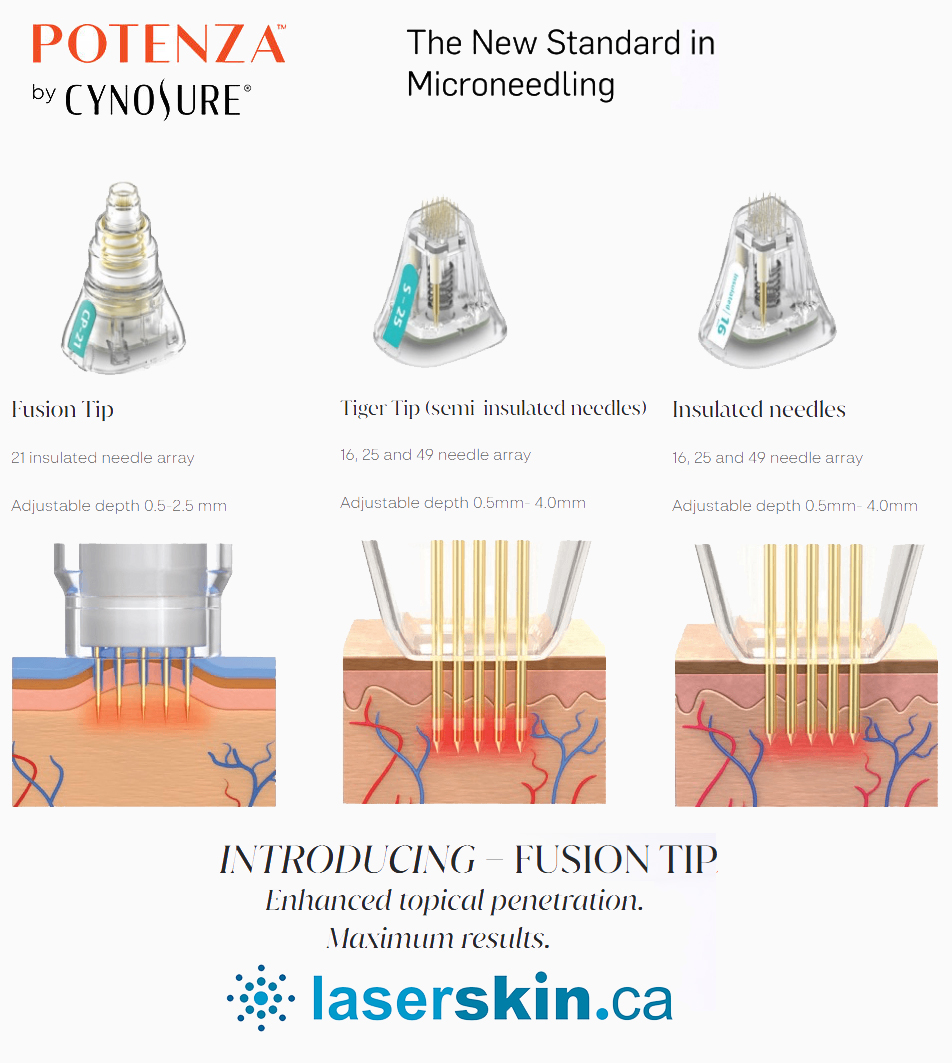 How long does each operation take?
The therapy itself only takes 30-45 minutes. Before your treatment, we apply a numbing cream and provide aftercare instructions. There will be some heat during the treatment, but it will be bearable.
Is Potenza the same as other less expensive RF microneedling devices on the market?
No, they are vastly different! Potenza is the world's first four-mode (Monopolar 1MHz, Monopolar 2MHz, Bipolar 1MHz, Bipolar 2MHz) Microneedle RF device, authorized by the FDA in the United States and approved by Health Canada. Potenza uses unique Cushion Plus technology to press tiny needles deep into the epidermis while releasing radiofrequency energy at the optimal depth to maximize collagen formation.
Microneedling is effective and safe for treating scars, acne, melasma, photodamage, skin rejuvenation, hyperhidrosis, and alopecia, as well as for facilitating transdermal drug distribution. Although persistent side effects are uncommon, temporary erythema and post-inflammatory hyperpigmentation are recorded more frequently.
Conclusion
Microneedling looks to be a safe and effective treatment option for a variety of dermatological diseases. There is a need for more extensive and randomized controlled trials to give additional information on the usage of microneedling for various dermatological disorders and skin types.
Set up a free consultation today
Are you looking for Potenza Microneedling Toronto? Do you want a treatment that can tighten skin effectively? Fill out our online form,  and we'll contact you as soon as possible with the pricing and any questions you may have.  Contact our tattoo removal Toronto or Richmond Hill Clinic. CLICK HERE